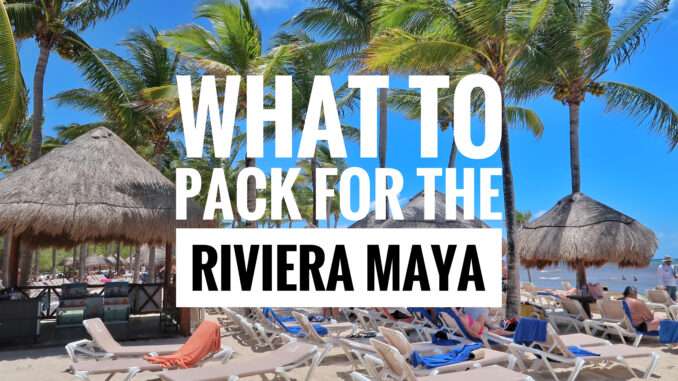 Everything you should pack for a trip to the Riviera Maya
If you are like us, we always like to make sure we have things with us to enjoy our trip. Trying to find things in a foreign country can be hard and eats into your vacation time, so you want to pack everything you need for your next trip to the Riviera Maya. Here are all the things that we think are good to bring to the Riviera Maya when you come on vacation. We cover both all-inclusive resort stays, and hotel stays.
What to bring for an all-inclusive trip in the Riveria Maya
Most people visiting an all-inclusive hotel will stay for a week and spend most of the time at the resort. There might be a day or two out for an adventure or tour, we cover items to pack for these below. If you are going to be staying at an all-inclusive hotel, it should be noted that most of these are their own compounds and often it is not possible to walk out of the resort to anywhere else. Many of the resorts are along the Riviera Maya but often 15-30 minutes to a town. So, the only shopping might be the gift shop at the resort. These are notorious for their high prices and limited options. So being prepared is a good thing and will save you from having to buy overpriced thigs when you arrive.
Dress codes at all-inclusive hotels
The good news is that most hotels have very minimal standards for dress codes. For most restaurants and buffets there are no swimsuits, sportswear (like football jerseys), tank tops for men, and flipflops usually not allowed. In add on restaurants, they might require men to have dressier shorts or pants, and a polo or button-down shirt. For women there less restrictions. Usually no short shorts, and overly casual clothes. No ties or jackets are required for men. Women do not need a full outfit adorned with jewelry. The Riviera Maya is a pretty laid-back destination, so you don't need to bring a lot of fancy clothes for going out to eat at the resort.
Things you might want to bring to an all-inclusive resort
Bring your Netflix login if there are smart TVs.
A good eBook reader for those days sitting on the beach or next to the pool reading. This goes for children's tablets and laptops for movies and games.
Sun hats and glasses. It is sunny almost 300 days a year in the Riviera Maya. Having a hat will help block some sun and having glasses will be useful. We recommend two pairs since you might want something more casual for tours and something more elegant for an outing of shopping in Playa perhaps.
Bring at least two swimsuits. Clothes dry slow in our humid air and you want to have dry outfits for all the different water activities.
Cash for tips. Tipping is done either each day or at the end of your stay. It can be a way to say thank you to helpful staff during your stay. Most of the time people bring small USD bills or pesos. Both can be used since staff can use USD in stores or exchange it.
Extra phone battery. Some of the days can be long and having an extra phone battery can ensure you won't miss any photos.
If traveling with children, some floats can be fun for pools or the beach. Most hotels don't have things by the pool for floating. Sometimes in the gift shops they have things, but that is not a given.
A dedicated back for taking things to the beach or pool. This can also double as the tour bag where you carry everything you need for the day.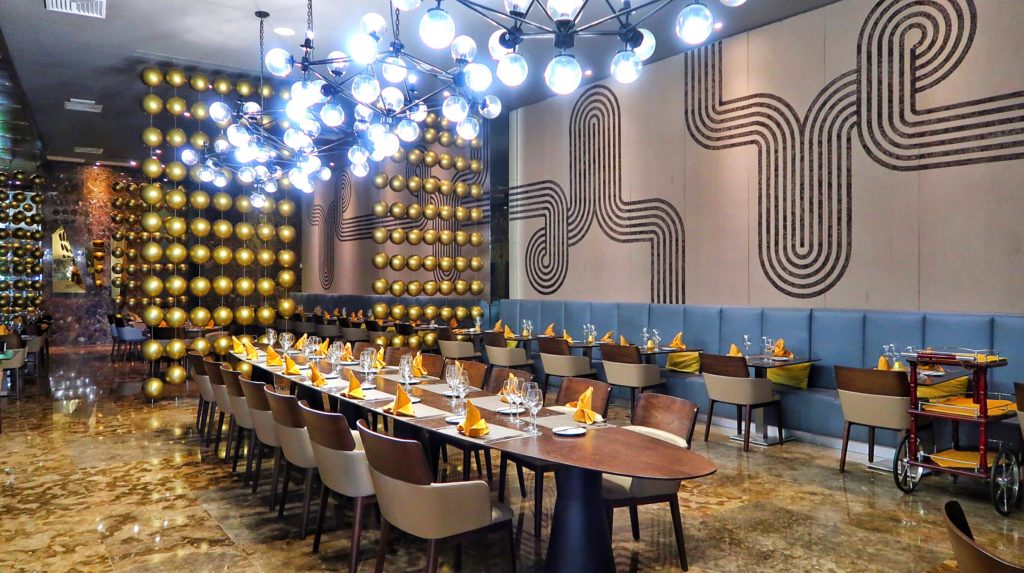 What to bring for a hotel trip to Playa Del Carmen
If you have booked a hotel in Playa Del Carmen for your vacation, here are some things that you might want to bring. Mostly likely you will be going out to eat more and spend time in Playa and the beach.
You will probably be going to the beach for a few days. This means going to a beach club or just going to the beach with a towel. A dedicated beach bag is a good thing to bring. You can pack everything you need for the day in it.
Other things for a beach day are eBook readers, cell phone extra external batteries, an insulated cup for keeping those drinks cold and suncreams. Biodegradable is best because you can use it for tours and cenotes if allowed.
Clothes. Dress codes for restaurants and clubs is very casual. There are only a few restaurants that do not allow swimsuits and wet clothes, but other than that, it is pretty much anything goes. If you are going out to a nightclub, most locals like to dress up a little. To feel more comfortable, you might want something a little trendy.
Since you will be walking from the hotel to the beach, a coverup can be a good thing to bring.
Many hotels have a tv, but often have cable mostly in Spanish. If you are traveling with kids, you might want to download movies to watch or even for yourself on a tablet or laptop. Hotels can have a smart TV which means they might have even less to watch, so if you have a Netflix login, bring that as well.
Clothes tip for stays longer than a week
If you are staying in Playa Del Carmen, or close to another town of some size, you have an easy option for clothes. A weeks' worth of clothes normally can fit into a suitcase. A longer trip will require more if you don't wash anything. The good news is, there are laundromats with drop off service in most towns and cities. These are very easy services to do use and it is very common to use as a local as well.
Most will be same day if you go early enough or next day service. There will be a minimum charge, so take as much as you like, a big bag of clothes will cost around $8USD to wash, dry and fold. You can read more here in or laundry article.
Things to pack for daytrips and adventures
Most people will want to take a tour to see Mayan ruins or to swim in some of the cenotes, inlets or reefs. This means that you will want to be prepared with no last-minute things to look for. Here are some good tips on what to bring for your adventures when going on a tour from the Riviera Maya.
Things for tours to Mayan ruins
Most tours from the Riviera Maya to Mayan ruins involves some travel time, walking in the sun, and usually is a full day. This means you want to be comfortable and have things with you to make your day more enjoyable. Here are our best tips for things to bring on tours going to Mayan ruins:
Hats. Most ruins involve an hour or two of walking around outside. It is sunny about 300 days a year here, so it is good to cover up from the strong sun. Baseball caps can help but leave your back of neck exposed. A round straw hat or cotton hat can keep that hot Yucatecan sun off your face and neck.
Sunscreen. There will be a lot of outside time, so covering up or even better if you are going to visit a cenote as well, bring biodegradable suncream.
If your tour includes a swimming spot, having a bag for your wet clothes comes in handy.
Comfortable clothes and shoes. Having lightweight cotton or specialty blend fabrics that breath are a good thing to have. Often there are summerlike temps for the days exploring the ruins. Having good shoes will keep you comfortable walking around. You can still climb to the top of some pyramids, so good shoes are helpful to do this.
Bottles of water. Some tours have drinks at some point of the tour, but a good bottle of water can help you stay hydrated during your day. Often stops at souvenir stores allow you the opportunity to buy water or drinks but they are overpriced.
Music for listening to. Most people don't realize that a tour to Chichen Itza for example is at least 6 hours of transportation time. Your guide will not be talking that much, nor will there be much to look at most of the time.
Tip money. It is customary to tip something for the tour guides. Most tours are $100/130 USD per person. So, a 5-10% tip is a decent amount to tip. You can do so in pesos or dollars. See our guide to pesos and dollars here.
If you are a family with a baby, a good stroller will come in handy with all the walking. All bus tours will have space for them in the van or bus.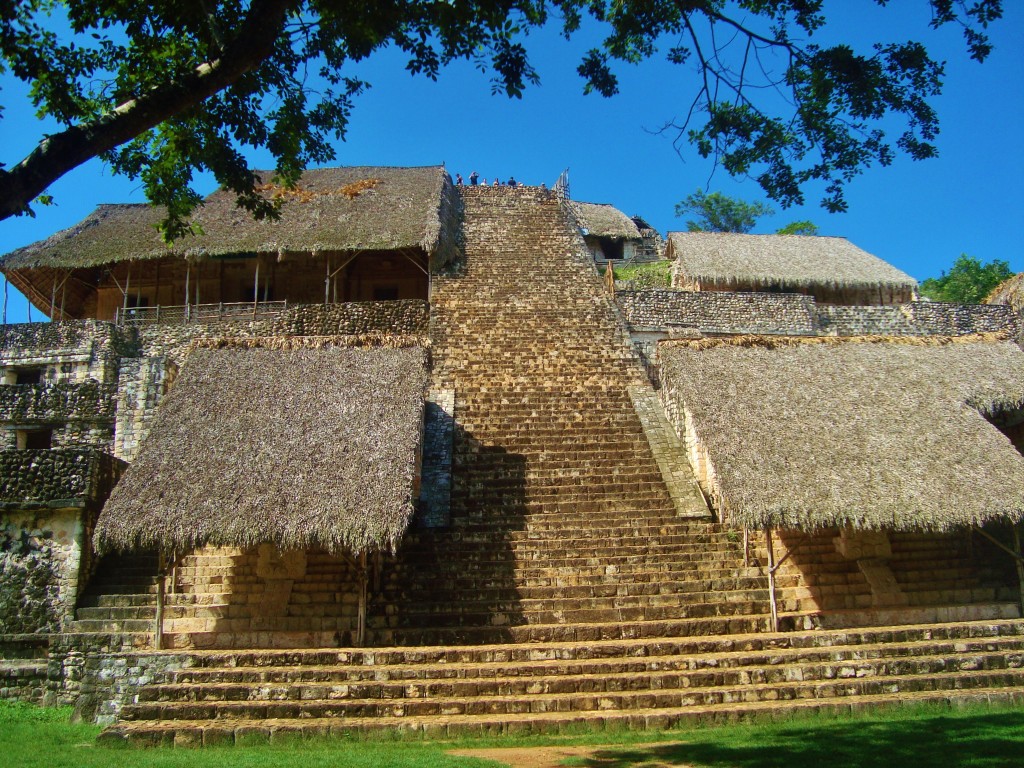 Items to bring for water activities in the Riviera Maya
The water sock type of slip-on shoes are great for most activities. These can be great for swimming in cenotes because you can go from rough rocks into the water and vice versa. For places like Xel Ha, you can use these for walking around and in the water without having to worry about them falling off.
Waterproof camera bag. There are tons of cool underwater photos that can be taken in the Riviera Maya. You can easily find them for sale on 5th Avenue and where tours depart. But do you really want to trust your expensive cell phone to these cheap plastic bags? It is better to buy something that you know will work so you won't miss any memories.
Your own googles or facemask. You can rent these at some cenotes (they are given to you at Xel Ha), but not everywhere has them and you might not find something you like in the supermarkets in the area. Usually, you can find cheap mask and goggles available but if you want something of quality that will last, you should invest in that before coming.
Bags or a bag for wet clothes or to separate them for your trip back to your hotel.
Biodegradable sunscreen. Most cenotes will ask for this or none at all be worn in the water to keep it clean. Biodegradable also helps the oceans and keep pools free of chemicals. You can find these sun creams in stores in Playa and at gift shops at all-inclusive hotels, but it won't be cheap.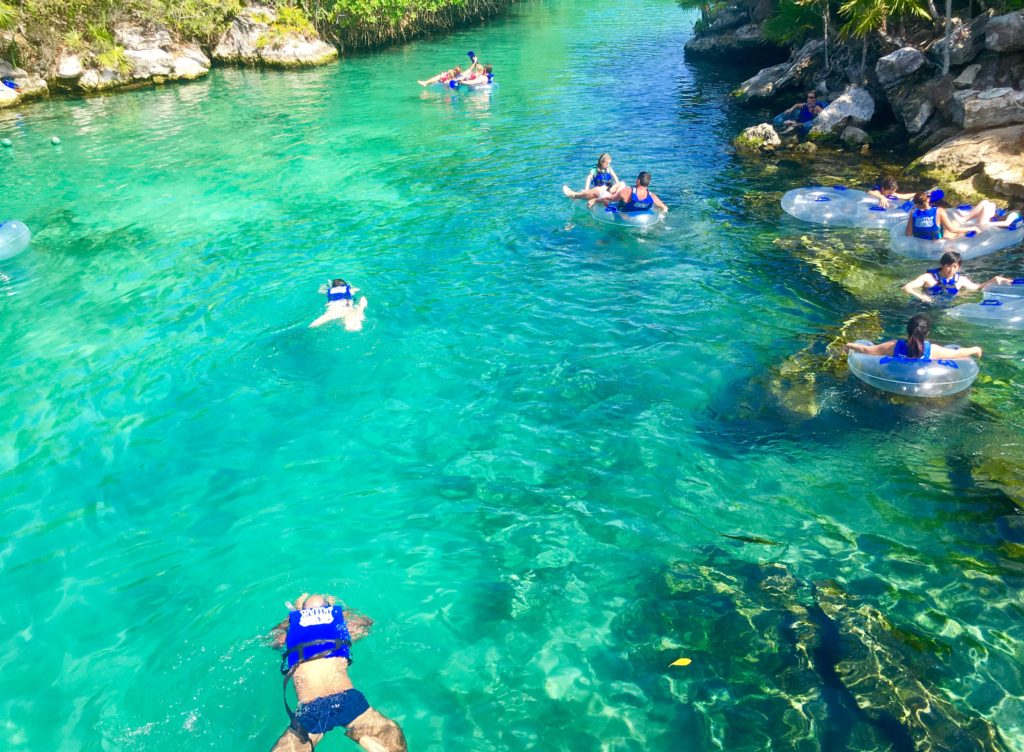 What money should I take to Riviera Maya?
We mentioned a few instances above where it is good to have some cash. The Mexican Peso is the official currency, and all prices must be posted in Pesos will all taxes and fees included. Businesses can also put the price in another currency if they want to in addition to the Peso price. So, what it the best currency to bring? Pesos are going to be the best because Mexico is more of a cash society. Since the Riviera Maya is very touristic, many places accept USD. But businesses can set the rate at which they accept other currencies. Most of the time when you use USD in places where they accept them, you will be paying 10-15% more because of the bad exchange rate. So, what is the best option?
A combination of brining cash to exchange at a casa de cambio and/or withdrawing cash from a bank will get you Mexican Pesos at the better rates. Having a credit card for large purchases like tours or a nice dinner, can save your cash for the small things and eating out. See our article about exchanging money in Playa Del Carmen of more details.
Did you forget to bring something? Or need something special on your vacation?
Regardless of how well you pack, sometimes you miss something or want something for your vacation. There is a great service that can shop, deliver and find whatever you need. They will deliver to all resorts, hotels and Airbnb's in the Riviera Maya. Some people want a certain brand of beer, a GOPRO camera part or just some things for the stay. Check out this very well recommended delivery service here.
Conclusion
We hope we have given you some things to pack and bring with you. If you have any other tips for readers, please share them below in the comments,
Since you are coming to the Rivera Maya, you might want to read our guide on what are the best things to do in the Riviera Maya.
You might also want to book your airport transportation here with this recommended company.