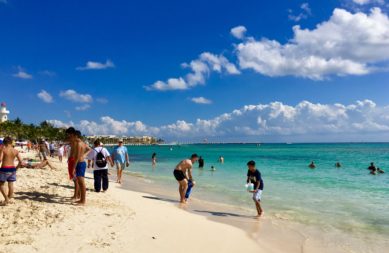 What happened in Playa Del Carmen in 2017?
What is new in Playa Del Carmen? Here is a look at places that changed, opened and closed around town. We will mainly focus around 5th Avenue since this is where most of the tourist visit and the vibe of the city emanate.
Playacar and the south side of the airport
Playacar has a new shopping plaza right next to the old one. This shopping center is a little more modern and trendy and offers people staying at the resorts in Playacar a place to visit if they do not feel like going downtown.
The road on the south side of the airport has seen a lot of new places open. One restaurant is the Australian style Sundowner Yacht Club Restaurant. This brings another good quality restaurant to Playa Del Carmen and also to the south end of town. Just of the street from these two is the new Lara & Luca Restaurant. This is one of the best places for breakfast in town with all the comfort foods you would expect for a breakfast/brunch.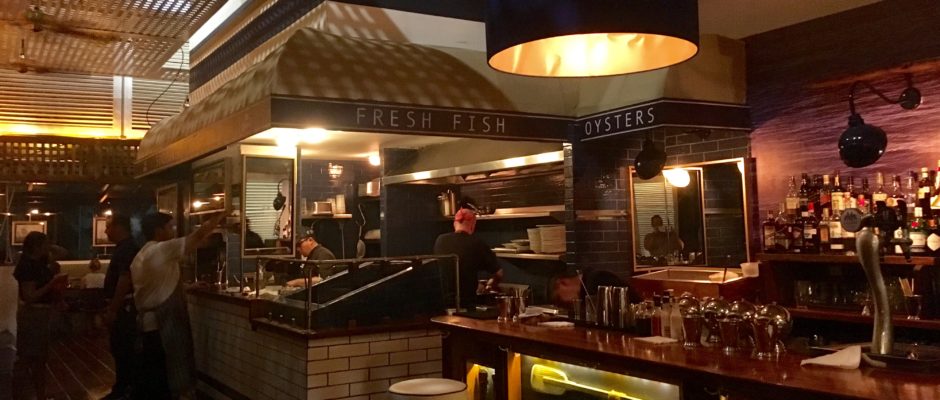 What changed on the south end of 5th Avenue in 2017
At the south end of 5th Avenue  the Paseo Del Carmen shopping plaza got a little bigger. More stores were added making this more attractive for tourist passing through to the Cozumel Ferry and also residents. Gone though in 2017 is the Mercado Paseo del Carmen food court. This is the third time a food market has tried to work in Playa Del Carmen. Now at the end of 2017 this market sits empty on the 10th Avenue side of Paseo del Carmen.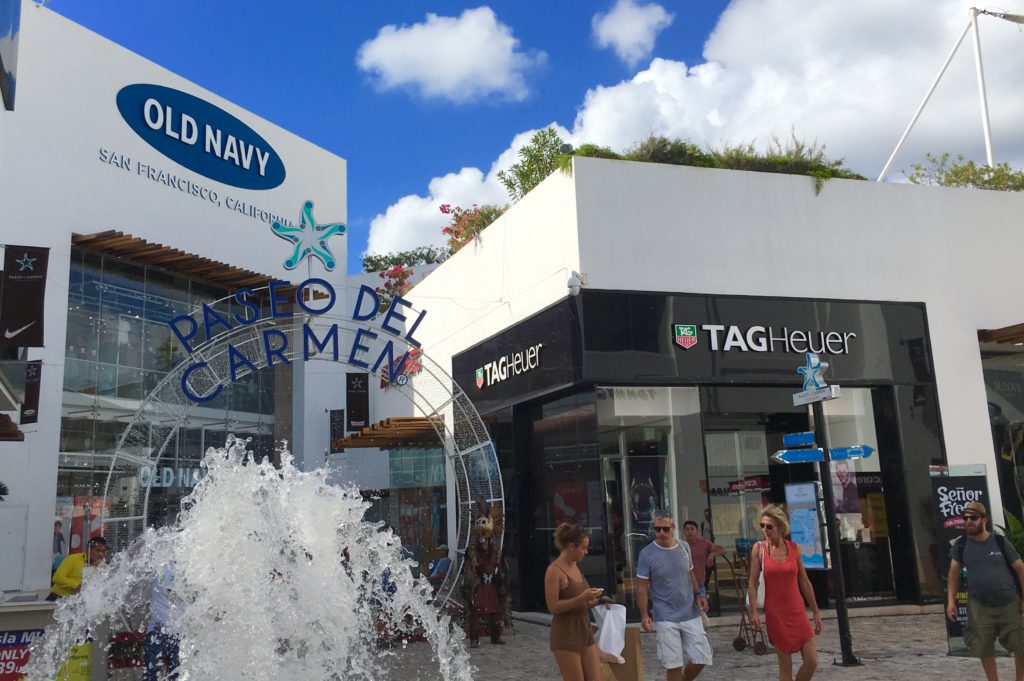 For those entering Playa Del Carmen by ADO bus this new mural greats you on Juarez and 5th Avenue. More murals were added around town in 2017.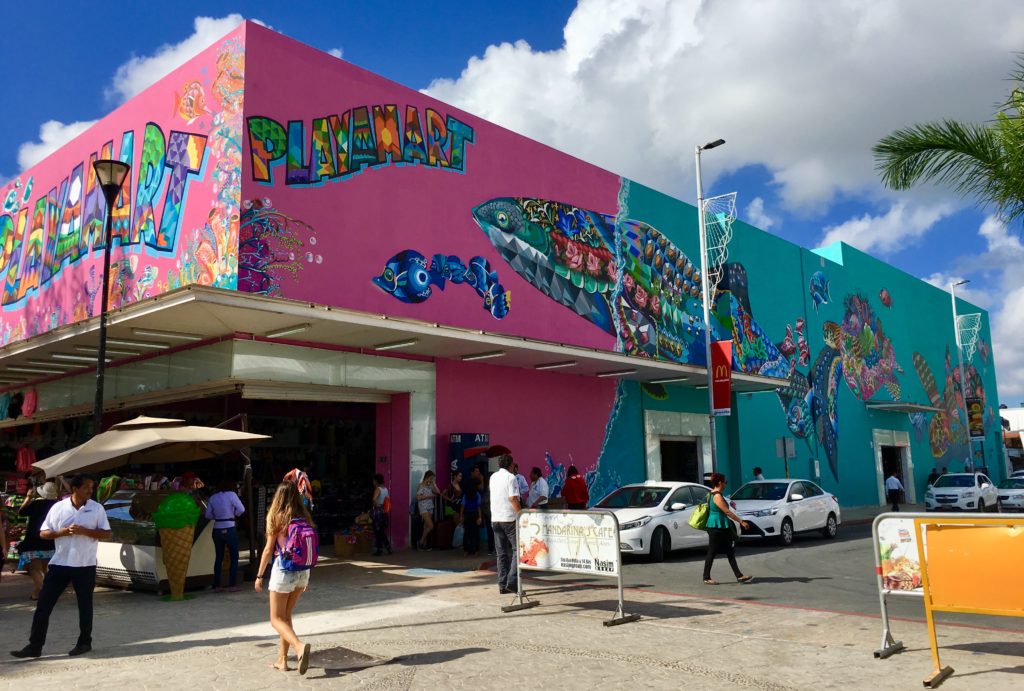 Just up 5th Avenue between 4th Street and 6th Street is the new towering Innovasport store. This huge black box store offers sportswear and a wide range of sneakers. You cannot miss it, not only of the size but also if you need athletic wear.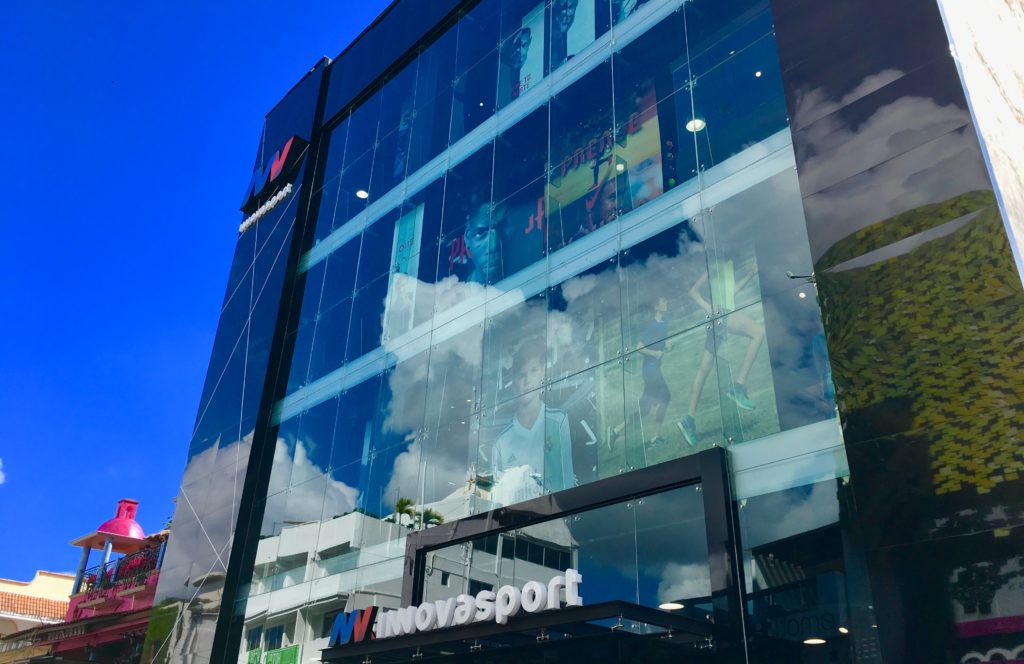 More large souvenir stores opened on 5th Avenue replacing smaller stores.  Playaland between 6th Street and 8th Street is one example. The VW Bug in the front of the store has become a popular photo op.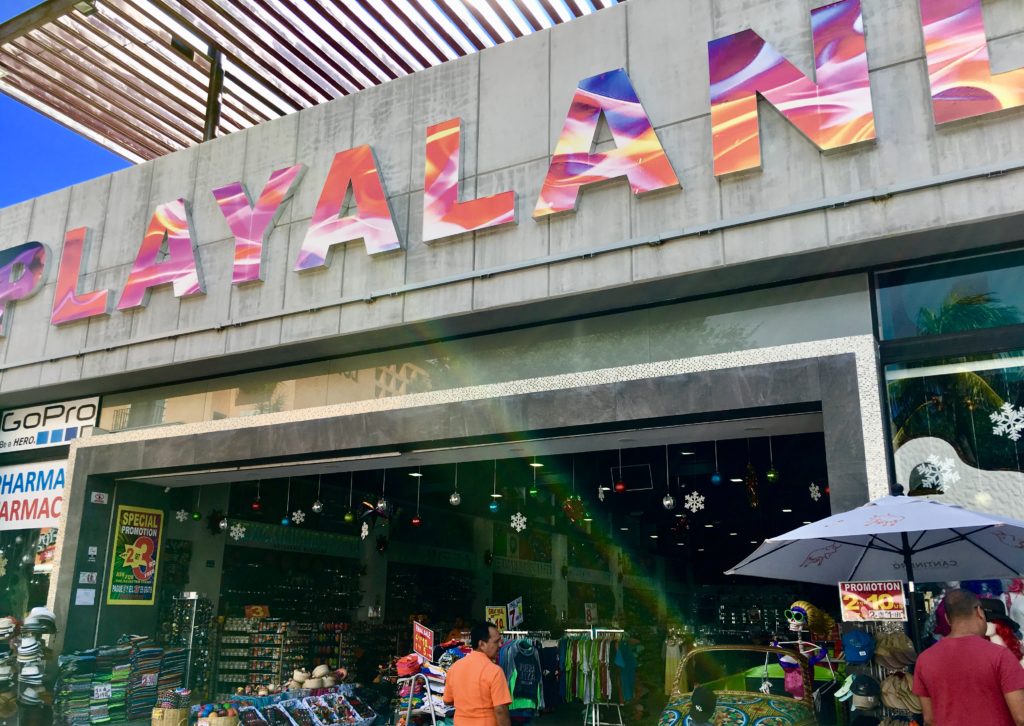 Patio 8 made it's opening in 2017. This is another restaurant run by Groupo Azotea. This restaurant is similar to Sur Steak house where the front and side are completely open. This also reflects the style on the opposite corner.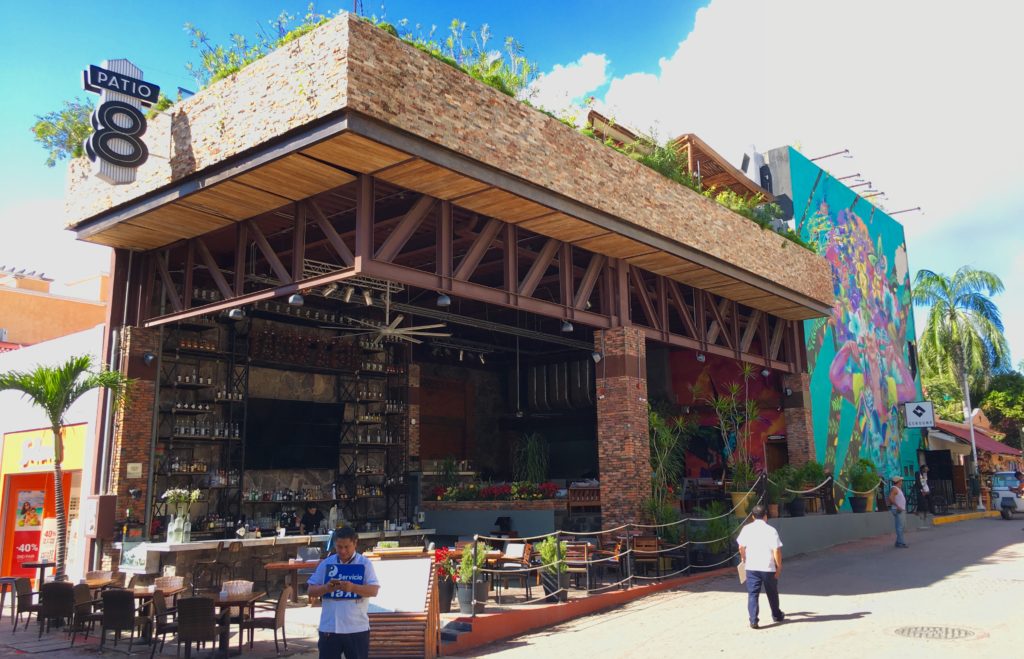 On the opposite corner of 8th Street and 5th Avenue is the new Frida Kahlo Museum. This small tribute to Frida opened up which compliments the Frida Kahlo Restaurant also on this corner. Also the new dinner experience at the Frida Restaurant started in 2017. This is a 16 person seating with special menu.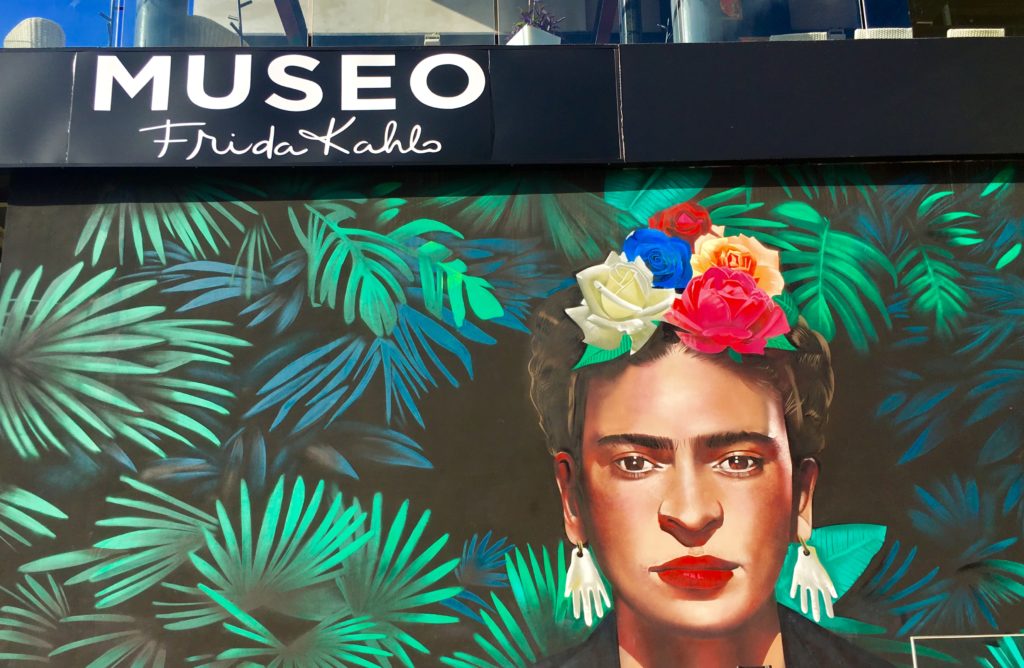 Continuing the trend of open restaurants to the street is the Taqueria Y Cerveceria Celia. This is where Ula Gula Restaurant used to be. In fact this whole corner was demolished and replaced by a new building.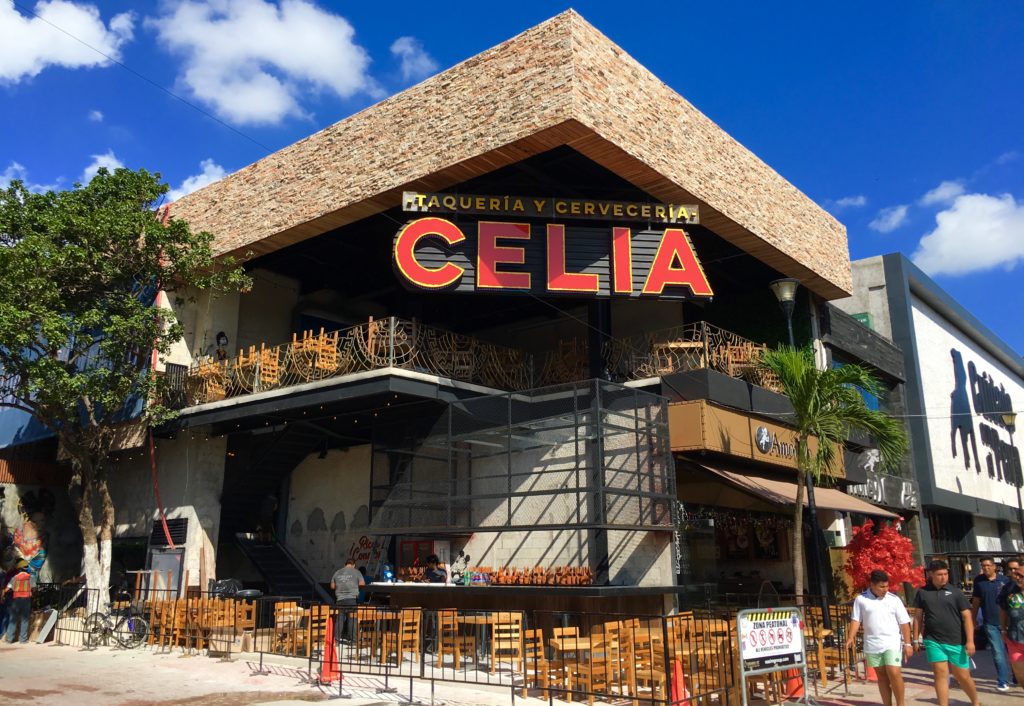 Just up 5th Avenue from 10th Street is this new store. Large is the new word for 2017 as this clothing store is nearly three stories tall  and several storefronts wide. It replaced some smaller stores across from 100% Natural Restaurant.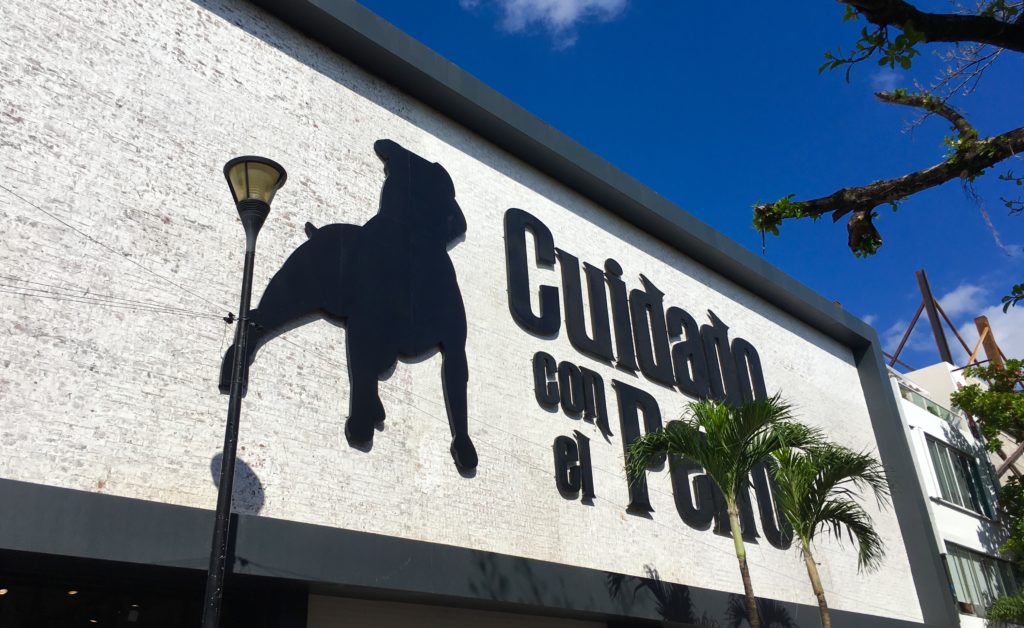 Ula Gula Restaurant moved to the corner of 12th Street and 5th Avenue. Across the street the Sonora Grill opened where the Deseo Hotel used to be. This building was an undertaking as much steel and tact was needed to build around the existing structures.
In the photo below you can also see where Tequila Barrel used to be. They are building a bigger one in the same spot with more space for a casino.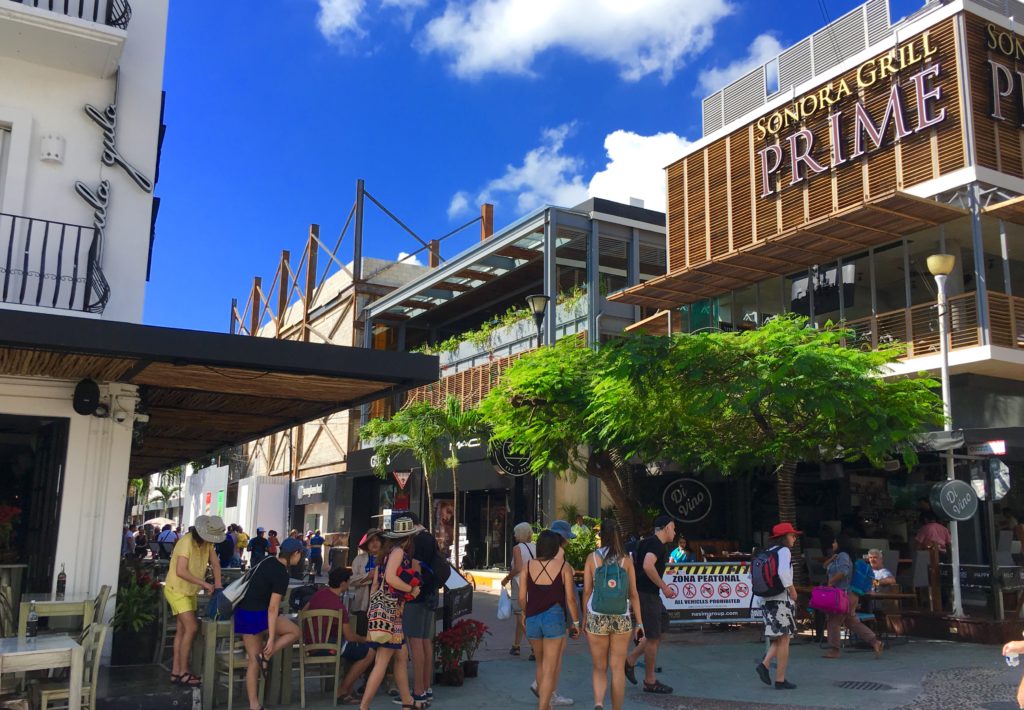 12th Street in transition in 2017
Starting at the end of BPM in early 2017 a sweep of closures hit clubs and bars in Playa. We have continued to update our Club Guide and Bar Guide to reflect this.
Blue Parrot, Tribeca, Coco Beach, Hidden Bar, Mezcalina, Diablo Cha Cha Cha and others all closed in 2017. Remodeling efforts and underway for the old Blue Parrot space to be redone in 2018.
10th Street also is known for bars was not immune to closures. The famous Santanera Club closed as well as to some small bars there.
Calle Corazon in 2017
Calle Corazon continues to transform and integrate into the city. In 2017 they got several new tenants which included Sephora, a makeup and perfume store and Harry's Prime Steakhouse and Raw Bar.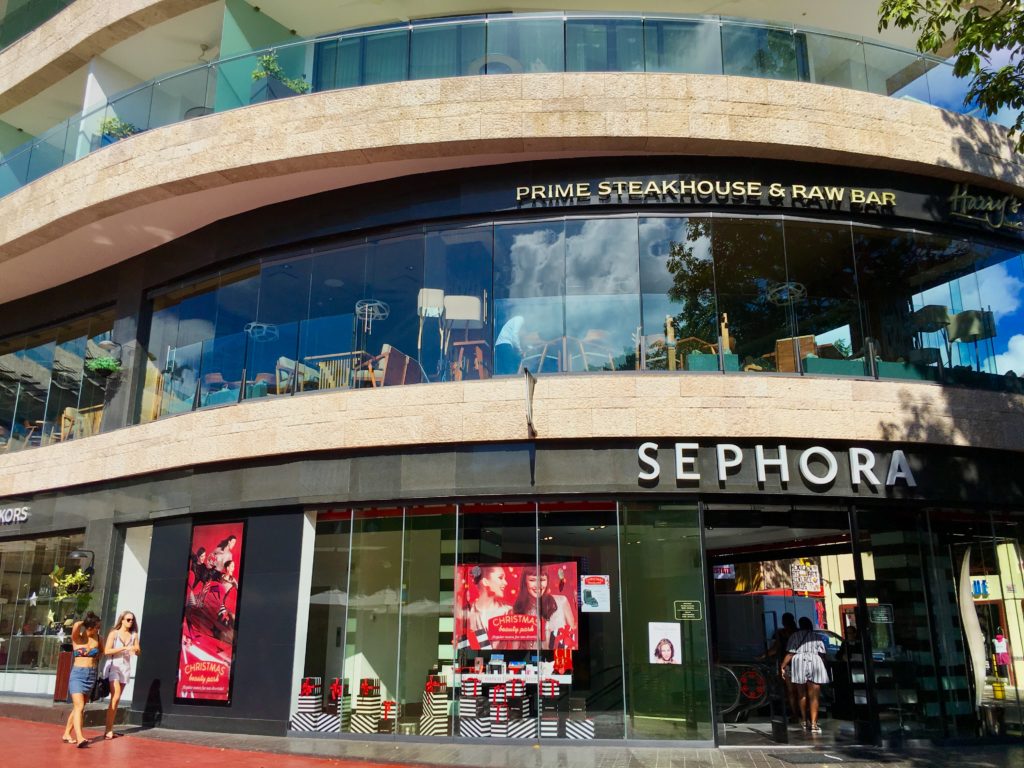 What changed on upper 5th Avenue area in 2017
Continuing up 5th Avenue you will notice some new condo buildings with retail space below. This photo below shows one new building across from the Starbucks. Below it is another ice cream place. Now there are even more ice cream stores to choose from and you cannot go more than several blocks without finding one.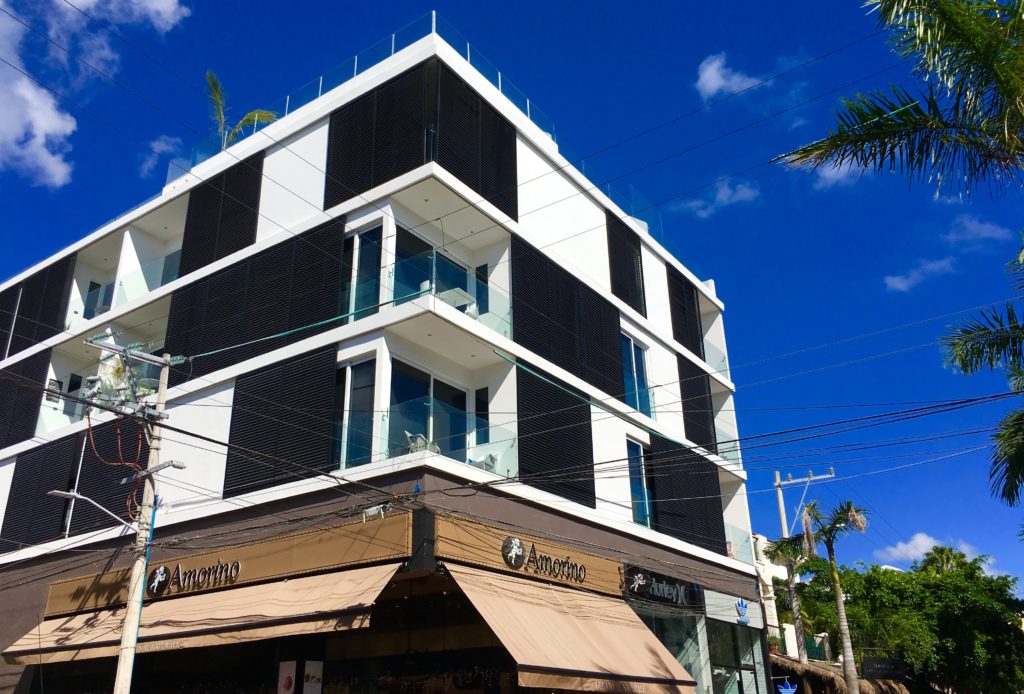 The north end of 5th Avenue from 38th to CTM Avenue (46th Street) has always been a hard block area for businesses. They overturn very often here because it is low on foot traffic and you have to have a good business plan. In 2017 this block has been keeping more places open and is filling in as traffic continues to flow north.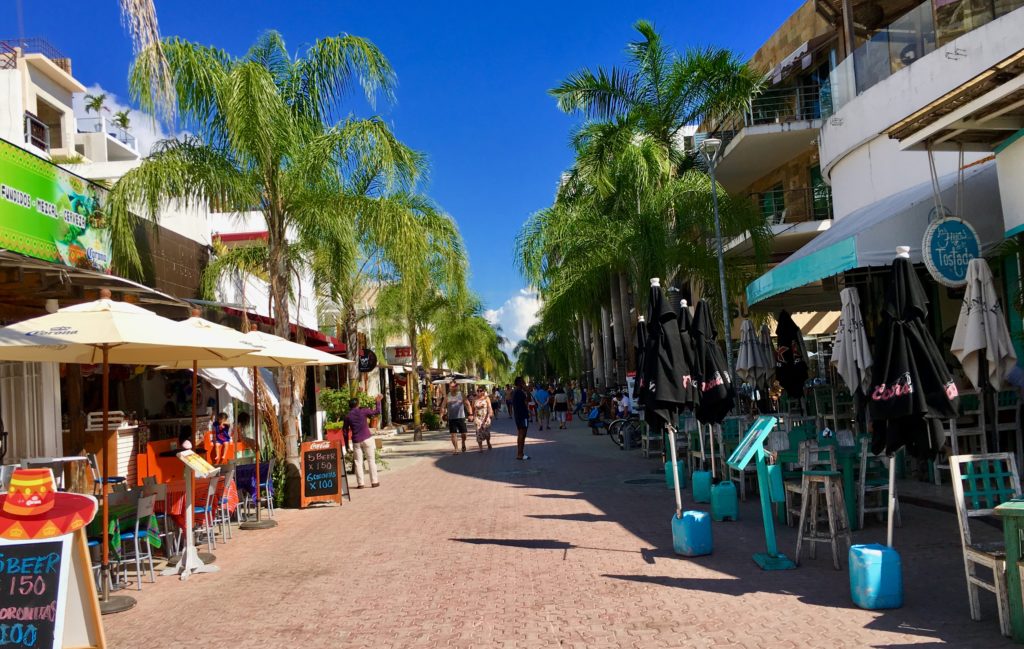 New buildings, buildings and buildings in 2017
Anyone at anytime that was in Playa Del Carmen will have noticed that there was a lot of construction going on. New stores, condos and more condos were started in 2017.
One trend we saw in 2017 is the downtown getting taller. More small houses were demolished to make way for three to four story condo buildings. Playa also continued it's march northward as 34th Street going north to CTM Avenue saw a lot of new development. The south end of downtown also saw a revival. This area was always the poorer end of Playa but in 2017 has many new projects happening. You can see it in our article here.
Below are some examples of condo construction in Playa Del Carmen in 2017. 28th Street leading to Mamitas Beach has two new notable buildings that make the street look pretty different than previous years.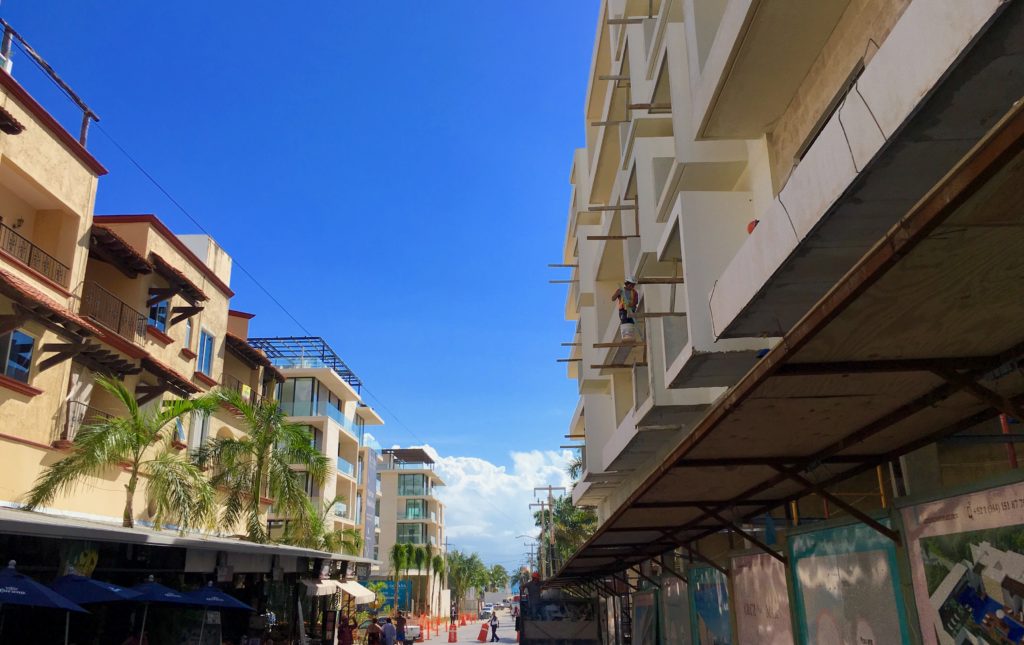 Constituyentes Avenue has several new large condo buildings with more coming in 2018. Also retail space under these buildings is starting to fill up.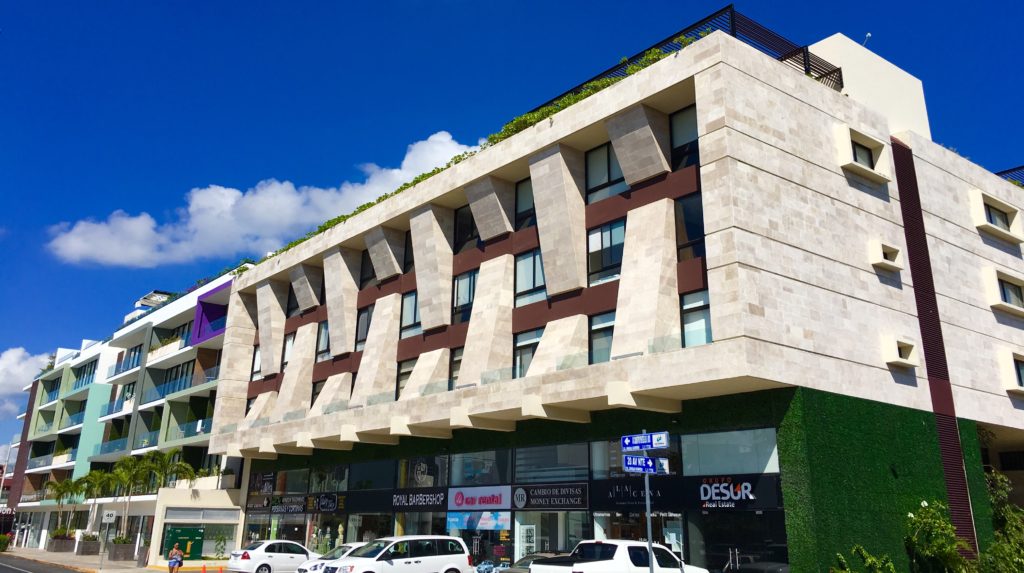 New Hotels that opened in 2017
There were several smaller hotels that opened in Playa Del Carmen in 2017. Two larger hotels worth noting were the Fiesta Inn on 10th Avenue and the Carmen Hotel on 8th Street.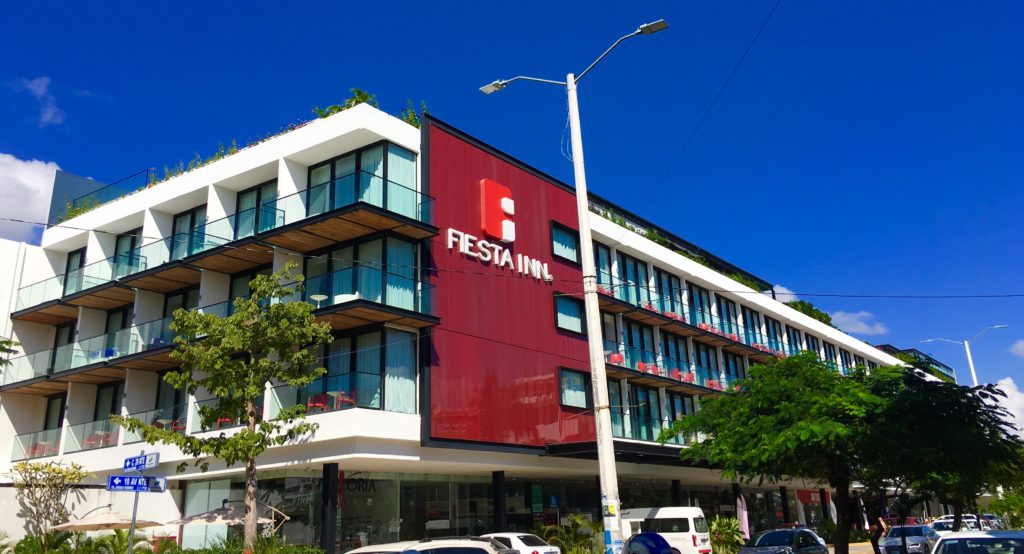 The Carmen Hotel on 8th Street opened it's doors along with Deck 5 rooftop pool and bar. This is a beachfront hotel with the only rooftop pool on the oceans edge.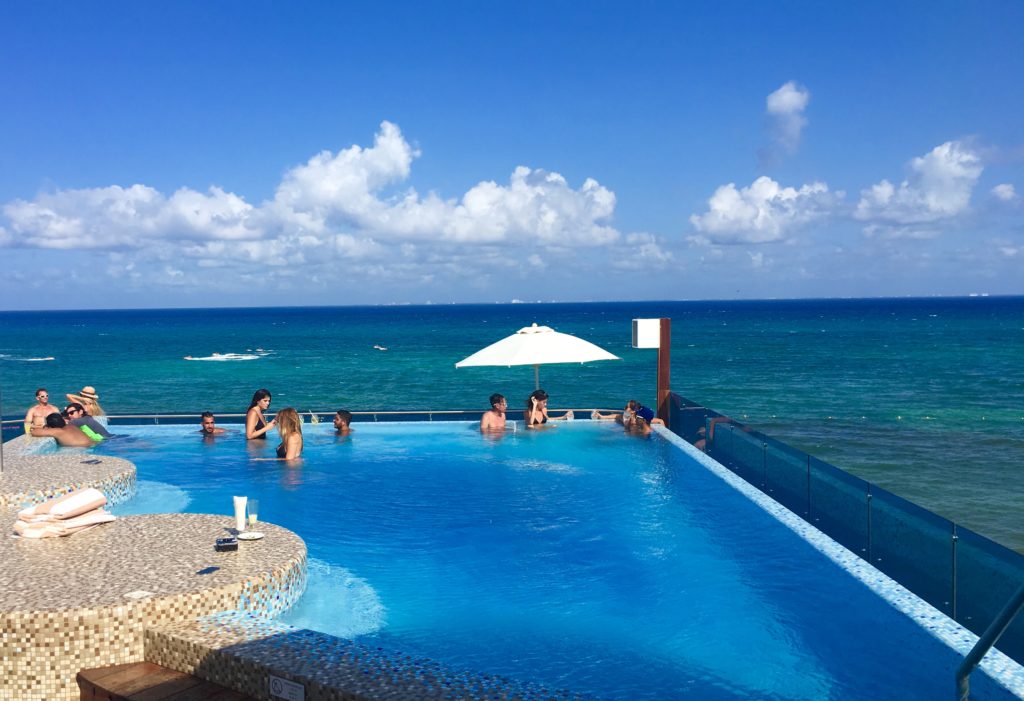 The beaches in 2017
At the beginning of 2017 the beaches in Playa Del Carmen were hit hard by erosion. The beaches for the most part have recovered but they are not as big as they were years ago.
Seaweed was also a culprit for ruining the crystal clear waters off the coast. In the later half of 2017 seaweed has been an issue as seen from the feature photo of this article.
What closed in 2017?
We lost the Little Teapot on 5th Avenue. This was a cute place for tea and a treat. Many will remember the artificial green grass and cute tables out front.
Mom's Bar and Restaurant closed at the end of 2017. After becoming a landmark to the expat community, it's time came to an end.
The little ice cream store Tepoznieves on Constituyentes Avenue closed. This was a good place for Mexican flavor ice creams.
Other small restaurants closed in Playa and as mentioned above several bars and clubs also closed.
Ready for 2018 in Playa Del Carmen?
As another year comes to the Riviera Maya and Playa Del Carmen we will be here to tell you what places are new to the area and what is good. We are always on the lookout for new things to share with you. If you know of anything that you think we should cover, send us a message and we will try to share it with everyone.
Thanks always for reading and following along.