Isla Mujeres-Island Hop from Cancun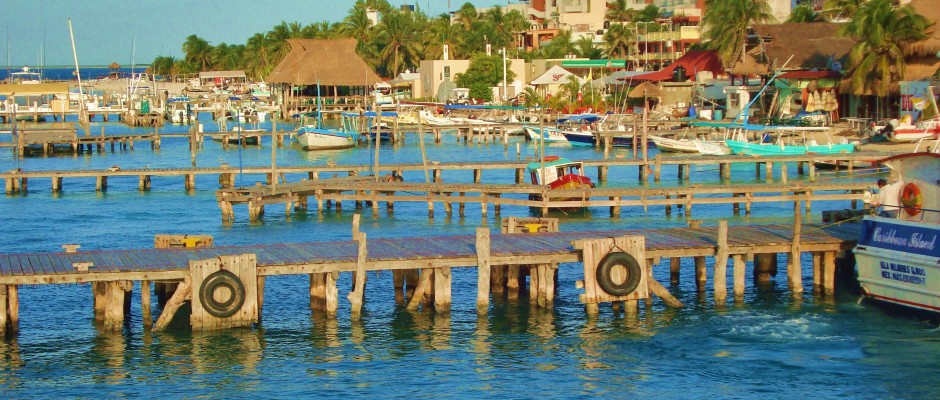 Isla Mujeres is a small island just off the coast from Cancun that is a destination in itself or a day trip from Cancun or even Playa Del Carmen. Isla Mujeres is small island just 7.5 km long and about 500 meters wide on average. Most everything is on the north end of the island including the main town and best beaches. This is where the ferry arrives from Cancun. (see map below) The island used to be a backpacker destination to avoid the prices and commercialism in Cancun but over time the island has gotten more expensive and more commercial. It now feels a little "Cancun adjacent". You can find many souvenir shops and restaurants now wanting to serve tourist meals at tourist prices so this has diminished the charm of the island but it is still an interesting place. It just might not be for everyone and it might not be a destination in itself for a whole vacation.
Day trip information for Isla Mujeres
For day trippers the island can offer a nice excursion to a beach bar, tanning on a beach bed, some shopping (especially jewelry stores) and some seafood. You can find some great shrimp tacos in Isla Mujeres. A good thing to look for is the hand made tortillas. If they have those then usually you have found a good place to eat. The north end is small and easy enough to get around on foot and can explore looking for beach bars and good places to eat. (see renting golf carts info below for a cool idea for the day).
Staying on Isla Mujeres
For overnight guest maybe looking to break up their vacation and stay in different parts of the Yucatan Peninsula, Isla Mujeres still offers some inexpensive hotels as well as 5 star accommodation. Higher end accommodation should be booked fairly well in advance to get what you want. For budget accommodation you don't have to book so far in advance but if you see a good deal online you should snap it up. We put the Hotels.com buttons on the site because we like using them an recommend them. On Hotels.com you can find hotels on Isla Mujeres for a s cheap as $33 USD a night! They also have super luxury accommodation as well. So if you are thinking of going, click on the link and check out hotels for your stay and see what fits your needs.  There is one good hostel on the island and it is very popular and often full, so booking is recommended.
Isla Mujeres is also a good place to take a tour to Isla Contoy. This island was made a national park in 1998 and is home to 150 bird species. It is a great day trip to observe a beautiful natural environment.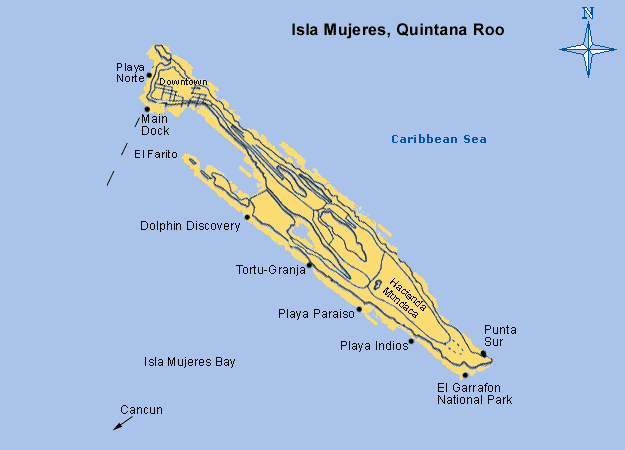 Renting Gulf Carts on Isla Mujeres
One of the best things to do on the island is rent a golf cart and cruise around the place. Since there is no bus tour or really other way to see everything, renting a golf cart is a great option to take in some fresh sea breeze and sights. There are multiple places in town that rent golf carts and they are pretty much the same in quality. Prices however are flexible. It is going to depend on the tourist season and demand but on average a one hour rental is about 250-300 pesos. A two hour rental is going to be 350-500 pesos. You can rent for longer if you like. One hour will get you to the southern tip of the island and back but will not have much time to spare so we recommend two hours.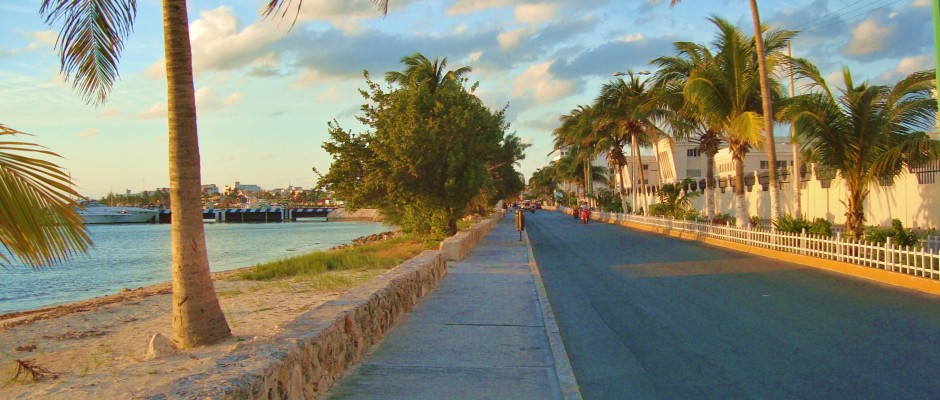 Tip: In town be careful to drive down one way streets the correct way. Police will most likely kindly remind you but you need to be safely driving around and consider pedestrians safety as well.
Definitely drive to the southern end because the cliffs are nice to look at and you get a different perspective of Cancun that you often don't see in  photos. One really unique thing you can see on Isla Mujeres is a floating house made out of plastic bottles and a host of other things. It was featured on the TV show MTV Extreme Cribs. It is located in Laguna Makax. There are Mayan Ruins on Isla Mujeres but they have been diminished over time with hurricanes and now are not really an attraction.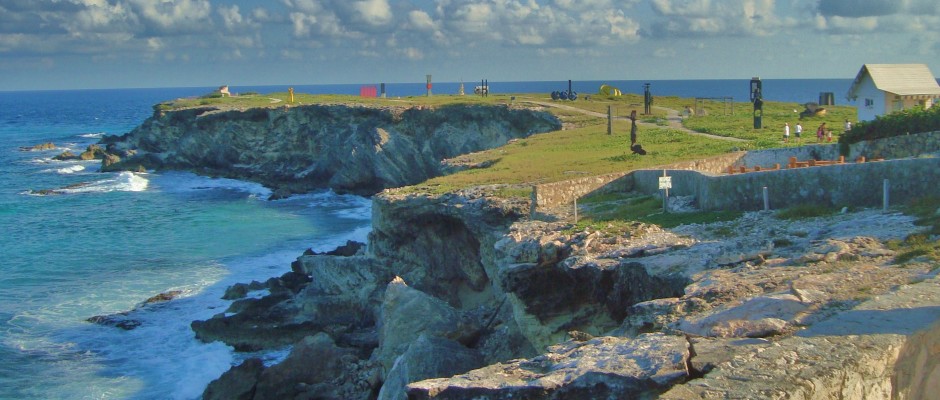 How to get to Isla Mujeres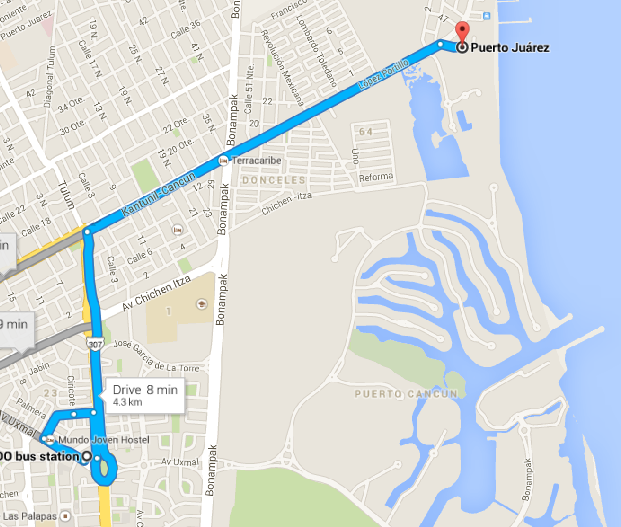 Most people go to Puerto Juarez where the ferry leaves from to get to Isla  Mujeres. From Cancun you can easily take a taxi here or even a colectivo bus going to Puerto Juarez. The colectivos run right next to the ADO main bus station in Cancun. (on the east side of the station) This makes it easy if you want to come from Playa Del Carmen to by bus to Cancun and hop on a colectivo to catch the ferry. the ferry cost 78 pesos o/w and it is the same price if you buy a round trip ticket so you might was well buy it when you are ready to return.
The schedule is as follows: Everyday (365 days  a year)
Puerto Juárez (Cancún) – Isla Mujeres

| | |
| --- | --- |
| Departures every half hour from : | 5:00am a 8:30pm; 9:30pm; 10:30pm; & 11:30pm. |

Isla Mujeres – Puerto Juárez (Cancún)

| | |
| --- | --- |
| Departured every half hour from: | 5:30am a 9:00pm; 10:00pm; 11:00pm & 12:00 am. |
 If you are going to stay on Isla Mujeres and need to get from the Cancun Airport to the ferry dock you can book an easy private transfer.
Prices are as follows:
Prices are per vehicle and not per person. To save on the round trip you must request it at booking.
For 1-3 people it is $40 USD one way or $65 round trip.
For 4-7 people it is $45 USD one way or $75 round trip.
For 8-10 people is $50 USD one way or $85 round trip.
Just click the link below to reserve.
| | |
| --- | --- |
| |  There are ferries  that leave from the Hotel Zone in Cancun. These cost nearly double the price as above. So you have to consider the convenience factor in with the price. You can also take catamaran trips or dinner cruises from Cancun to the Island. |