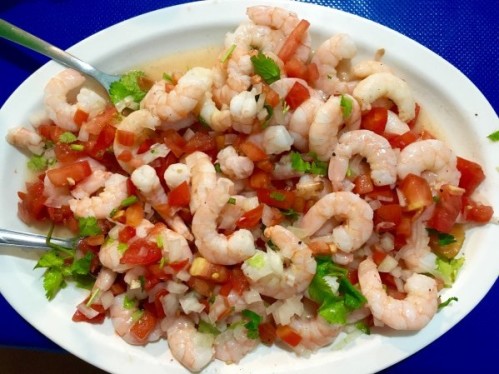 Local seafood restaurants in Playa Del Carmen
If you like delving into the local culture and want to see where the locals eat, here is a list of local seafood restaurants. These are popular with residents in Playa Del Carmen for one reason or another. Most are of these are off the tourist route but all of these restaurants are in the downtown area.
Most locals are accustomed to eating seafood since it is so prevalent here. Locals like to dine out especially on Sundays when the family has time off from work and they can relax around a table. Most of these local seafood restaurants are not gourmet but rather serve up staples like fish with garlic and butter or fish tacos. If a restaurant is busy it usually means the seafood is fresh. Many restaurants on this list have been around for years in Playa Del Carmen. We hope you get to try some of them.
Note: These are roughly listed in popular order from the top of the page.
La Tarraya Restaurant
La Tarraya is about as local as you can get. It has been around for years in Playa Del Carmen and is one of the last beachfront restaurants from the old days. This restaurant is not fancy, gourmet or offer large portions. It is basic with fresh seafood and good cheap drinks. Prices are very reasonable especially since it is on the beach. Here you can dig your feet into the sand and enjoy the shade of the palm trees. This restaurant is on 2nd Street and the beach. For more about local seafood restaurant, see our article here.
El Pirata Restaurant
This perhaps is one of the most well known local seafood restaurants in Playa Del Carmen. It is visited mostly by locals with about 20% being tourists. El Pirata is not in the exact center of Playa Del Carmen but just off 5th Avenue on the north end.
Tip: It usually is busy and you might have to wait for a few minutes for a table. They will usualy give you a number, so ask for one so you get in line.
The seafood certainly is fresh here. It is fresh caught fish and fresh made ceviches. This is what has sustained this restaurant over the years along with consistency and fair value prices.
El Pirata is on 40th Street between 5th Avenue and 10th Avenue. There is some street parking on this street but it is limited. If you drive you should find space within two blocks. It is also fairly easy to walk to and toward the end of pedestrian 5th Avenue. For more about El Pirata Restaurant see our article here.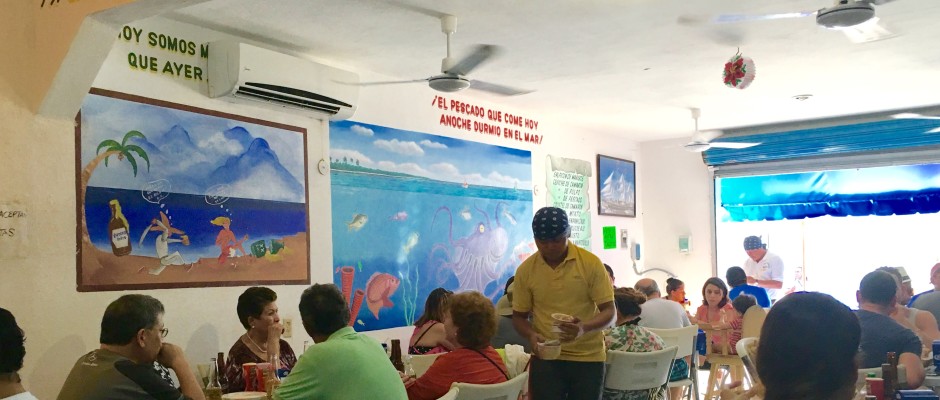 La Floresta Restaurant
La Floresta sits on the 307 Highway access road on the west side. There are a few parking spots in front. When you enter the open air restaurant there is usually a buzz of families and groups of friends enjoying a casual meal. The plastic tables and chairs add to the casual atmosphere. This restaurant has been here since 1994 and is a regular institution to some.
The menu is simple. There are just a few options and this makes it easy for the waiters to circulate around the tables and bring your order very fast.
There are four types of seafood tacos, five types of seafood cocktails, five types of ceviche and aguachile shrimp which is shrimp marinated in lime juice and spicy peppers on it. Soda and beer are available.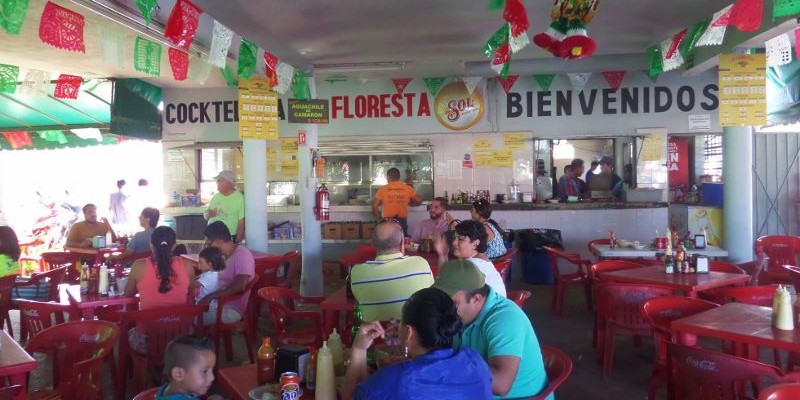 El Oasis Mariscos Restaurant
El Oasis Mariscos Restaurant is a long running favorite among locals and expats. It is a fun and cheery place with a Caribbean/Yucatecan feel to it. Just one look at the hot pink roof and you know this place is not your average restaurant. This place is especially busy on the weekends with seafood lovers.
With the fun decorations and full menu this place is a little oasis of good eating right off the highway. El Oasis Restaurant has been doing this for a while and has gotten things down to a good pattern. One thing you will notice is the full kitchen staff looking very professional in their white outfits. They are chopping away and gearing up for the day of dishing out good meals. We can see this place being around for some time to come.
El Oasis Restaurant is located on the 307 Highway that runs through Playa Del Carmen. It is on the local access road on the west side. It is on the corner of 22nd Street and the highway, but remember that the street numbers on both sides of the highway do not match for some odd reason. On the beach side it would be 12th Street but it magically turns into 22nd Street when you cross the highway.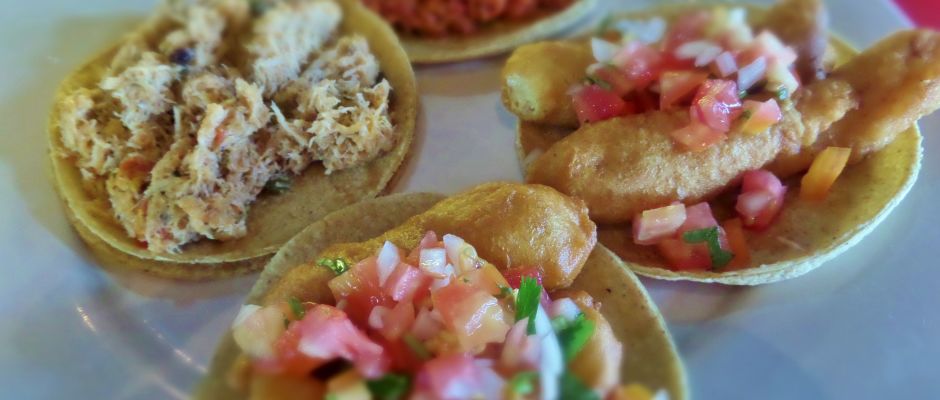 Chiltepin Mexican Seafood Restaurant
Chiltepin Restaurant is a little off the beaten path but a good place for some Mexican seafood tacos, tostadas and more. It is very popular with residents of Playa and with tourists that find the place. This is the type of restaurant you order good seafood tacos or a shrimp cocktail and drink a beer while the music plays and TV's show sports. It is casual dinning with true Mexican taste.
The restaurant is open air with fans and also has a small pool that kids can swim in while the adults enjoy the food and a drink.
The menu reflects a more northern Mexican style of preparing seafood. The portions are large and for the money you will get much more then you would at some other popular Mexican seafood restaurants located near 5th Avenue. Expect to pay about 120-170+ per person. It will really depends on how much you eat and drink. But you can see by the photos and prices below that you can get off pretty easy here and not pay a lot.
You can find this restaurant On the corner of 34th St and 20th Avenue.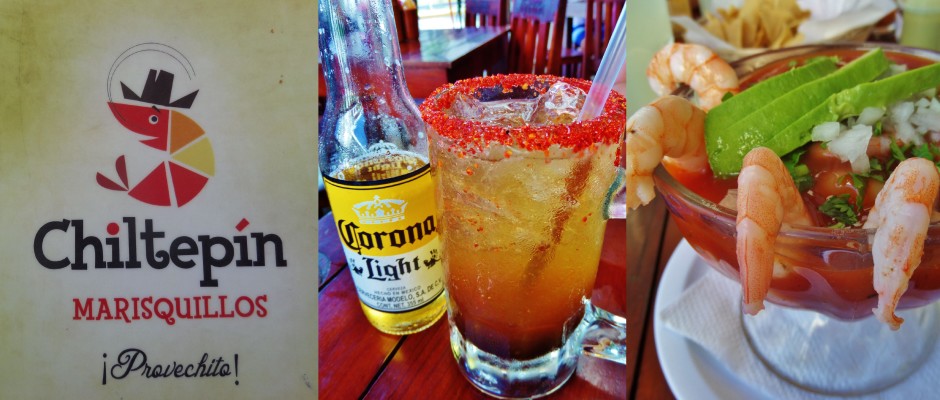 El Doctorcito Seafood and Ceviche Restaurant
Known by locals as a restaurant to go for ceviche and  DJ music, this is one jamming corner local restaurant. This is on the corner of 12th Street and 25th Avenue which is close to things but not usually a street people walk on so you might have missed this place. The menu is small and limited to just seafood. Mainly there are three categories, cocktails, ceviche and los aguachilies.
For more about El Doctorcito Restaurant, see our article here.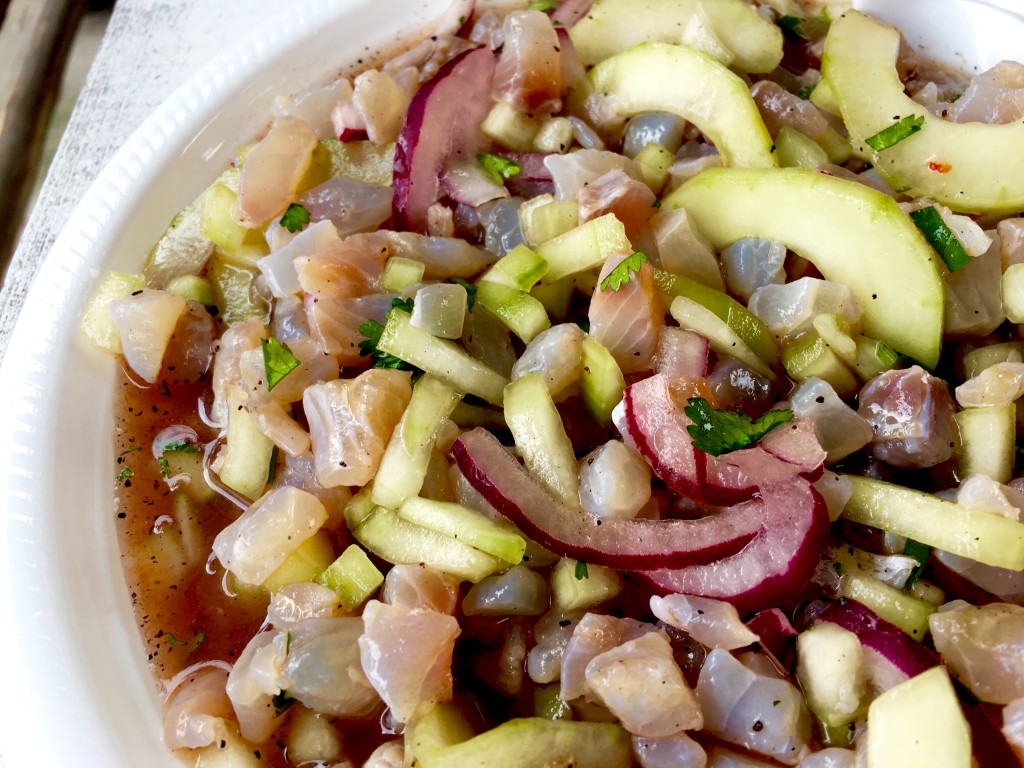 El Curandero Restaurant
This is a Mexican style seafood restaurant with a leaning for the gourmet side. The atmosphere is casual where you can have drinks and Mexican style food with a little new take on traditional dishes. The restaurant is an open air restaurant with a large palapa roof. There are large TV's that can be used for sports games, hence why they also call themselves a sports bar.
El Curandero is on 34th Street between 25th Avenue and 30th Avenue.  Open daily from 8:00am-12:00 midnight everyday. For more about El Curandero Restaurant see our article here.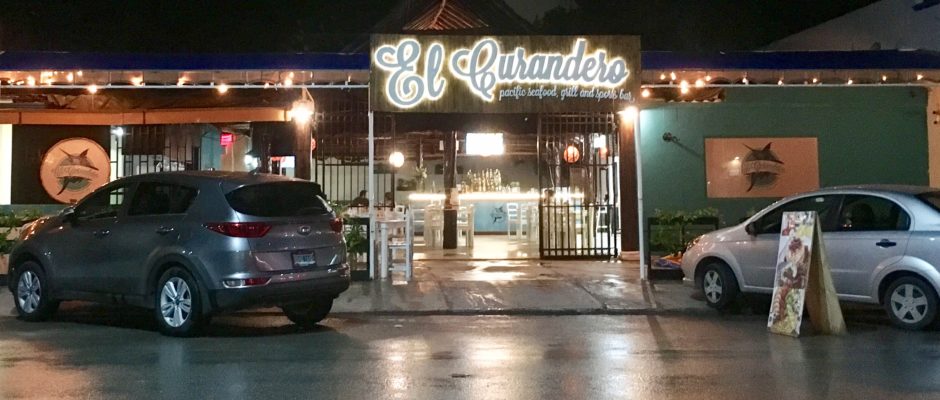 Cockteleria Rodimar
This little whole in the wall restaurant is so local there is not even a sign on the front of the building. This restaurant is known more just for ceviche and a possible taco. Cockteleria Rodimar is on 20th Street between 30th Avenue and 35th Avenue on the north side of the block. On the corner of 30th Avenue is the new two story Nativo Restaurant. Look for the blue front of the building. Open daily from 10:00am-7:00pm.
For more about Cockteleria Rodimar see our article here.
What is our favorite local seafood restaurant in Playa Del Carmen? Let us know in the comments below. We would love to hear from you.
If you will also be in the Cancun area you MUST check out Mar Bella Restaurant. It is the best local seafood restaurant in Cancun!