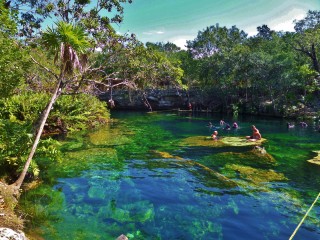 What are the best cenotes to visit from Playa Del Carmen?
We get asked all the time about what cenotes are close to Playa Del Carmen and what are the best ones to visit. The good news is, there are some beautiful cenotes just about 20 minutes outside of Playa Del Carmen to the south. All three of the closest cenotes are beautiful and good to go to. If you want to travel a little further, there are also many to explore and enjoy.
You can expect to pay 100 pesos per person for entry to each. You can rent life jackets and perhaps snorkels. It is our recommendation that if you are going to be swimming several times here, to buy a mask and snorkel so you are sure to have one. Snorkeling in the cenotes can make it a much more enjoyable experience. You can buy snorkel and mask in Walmart or other grocery stores. It can be around $10-$20 USD. If you don't have room to take it back you can always give it to some kids here.
Tip: Respect the rules with bug spray and sunblock. Some cenotes ask for people to only wear biodegradable sunblock and bug spay to keep the water clean and enjoyable. Other cenotes will ask for you not to use ANY sun screen.
The best and closest cenotes to Playa Del Carmen
In no particular order, here are three cenotes that you can go to. The nice thing is, they are all next to each other and you could visit all three in one day if you wished to. All of these three cenotes are open, meaning they are not in a cave.
Cenote El Jardin del Eden
Cenote Eden is one of the most popular cenotes to visit because it has a cliff jump, deeper water that makes for more interesting snorkeling and a nice spacious setting for resting.
At this cenote there are bathrooms, some small palapas for picnics, although no alcohol is allowed. There is a foot trail around the cenote and a few docks where you can enter the water. In the center of the cenote are a few large rocks where you can sit in the water and enjoy the surrounding cenote.
Cenote Eden compared to the other two is further back from the road, so if you are taking the colectivo, expect to walk about 12 minutes back in to the woods.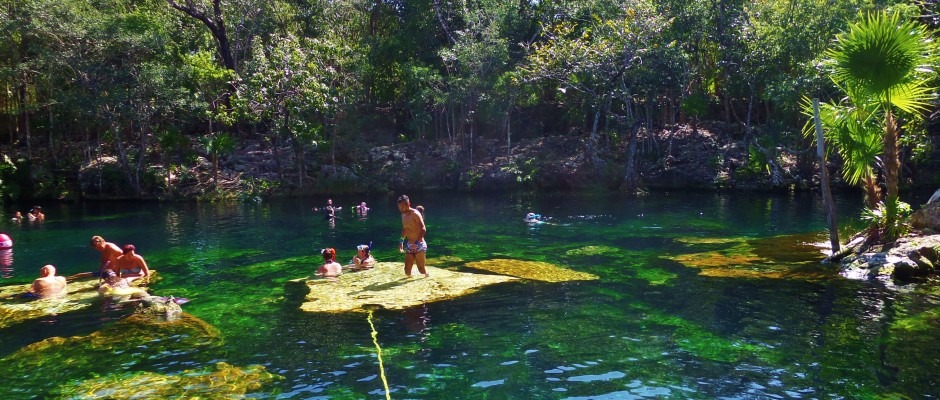 Cenote Azul
Cenote Azul is in a "L" shape and has a few corners where you can find a relaxing spot. This cenote is a little more family friendly for young children because there are shallower areas. This cenote also has a cliff jump for the daring.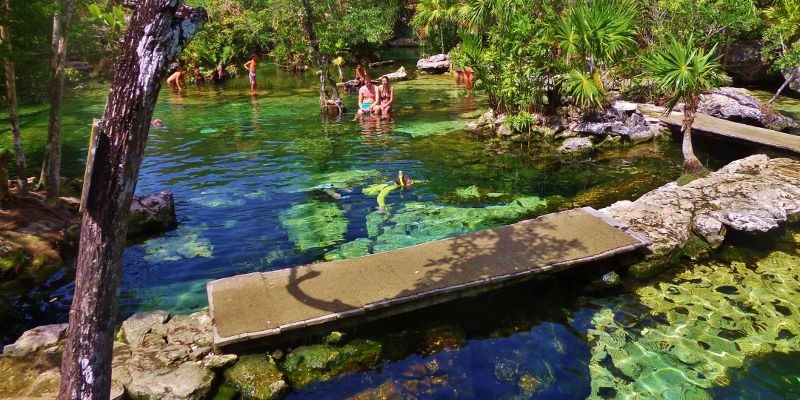 Cenote Cristalino
Cenote Cristalino is in a "c" shape with lots of plants around it. There is a cliff jump here and Cenote Cristalino makes for a great place to snorkel as well. There is a semi cave like portion you can snorkel through here. Of the three cenotes this is the smaller more calm cenote. There is less space to spread out you stuff but can be quieter.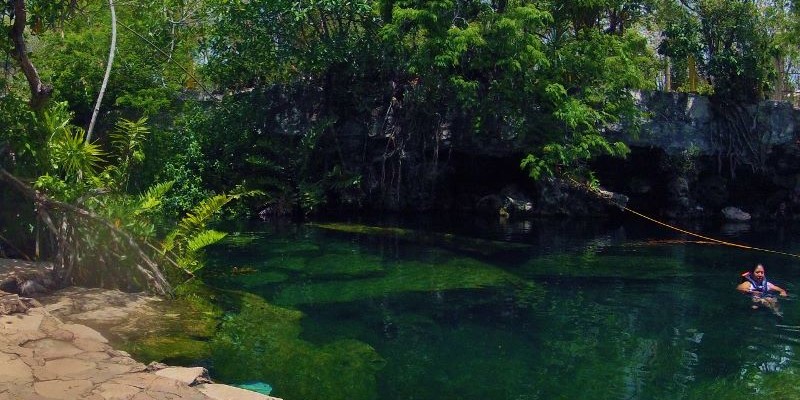 How do you get to these cenotes?
You can either take colectivos here or driving. These are the two choices you have. No ADO busses will stop at these cenotes. You technically can take a taxi here. It is more expensive and you might have to wait 10-15 minutes to get one to go back to Playa Del Carmen since they are not waiting there. Check our taxi rate chart in our article here. Use the Barceló Hotel price as your guide. There are different prices for 1-4 people and 5-8 people. Note: If you are over 4 people you will most likely need to take two taxis back to Playa Del Carmen because not too many van taxis are available on the highway.
Public transportation (colectivo-shared minivan)
Taking public transport means you will take a (colectivo). Take Tulum bound colectivos from 2nd Street in Playa Del Carmen (see link to colectivos). They will ask where you are going and just say Cenote " " or in case they do not know where this is, just say the cenotes in front of Barceló Hotel. After you pass Puerto Aventuras you will soon see the large Barceló Hotel entrance on the left and the cenote is just a little farther on the right. It is 30 pesos for the one way. There are signs for all three cenotes on the highway.
By car
Drive south on the 307 highway from Playa Del Carmen. You will pass Puerto Aventuras and about 5 minutes past there you will see the main entrance to Barceló Hotel on the left. On the right are four separate cenotes to visit (the three mentioned here and one cenote park that is more expensive). You will see the sign on the right for the cenote you want to go to.  Parking is ample at each cenote.
Map to the cenotes close to Playa Del Carmen
Below you can see Cenote Cristalino marked and Cenote El Jardin del Eden and Cenote Azul just to the south.
Great cenotes to visit but are further away
Casa Cenote
Casa Cenote is further south toward Tulum. This cenote is further from the highway so we recommend driving here. Once you arrive you will be rewarded with crystal clear waters and a large area to snorkel. Casa Cenote is very close to the beach, in fact it is connected by a tunnel that divers can go through out to the ocean.
Here you can snorkel, swim, or rent a kayak and explore this mangrove area. You also will notice divers here. Most of the time they are lower in the cenote and snorkelers are on the top so it is not much of a problem.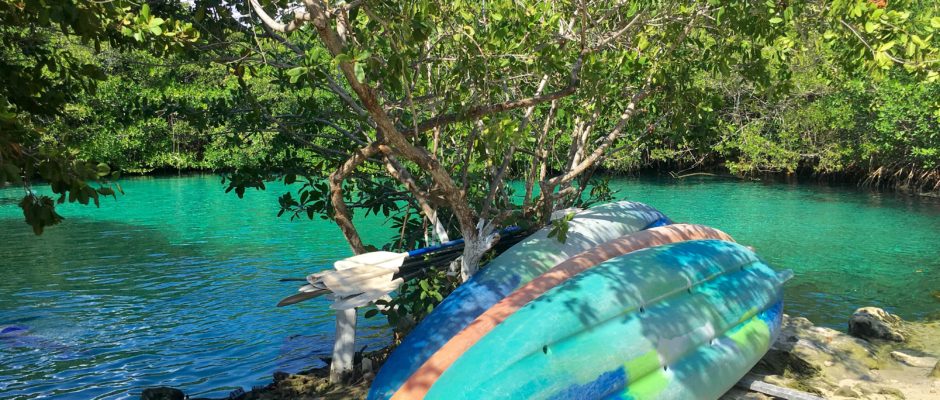 Map to Casa Cenote
You can see where this cenote is located. It should be noted that it also goes by the name Cenote Manti. The entrance is closer to where the marker is on the map.
Other places to check out for snorkeling
We hope you get to visit some of these cenotes while visiting the Riviera Maya and Playa Del Carmen. If you also like to swim and snorkel you might like to read our article on Yal Ku Lagoon. This is another place to snorkel where the ground water runs into the ocean.
What is your favorite cenote to visit? Let us know in the comments below, we would love to hear from you.