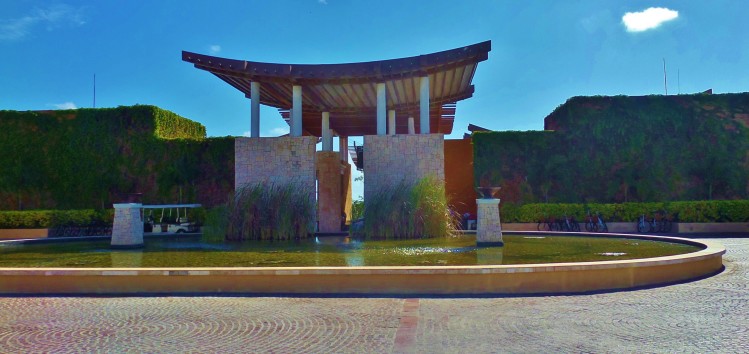 What is the Bayan Tree Resort like?
Mayakoba Hotels are some of the best in the Riviera Maya and have been on our recommended hotel list for some time now. Inside the Mayakoba complex there are three hotels: Rosewood, Fairmount, and Banyan Tree. On this trip we inspected the Mayakoba Banyan Tree Resort.
It might not be in everyone's price range for a vacation but we wanted to show you what it was like behind the massive entrance on the highway.
Rooms at Bayan Tree Resort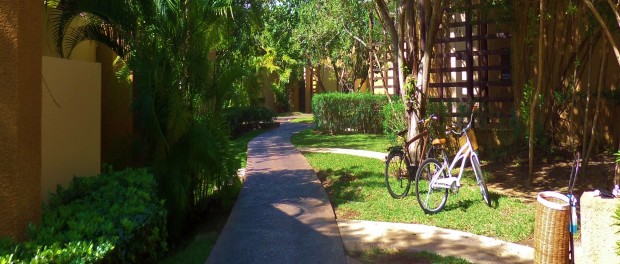 First off there are no rooms at this hotel. You rent a villa. It is like living in that luxury tropical house  that you always dreamed of living in, except you only get to stay for your vacation time.
To get around the hotel there are covered golf carts or they rent bikes. From the main building there are small sidewalk trails that lead you to your villa. They are one way paths and make for a small village feel.
There are 118 villas and are divided into 7 categories or styles. Basically you can choose ocean front villa, golf course view villa or luxury villa with pool.
Since these are full houses you can rent it as a family or two couples could rent together.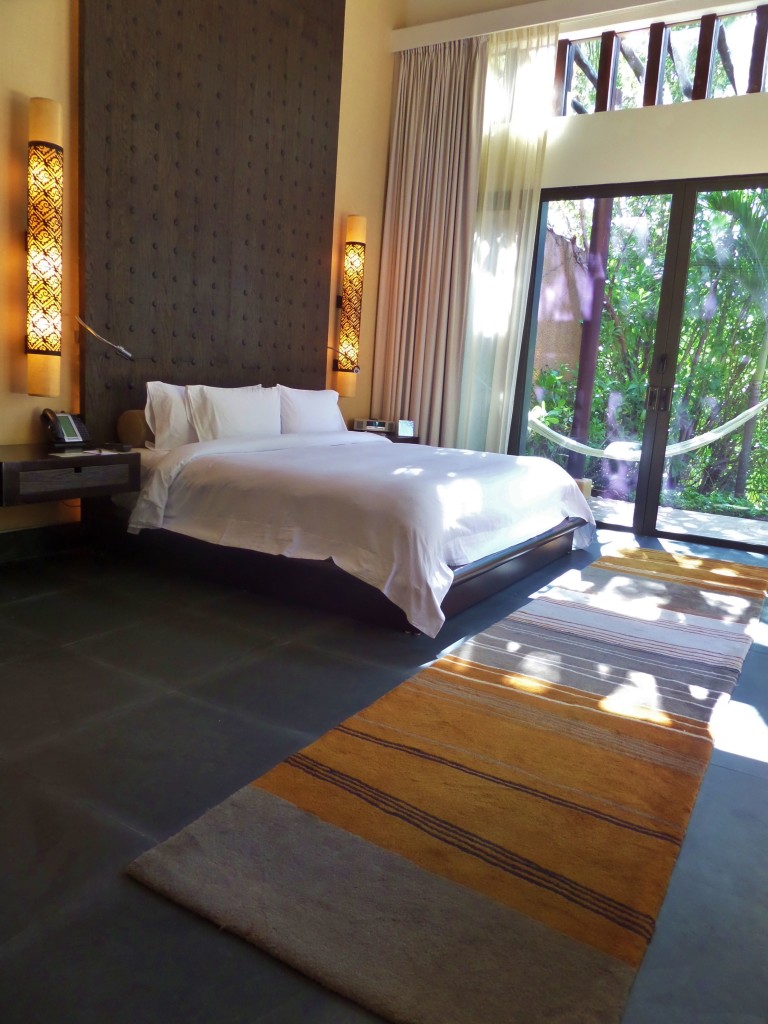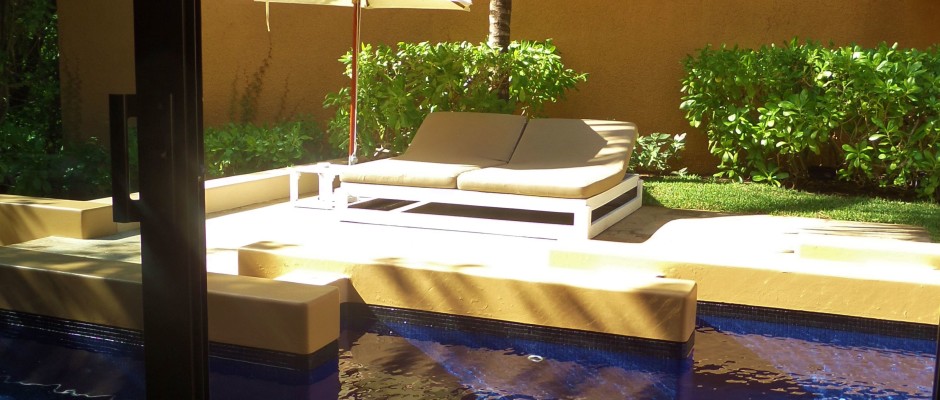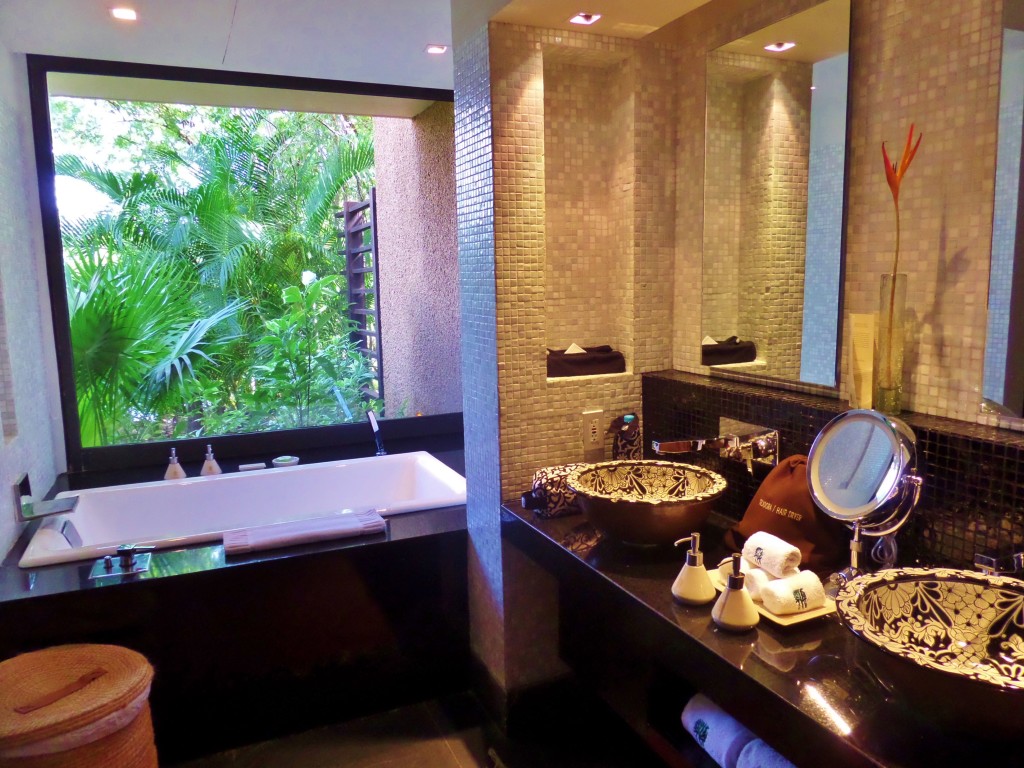 Main Lobby Building of Bayan Tree
You can definitely see the Asian fusion of design here with the architecture. The massive two story structure has Asian inspired swooning rooflines. In the center of the building is a waterway and small island. You actually can take a small boat down the canal to visit other parts of Mayakoba. It is also used for romantic meals, but needs to be reserved in advance.
The main building houses huge patios with bars and open air hallways all with vistas of the tree tops. This area makes for a great location for cocktails, meeting space or for part of a wedding.  The main building also houses a ballroom that can be used for weddings or events.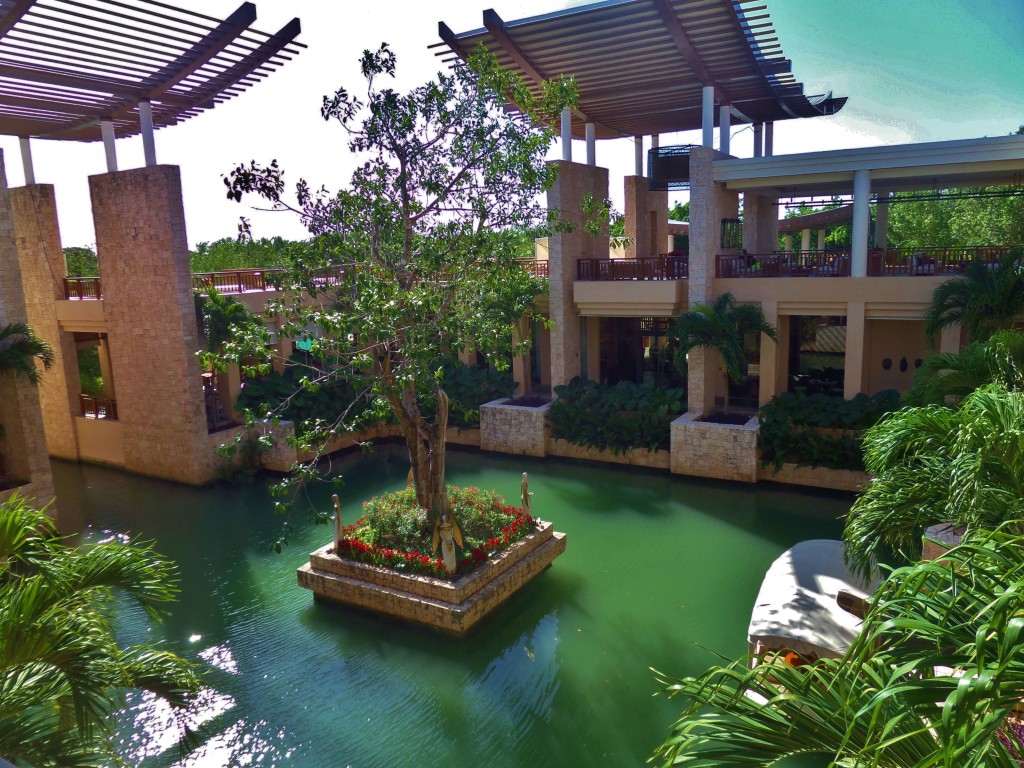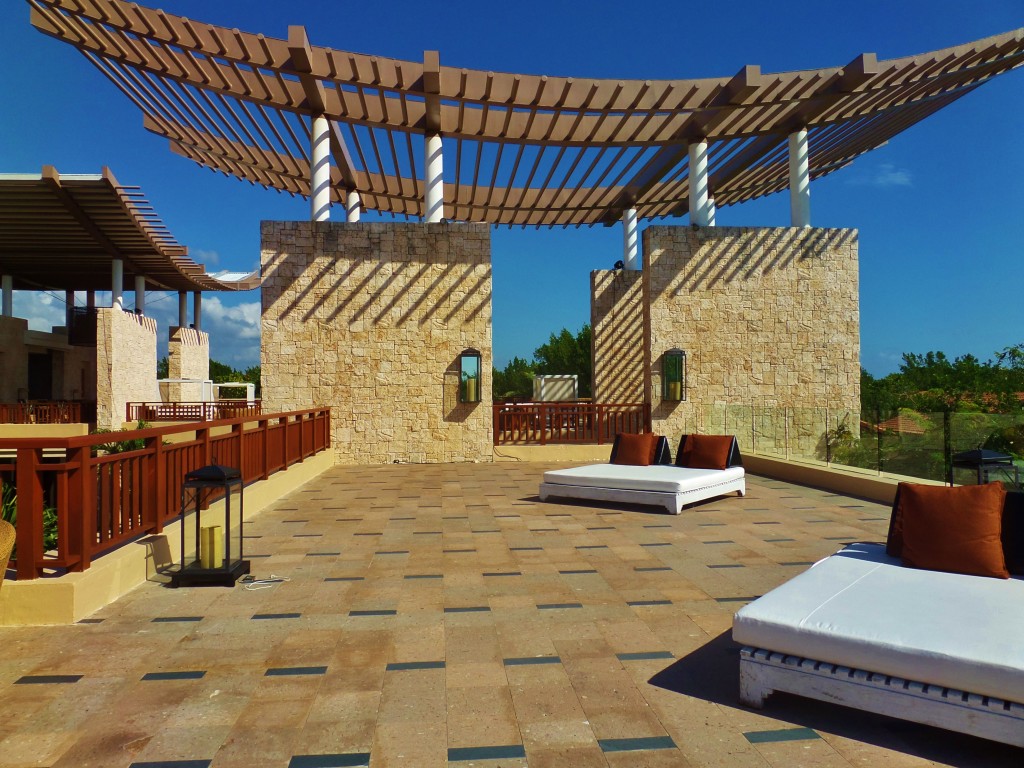 Pool and Beach at Bayan Tree Resort
The main pool is beautiful, too bad no one uses it, or good for you if you want to be at the pool with not too many people around. The reason the pool is so quiet is the fact that the villas have pools and there is the beach to visit as well. There is also a second outdoor pool and an indoor pool.
The beach front area has a beech club with services. It is a considerable walk from most of the villas in the back of the resort, so the bicycles or golf cart transportation comes in handy for this. Unfortunately the beach has eroded lately and they have large black sandbags protecting further erosion.
Food and Beverage service at Bayan Tree
This is where you will get outstanding quality. This is not an all-inclusive hotel so you will need to buy your food. This can add up very fast here and you often wonder what they could use for ingredients to make is cost so much. You are however paying in part for the location, atmosphere and exclusivity. You will however be at one of the better hotel restaurants in the world.
One possibility here is you can have a chef come to your villa and cook for you if you want a romantic dinner or private one. There are seven other dinning restaurants and bars to eat at on the property. There is also the boat Ixchel which you can reserve in advance for breakfast or dinner and dine while you are taken through the canals of Mayakoba.
Tip: If you know you are going to be staying on the property for meals, ask about a package because this can save you some expense.
Golf Course
Banyan Tree has a 7,039 yard golf course designed by Greg Norman. This course goes through several of the natural areas of the property. Each year there is a huge PGA golf championship here. This brings in some of the top golfers in the world and just tells you how exclusive this property can be.
Mayakoba Banyan Tree Resort Review
Overall this is an impressive property with a privileged feel and any service you can imagine. For those that want privacy and your little piece of paradise, this hotel will meet your expectations and can exceed them. You are paying more for the privacy and exclusivity in this hotel so those that this hotel is at the top of your price range might want to think about how this falls into your value of what you are looking for.
Need help choosing which resort is for you?
If you need help choosing a resort in the Riviera Maya we have great news for you! We have teamed up with an expert who knows the area very well. Lori is an expert travel agent for the area and can help you find what hotel is best for you. See our article about Lori along with her contact information here.
Have you stayed at the Mayakoba Bayan Tree Resort before? Let us know what your thought in the comments below.