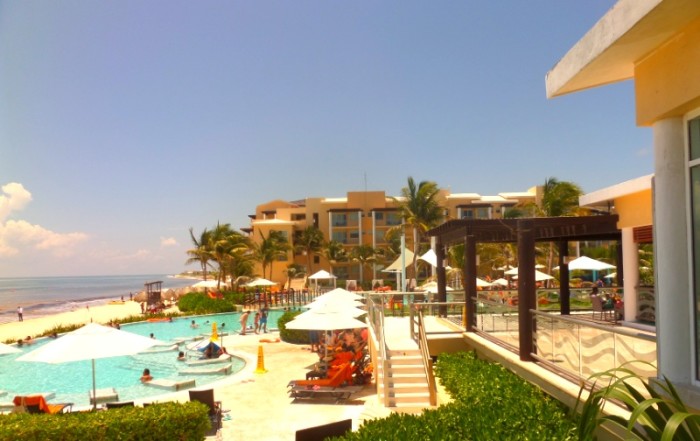 Now Jade Riviera Cancun Review
The Now Jade Riviera Cancun is a large all inclusive resort on the Riviera Maya. We visited this property and spent time taking notes to tell you what it is like and if you should stay there.  This hotel did not make it on our recommended hotel list. You can see why in the review below.
Where is the Now Jade Resort?
The Now Jade Riviera Cancun is actually not in Cancun it is in a small seaside village called Puerto Morelos. Hotels label things with Cancun when they are close because it is what people know and it carries a little more prestige.
This stretch of beach is nice but not as sweeping as the hotel zone in Cancun. There is nothing within walking distance of this hotel and only a bike ride will get you into the small town nearby. But really who needs to leave an all inclusive hotel?
The hotel is close to the Cancun Airport (about 20 minutes). This makes it closer to get to then even some hotels in Cancun's Hotel Zone from the airport.  The closest daytrips from this hotel are Xenotes Park, shopping or dinning in Playa Del Carmen, Xplor Park and Xcaret Park. Xel-ha Park, Coba Ruins and Tulum are all south of here and are closer to hotels near Playa Del Carmen or points south along the Riviera Maya. The last mentioned day trips are certainly accessible , they will just take about 1 hour to 1 hour and 45 minutes to get to.
Rooms at Now Jade Rivera Cancun
There are 550 rooms at this resort. We give this hotel an A- for rooms. A nice feature of this property is the proximity to the ocean. Not all resorts are on the ocean in the Rivera Maya, some are several blocks back. Some rooms at Now Jade are close to the water and ocean front suites give you a nice view. Even the bathrooms in some rooms have an incredible view.
We like the multi level rooms with sunken living room and the bathrooms with double sinks and open feeling showers. The free Wi-Fi in the rooms is good and airconditioning systems are strong. The mini fridge with complimentary beverages is a nice feature.
We gave this hotel an A- because it is a little older of properties. The bed runner and decorative pillows were a little pilled, wear and tear of moving the TV around to differnt views, and little things like loose shelves in bathroom or rusting hardware on doors.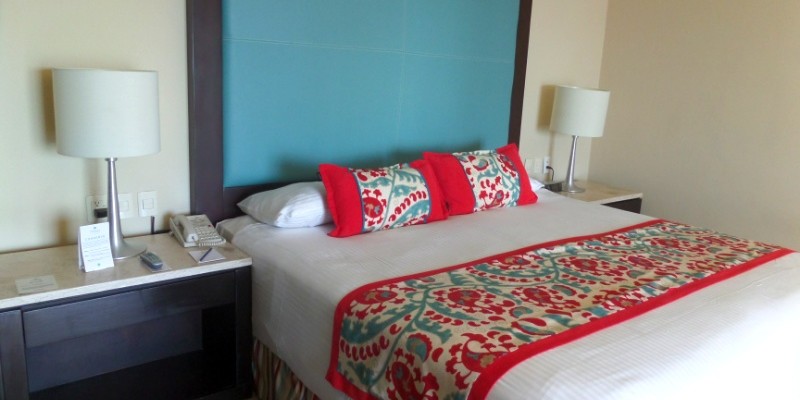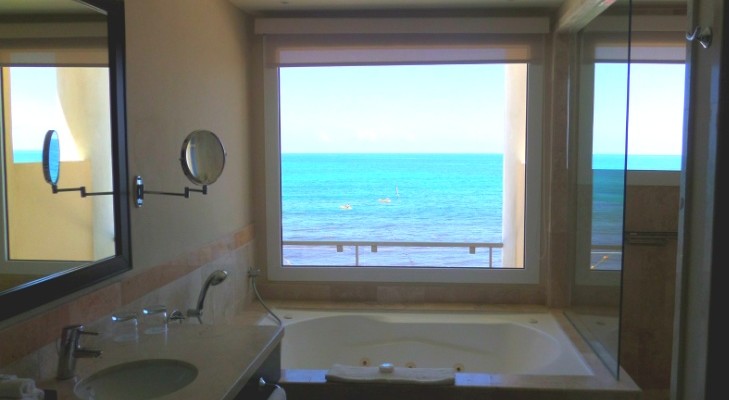 Dinning and Eating at Now Jade Hotel
There are six restaurants at the resort, one buffet and a cafe. Overall for food we give this resort a B-. We found the Canival buffet to be a bit repetitive in what they had at each station.
The food at the restaurants is basic and not exactly gourment. The quality of the food is about the same quality as tourist traps on 5th Avenue in Playa del Carmen. Below is a fish fillet from the Castaways Restaurant. As you can see it is a little basic and portions are small. It is actually good that portions are smaller since at all inclusive hotels you tend to see a lot of food passing before you and it is easy to take home some extra weight.
We did see some questionable food practices that can put guest at risk and we are addressing this directly with the hotel so it can be corrected. We will let you know if they respond to our concerns. (Update: After waiting about two weeks since emailing this hotel, we did not heard from them. We are posting a picture below that reflect the cleanliness and standards. As you can see this side table is dirty with ripped cover and broken latch. Perhpas worst of all is the mayonnaise sitting in the hot weather for long periods of time. It is true commercial mayonnaise holds up better but even the consistancey will start to get oily. Most restaurants store them in the refridgerator and then bring it to the customer when needed. This photo exemplifies some possible problems with management in not keeping this hotel up to better standards.)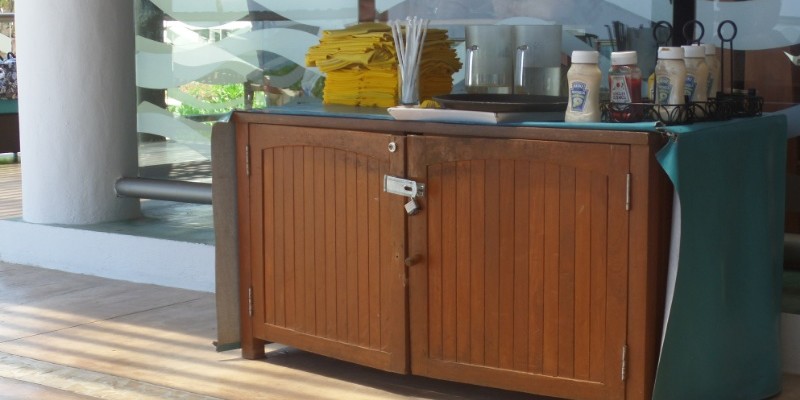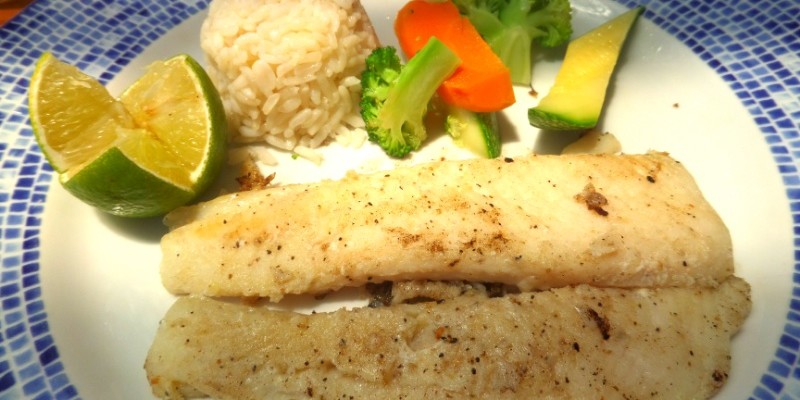 The Mexican restaurant called Tamarindo is decorated nicely but there is no gourmet surprise here. It is a bit like a large commercialized form of Mexican food.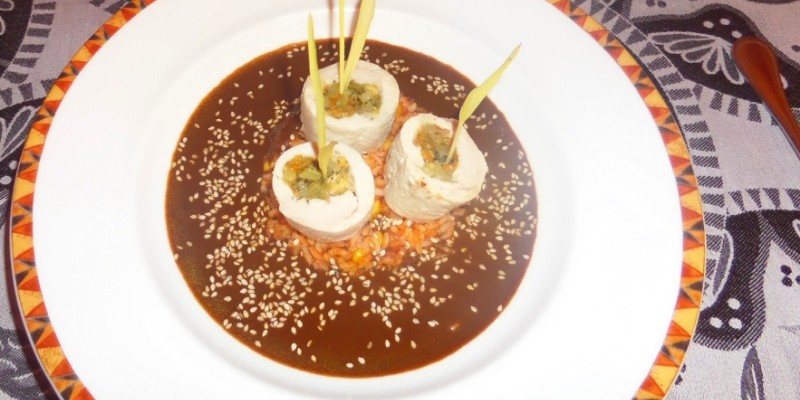 The Coco Café was a very nice feature on this property with fast service for coffee, good air conditioning and quick in and out for when you want a little snack and caffeine. You can see the display of sweet treats that changed throughout the day.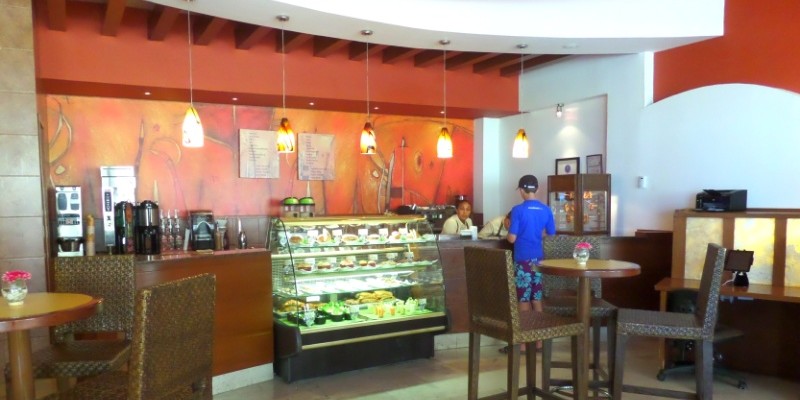 Pools and Beach of Now Jade
We like the fact that there is an adult pool and family pool. The pools are nice and both feature an infinity edge overlooking the ocean. The pools are a little smaller then at other hotels of the same size and there are no extra features that make them stand out. We noticed some small tiles missing and the need for work. Because of the sizes of the pools and a little less space around them for chairs we give the hotel a B-.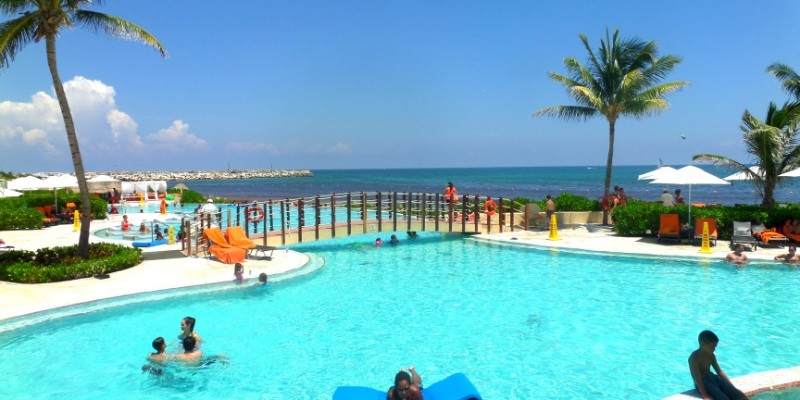 The beach is nice in front of the hotel. There are no palm trees but they do have palapas to sit under if you want shade. There is a spot for launching kayaks and other water sports. We were at the hotel when there was seaweed all up and down the coast, so we looked beyond this natural phenomena to rate the beach. It is ashamed they built a manmade marina with rocks just north of this hotel but other then that we like the beach and give it an A-.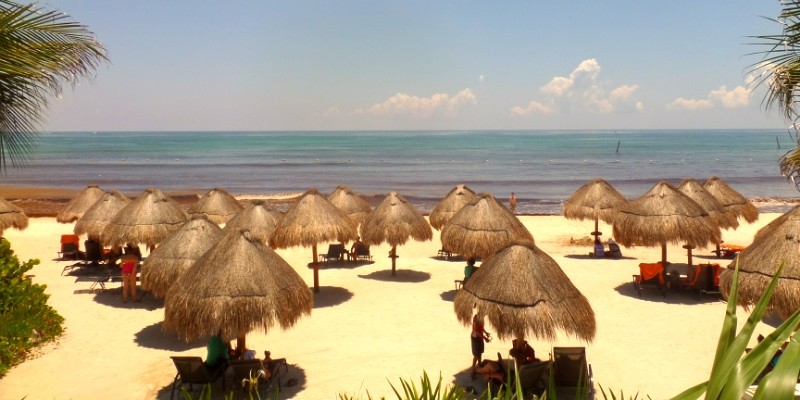 Entertainment at the Now Jade Resort
The shows are very good at the hotel. We rate the entertainment a solid  A because the skills of the performance staff and choreography of the shows. In fact the shows here were some of the better ones we have seen. Having the show in the air-conditioned theater is another plus here compared to some hotels that have large open air theaters.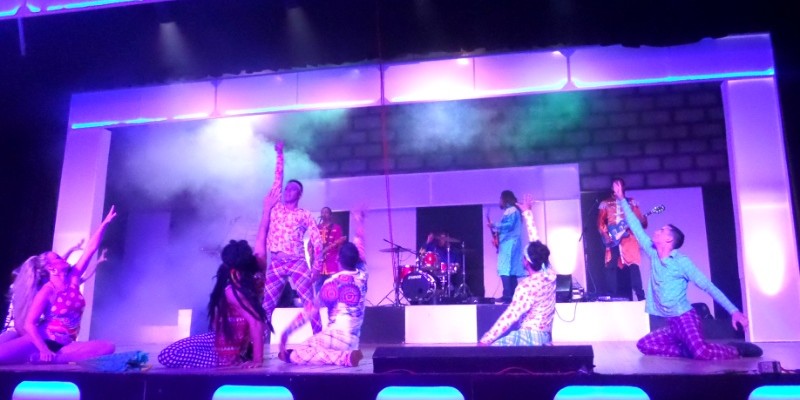 Staff and Service
We usually don't focus too much on service because it is often not the staff's fault that service is slow or not the best. It often falls on management because they do not hire enough people or pay enough to get the best quality people. You will notice people working hard here but often you can get better service if management did better hiring and had more people. We did have slow service several times but noticed how hard the staff was working and the amount of customers at certain times of the day.
We also noticed that uniforms were not the cleanest and best fitting. It would be good if the hotel provided new uniforms to everyone to present a crisp look to the hotel since these people are the face of the hotel.
Cleanliness at the Now Jade Hotel
Overall things were good here. We give the hotel a B-.Where they did fall short was the above mentoned food table, the pool area was clean but needed maintenace. We also went into a bathroom at the Castaways Restaurant and as soon as you entered it smelled of urine. The restrooms are not air conditioned and that magnifies any smells. One toilet was full of urine and not able to flush and the floor was wet in the bathroom. Again, there should be more attention to maintenace and cleaning. The rooms and common areas were good.
Recommendations
This hotel is less expensive then some other hotels and if you accept that you might just enjoy the value of the rooms and your stay. We say this is better to spend time here with children then just adults. Just couples might want a higher standard of dinning and more adult only options. When it comes down to it, this is an average resort. There is nothing that stands out as "wow" and not too much super negative about it. If you notice in the review, things generally get good ratings but we also take into account hotel design, age, how happy people look there, service, and the general feeling you have after being there a while. So for now it is not on our recommended hotel list because it is average and aging and there are so many other places to stay.