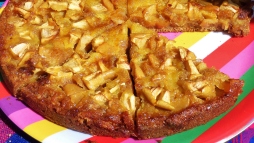 It was 14 years ago and I had the opportunity to have a semester exchange between my University in France and University La Salle in Cancun. It was not only 6 wonderful months but also a total change of life.
2. Are there many people from France in Playa?
Yes there is a lot !!! I used to work for French Consulate and they told me there were 800 French families in Qroo.
3.You mentioned you originaly moved to Cancun, when did you move to Playa Del Carmen?
I started living in Cancun in 2000 and moved to Playa in 2003
4. Why did you start baking in Playa?
I always baked for my friends and family. With the help of my best friend we start selling pâtés, then we expanded to quiches and cakes. Now she works on another project (she has a lingerie boutique in 5th Avenue) and I bake everything for my company " Sabor A Francia"
5. Where did you learn to bake?
My grandmother and my mother taught me. I love to explore new product and new tastes with fresh and local product. I experiment and love discovering news fruits like mamey and chirimoya. I love the Mexican gastronomy too.
6. Where do you sell your baked items?
In the farmers markets of Playa Del Carmen In the Feria Del Trueque where I can exchange my quiche for fresh and organic products and then improve even more the quality of my tarts. I am part of organization of this movement : el trueque ( barter/exchange) I also sell local honey, home made yogurt, and farm fresh eggs.
7. What do you like to do in Playa when you are not baking?
I like having time with my family. Going to the beach. Taking pictures and building my own garden to have fresh herbs everytime we need.
8. Do you like any bakeries in Playa? and do you like eating other peoples baked goods?
Of course !!! I am fan of Tere Cazola (the bread like a brioche with Philadelphia cheese inside.mmmm) I love the baguette of Chez Celine and of course everything I find in the farmers markets ( Anja's bread and cookies, Marta's empanadas, Luigi's specialties…)
9. What is your best advice or tip for tourist to Playa?
Go outside and do not stay in the all inclusive hotel. Try to speak Spanish even if it is just a few words. Try to get closer to the Mexican culture and share experience with local people. Try the local gastronomy, everything is amazing.
We thank you for sharing with all of us a little about you and life in Playa Del Carmen.
For more information on this baker, you can check out her Facebook: https://es-es.facebook.com/SaborAFrancia