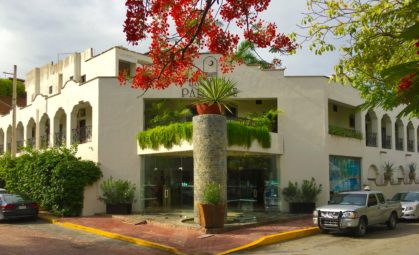 Hacienda Paradise Hotel
We love to show you everything in Playa Del Carmen and find things for all our readers on all budgets. The Hacienda Paradise Hotel by Xperience Hotels is centrally located and not as advertised as many other hotels. This hotel could be a more budget friendly option for your vacation.Here is everything about this hotel
Our video review of the hotel
Like everything on our website, we like to experience it and get to know it. We stayed the night here so we could bring you this video review.
Hotel amenities and rooms
The Hacienda Paradise Hotel has 33 rooms. There are four rom types at this hotel.
3 standard rooms with a queen or king size bed.
14 Colonial Patio rooms with two queen beds or a king.
15 Colonial Balcony rooms with two queen beds or a king.
1 Master Suite with king bed and separate living room with balcony.
Each room is air-conditioned with ceiling fans. Free Wi-Fi is available in rooms and there is cable TV. Bathroom amenities of organic products(soaps, shampoo, lotion, and conditioners). This is a non smoking hotel. Outdoor smoking areas are available.
In the courtyard of the hotel there is a kidney shaped pool with loungers. This area is surrounded with palm trees and gardens to give guest a nice restful spot.
Breakfast at the hotel
If your booking includes breakfast you can take this by the pool in the mornings. Continental breakfast is served and a menu is available.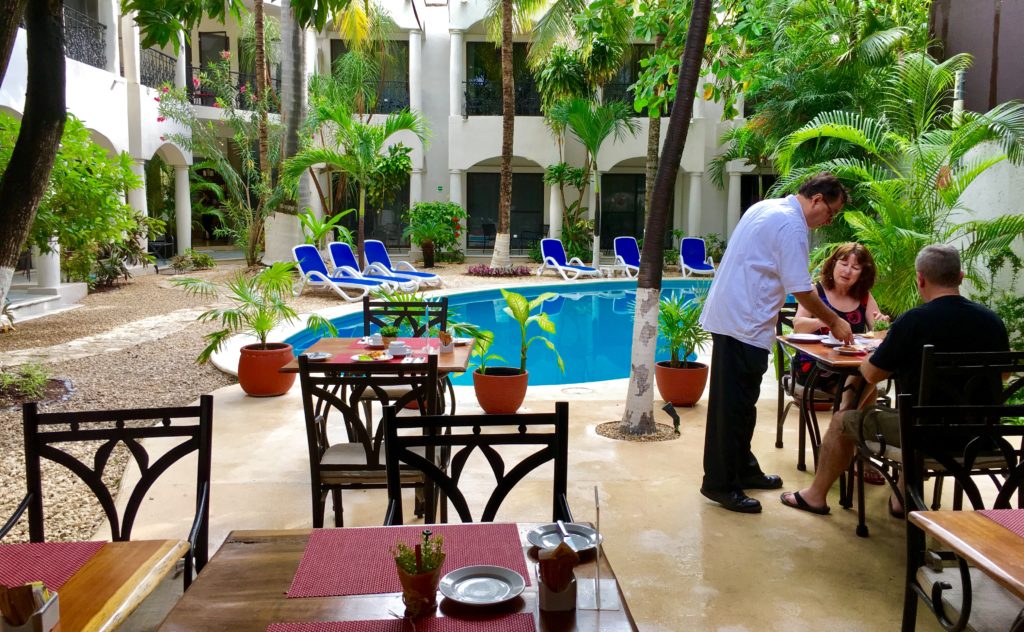 In the rooms you will find dark wood hacienda style furniture with comfortable beds.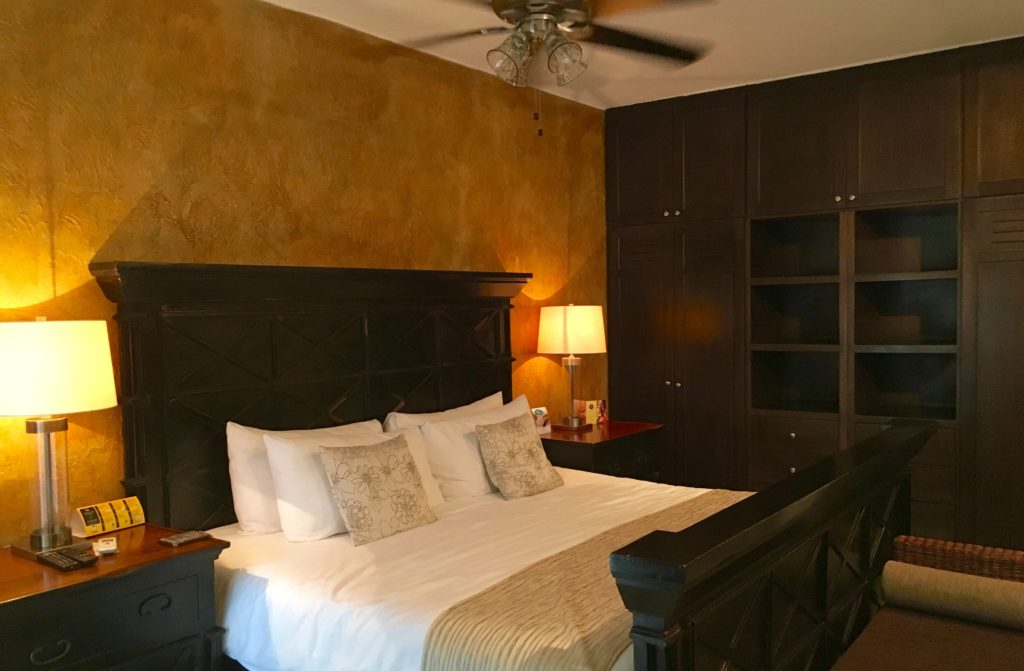 Where is the Hacienda Paradise Hotel?
This hotel is on 10th Avenue and the corner of 22nd Street in the downtown of Playa Del Carmen. This means it is very central to all of the restaurants and shops on the pedestrian street of 5th Avenue. As we mentioned in the video, Constituyentes Avenue is one that is more the center of Playa Del Carmen. This hotel is right near this, making it right in the middle of where most people want to be.
Price and booking this hotel
Prices are subject to the season and room type you are interested in so it is hard to list prices. We will say this this hotel generally runs lower then many of the surrounding hotels. You can expect prices between $60 USD- $150 USD. This makes this more of a budget option in the area. To check current prices for your dates click here.
What is near this hotel?
Within a few blocks of this hotel here are a few things that you can find. Across the street on 22nd you can find the Mayan Bistro Restaurant. Two blocks north on 10th Avenue you can find the Pik Nik Restaurant that offers Mexican food and good value in a more homey atmosphere.
For shopping you have all of 5th Avenue just a half block away. There is also the Quinta Alegria Mall just two blocks south of the hotel. There is also a good gym on 24th Street called Evolve Gym which has day passes.
Plan out your stay in Playa Del Carmen
So you are coming to Playa Del Carmen for your vacation. You have so many options for your trip! Here are a few helpful guides for you to make sure you don't miss the best things to see and do on your vacation.
Getting from the airport to Playa Del Carmen is easy. You can take the ADO bus or a private transfer direct to your hotel. Here is our guide on how to get from the Cancun Airport to Playa Del Carmen.
Going to the beach? Well there are great beach clubs in Playa Del Carmen. Here is our guide so you will know what each one has and what it is like.
Looking to go on a tour or a place to visit? Here is our big guide with interactive map so you can find spots of interest.
Dinning our in Playa Del Carmen will be fun with all the choices. Here is our large restaurant guide. You can find restaurants to fit any budget and taste.
If you need anything else, just try the search box on our site and chances are, we have something on it. We hope you have a great vacation.
Do you have questions or comments about the Hacienda Paradise Hotel? Let us know below. We would love to hear from you.