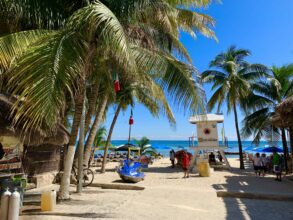 When will things open again?
One of the first things many people thought after hearing of the spreading virus and realizing it was shutting things down, was travelling. Our plans for the year were changing and throwing doubt on when we could reschedule or travel again. Over the past few months, many of us have had a lot of time to think about a vacation and what we would like to do. The problem is, much of the world, is on hold at the moment and we all wonder when things will get back to normal. As we all try to see through these times and into the future, here is what is going on here in the Riviera Maya.
What is going on right now in the Riviera Maya?
Just to catch people up to date on the current conditions in the Riviera Maya, we are currently under s stay at home order. This is expected to be lifted sometime in early June. While there has been some debate between businesses setting dates, the federal government and the state, we are expecting a date to be officially announced soon. It appears it will be sometime in the first half of June.
Most hotels are currently closed to the public. Some hotels have been remodeling behind the scenes to get ready for guests. As for the large all inclusive hotels, about 50% have a opening date for sometime in June and the other 45% or so have a opening date in July. A few are pending, with some having opening dates later in the season, but we think these will be moved up. Most restaurants on 5th Avenue are closed but as the stay at home order is lifted, we expect them to slowly open, in conjunction with the amount of tourists arriving.
Xcaret is opening its Hotel Xcaret Mexico and the Xcaret park on June 15th. Xcaret with also open all the other parks and tours on July 1st. This has been the third time they adjusted the date, but we feel this time it is going to happen. As the expression goes, the third time is the charm.
Remodeling 5th Avenue is taking place
Since we wrote the article with photos of the renovation of 5th Avenue and Park Fundadores, this work has already started! That means 5th Avenue below 14th Street will be town up for about the next month. But that means it should be ready for the majority of visitors that start coming.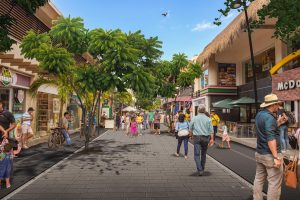 What the local restrictions have been in Playa
Places like Playa Del Carmen have limited roads open and police checkpoints. It is mandatory to wear a mask out in public in the state. Most towns including Playa and Tulum have had a curfew for overnight hours and most places have closed the beaches. So at the moment, Mexico is in phase 3 where we have quarantines and are trying to slow the spread of covid-19.
Mexico is about one month behind the first case arriving in the United States. While some states in the U.S. are lifting restrictions now, we look to have our restrictions lifted by the beginning part June. We will say that the Riviera Maya area has had a lower case number as well as fatalities up to this point. Hospitals in the area as well as the peninsula are stable at this time period. While this is always a changing situation, it appears that the Riviera Maya has been less affected than some parts of the world.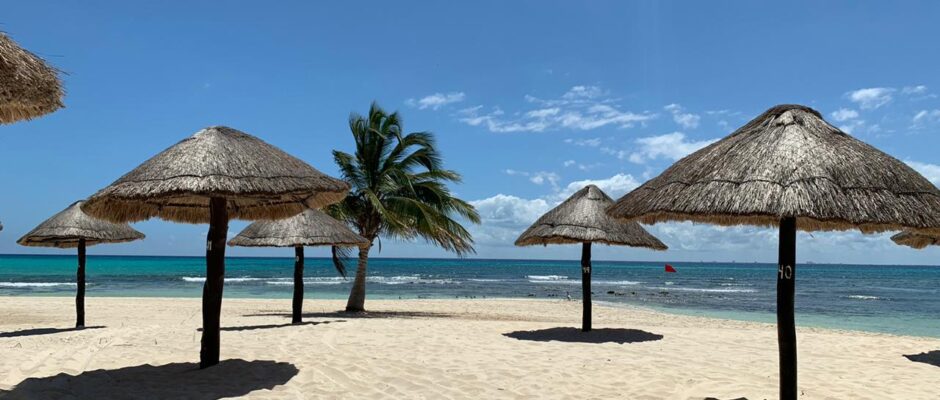 What are people saying about coming to the Riviera Maya?
Many of you have already expressed your keen desire to come this year to vacation in the Riviera Maya. Some have pushed back travel to the fall, while others have promised to come twice as long this year. Of course actual arrivals might lag the desire to come as soon as possible. Most people we have talked to are looking at coming from September-December period of 2020. If conditions around the world are better by this fall, perhaps with some medical assistance, we could see a very busy Fall/Winter season for the Riviera Maya.
Our travel polls
We recently took polls of our readers that resulted in some very interesting insights. For example most people said they would come when things open followed but a second most popular answer of this fall. We were happy to hear that nearly 64% of our readers had not changed their plans for travel this year, so we should be seeing many of you here this year. We were also happy to hear that about 68% of you had not been financially affected by the situation.
When will things be open in the Riviera Maya?
The most important things that need to be open for tourist are the airport, transportation, hotels, restaurants and some attractions. Unlike a majority of countries in the world, Mexico remained open to most international travel. This meant that the Cancun Airport has remained open, albeit some terminals closed. Most of the air traffic during the months of March and April 2020 were dual residents traveling back to one country, medical travel and a few tourists.
Below is a map of the world showing travel restrictions to countries around the world. While Mexico does have restrictions with the land boarder with the United States, it does remain one of the countries open as the gray color shows on the map.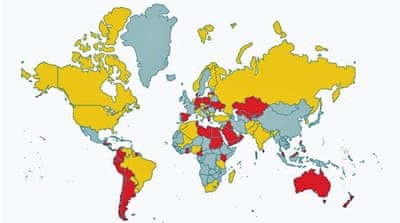 Xcaret and its parks
Xcaret Park is opening June 15th. All the other parks and tours will open July 1st.
Hotels in the Riviera Maya and Playa Del Carmen
Many of the large all inclusive hotels have reopening or either mid June when a date is announces by the government or July. A few hotels have pending dates for later this summer.
Most small hotels (of those that have closed) will be opening as soon as the official quarantine is lifted. So around the same timeframe of mid June. Airbnb should also allow bookings again in full after the government restrictions of movement are lifted. Airbnb did restrict insta bookings for the states with quarantines in Mexico and was only officially open for medical staff and first responders.
Transportation
The Cancun Airport has never been closed, so this is not a hindrance to future travel to the area. Nor is transportation from the airport to hotels or guesthouses. Of course, some things will have changed. Many of the private transportation companies are offering gel and wipes to passengers, monitoring drivers' health, masks for the driver and they plan to disinfect the vans daily.
Most local transportation is currently operating and will expand service when restrictions are lifted. Currently ADO bus service requires face coverings.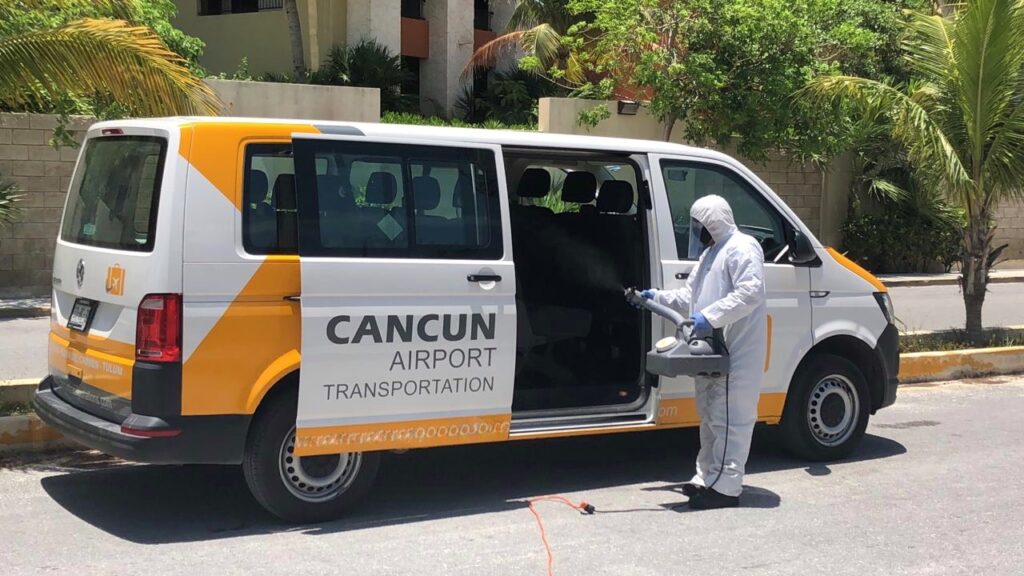 Restaurants and everything else
The moment restrictions are officially lifted in the area, most people are ready to get back to work here. There will be a great sigh of relief as things can open again since some 65,000 people are out of work in the area. Mexicans working and living in the Riviera Maya have always known the importance of tourism and highly respected it as the thing that provides livelihoods. Although this time it is different than after a hurricane or other disaster, now it is tempered with caution for health.
Looking forward to the future
We do have to remember that even after restrictions are lifted, there still is a pandemic in the world, and until it is over, we have to travel safe and take precautions. We want to see the beaches, restaurants, and hotels filled again as much as anyone else. It truly has been a remarkable time in the world that has brought travel to a near standstill. We look forward to soon when we can all travel safely again.
See you safely soon!
Since we are in unchartered territory, it is important to check official websites for the most current information. Here are a few resources.