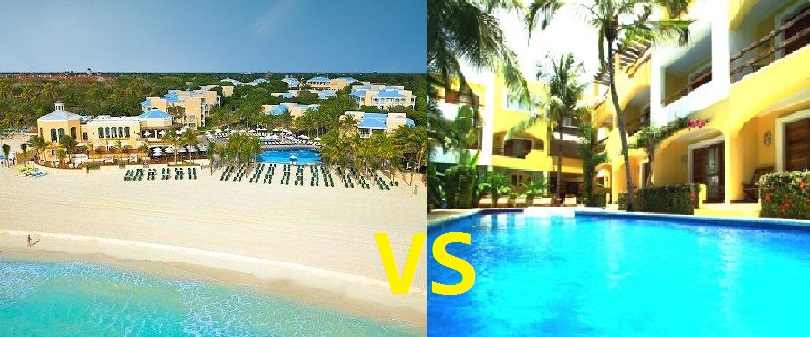 There really are two camps of people that take vacations to the Riviera Maya and Playa Del Carmen. On one side you have the people that like to stay at all inclusive hotels in Playa Del Carmen. The other side that likes to stay at a hotel and travel more independently. People often write to us and ask what we think of both options and people ask for help deciding on where to stay. We are writing this article to present the pros ad cons of both options. So let the debate begin!
Note: Make sure you check out our hotel selection guide for the Riviera Maya and Playa Del Carmen. We narrowed down the list of  hotels  for you and it includes both all inclusive hotels and hotels.
What is an all inclusive hotel?
Lets first start by defining them. The idea was started in about the 1960's for hotels or resorts to offer full packages that offered meals, hotel and services for a total package price. Today all inclusive (or AI's) have mostly evolved into large resorts that offer rooms, meals, alcoholic drinks, tips and entertainment for one price per night.
All inclusive resorts have popped up all over Mexico especially along the coast. They are mainly beach front hotels that cater to people wanting to sit and relax on the beach and not worry about anything. This has made traveling to another country more easy since everything is basically set up for you. Some of these AI's are for adults only and provide a romantic setting and some AI's are family friendly.
Who goes to all inclusive hotels in Playa Del Carmen?
You work hard all the time and when you go on vacation you like to relax right? A lot of people work 40-60 hours a week and get just two weeks off a year. It always  seems hard to get off and you only have to work harder before and after the vacation to catch up on work, you hardly feel like leaving. So we can see why some people would just want to swing in a hammock at the beach and let the kids swim in the pool while you have a well earned margarita.
There are also those that don't want to plan out every detail of their vacation or worry about language difficulties. Some people just like the value that the hotels provide and knowing how much things are going to cost ahead of time so they can save for them.
Note: We have spoken to some guest that were staying at an all inclusive hotel because they felt it was safe in comparison to outside the hotel complex. This was actually shocking for us to hear because Playa Del Carmen is extremely safe and just as safe as most destinations guest arrive from. Please don't make decisions based on information that is incorrect. For an honest assessment of safety in Playa Del Carmen please see this article.
Who stays at non AI hotels?
People that like adventure and seeing the more local side of a destination, those that appreciate the unique hotels or local restaurants that make a place special, and those that like to move around while on vacation without feeling trapped at a resort. People that like boutique hotels and not eating at a buffet each night. Tourist wanting to experience the "real" Mexico.
Lets talk pros and cons of all inclusive hotels in Playa Del Carmen
Here is a list of 11 pros and cons for all inclusive hotels in Playa Del Carmen.
1. Pro Most AI hotels have a consistent quality of service and standard of room.
Con If you choose a bad resort you have your whole time there because the hotel is part of the destination.
2. Pro Most will provide free nightly entertainment. Also activities during the day like pool games for kids and adults and sports activities like beach volleyball.
Con There is not much of a con here. If the shows are cheesy you can always skip them or if activities are not your thing, just don't participate.
3. Pro The price is fixed for your trip so you can plan ahead and save.
Con It might cost more when you add up and compare to doing it yourself. There will be temptations for extra spending at AI's. things like premium alcohol, special onsite restaurants, photos, water activities, and spa treatments.
4. Pro  Most offer buffets and snack bars with food at most hours of the day.
Con The quality of the food can be buffet quality and not restaurant quality or even much true local cuisine.
5. Pro Bars with unlimited drinks.
Con The quality of the drinks can be more sugar and less alcohol plus it does promote drinking and eating a lot on vacation.
6. Pro Beach chairs and towels for use for free.
Con You are limited to the beach at the hotel, but most of the time they are all good so not much of a con.
7. Pro Onsite English speaking concierge service to set up any excursion you want to go on.
Con These guys all work on commission so you generally pay more for the tours or are offered just the higher paid commission tours. It can be hard to know between tours which is actually the best because many times the seller have not been on all the tours.
8. Pro English speaking staff so you don't have to stumble your way through communication on vacation.
    Con You may like using your language skills or like feeling you are in a more exotic location when you do not hear your native language.
9. Pro No need to carry cash around with you since tips are included and meals and drinks are included as well.
Con  You may like tipping based on service or that something special that someone does for you. You many like the challenge to figuring out the money and using it.
10. Pro Everything is included and you don't have to worry about paying for anything.
Con AI's love to add on extras like internet access and child care.
11. Pro AI's make it easy to get from the airport to your hotel. Either they provide a free bus shuttle or for an add on price.
Con You might have to wait a 45 minutes or so if there are other people arriving at the same time for you shuttle. Going back to the airport you may be at the mercy of the hotel schedule which mean you might leave an extra hour early. This is why we wrote the guide from getting from the Cancun airport to your hotel, sometime this can save you a lot of time and money.
Here is a list of 11 pros and cons for staying at a non AI hotel
1. Pro You might find a remarkably unique place to stay.
Con The unique place is not so great and quality of small hotels change over time or with managers.
2. Pro You have a lot of time to yourselves and spend all the time with your loved one or family.
Con You spend too much time with loved ones and family and need a little alone and wish there were other activities to keep family members busy for a little but.
3. Pro You can find some very inexpensive hotels where you can stay at during the night and explore during the day different sights.
Con It could add up to more then an all inclusive once you go out to nice restaurants and pay for entertainment and beach clubs.
4. Pro You like eating when you want to and trying new food.
Con It takes time to find places to eat each day. You could pick a not so great place or great place to eat.
5. Pro You are free to go out to any bar in the area and will most likely get well made drinks.
Con Drinks can add up after a while. Plus you still have to get back to your hotel, either walking or taxi.
6. Pro You can pick which beach you want to go to or a cool lounge or roof top deck with pool.
Con You will have to do your research to find the best places to go and how much they cost.
7. Pro You are free to look around for tours and even take off on your own, maybe even public transportation, saving you money off tour prices.
Con It can take time and energy setting things up on your own.
8. Pro Most hotel front desk staff speak English but you still get to learn and try out those Spanish tapes your bought.
Con You will need to communicate more and might need some basic Spanish.
9. Pro You can make a budget for your meals, maybe even cooking some in your rental condo or suite. You may find shopping at a grocery store exciting. You get to know you are supporting the local economy by paying local merchants and restaurants.
Con It does require some thought as t where you are going to eat and planning as well.
10. Pro You are free to move around, even stay at multiple hotels or stay at different towns.
Con There is not too much of a con here except it can be less relaxing and more like work sometimes to plan out everything if you don't like that sort of thing.
11. Pro You can arrange your own transportation from the airport, either by renting a car or taking a bus to your location.
Con You have to figure out on your own how you will be getting to your hotel.
We hope this has helped you make a decision about whether to stay at an all inclusive hotel in Playa Del Carmen or hotel for your vacation. Of course you can just come twice a year to the Riviera Maya and try both ideas if you like! Either way, check out our Riviera Maya Hotel guide to both AI's and hotels. We wrote the guide to help further narrow the search from the many good hotels that are all along the coast and in Playa Del Carmen.
Happy vacations everyone.
What is your thoughts on staying at all inclusive hotels in Playa Del Carmen or a hotel? We want to hear your comments below.