Mamitas Beach Club- Playa Del Carmen's Most Popular and Trendy Place in the Sun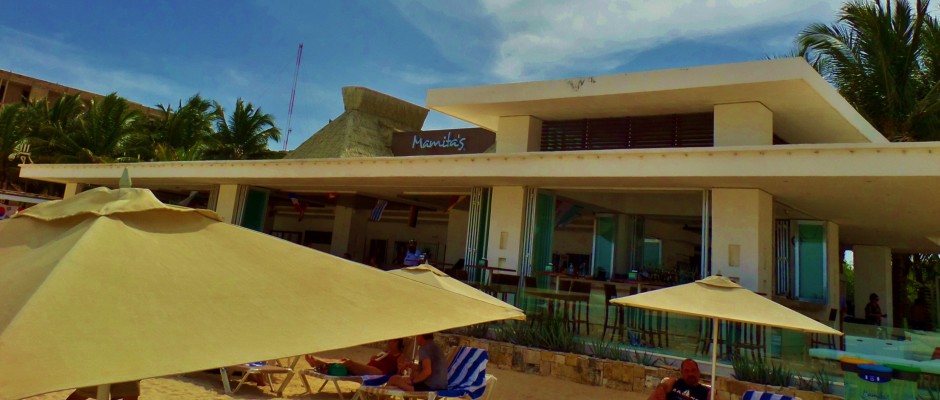 Mamitas Beach Club
Mamitas is possibly the hottest spot to go to during the day in Playa Del Carmen. It sits in the middle of Playa in the trendy neighborhood just about three blocks from 5th Avenue. If you want to be with the " in crowd" and "jet set party scene" then this is your place. This beach was listed as the best beach in Playa Del Carmen on our top 5 list of best beaches for good reason. Lets see what Mamitas Beach Club is all about.
Playa Del Carmen is not a fisherman's beach village anymore and once you visit here you will see they are putting Playa on the map as a first class destination for people that like to party and relax on vacation. Move over Ibiza, Playa Del Carmen has arrived!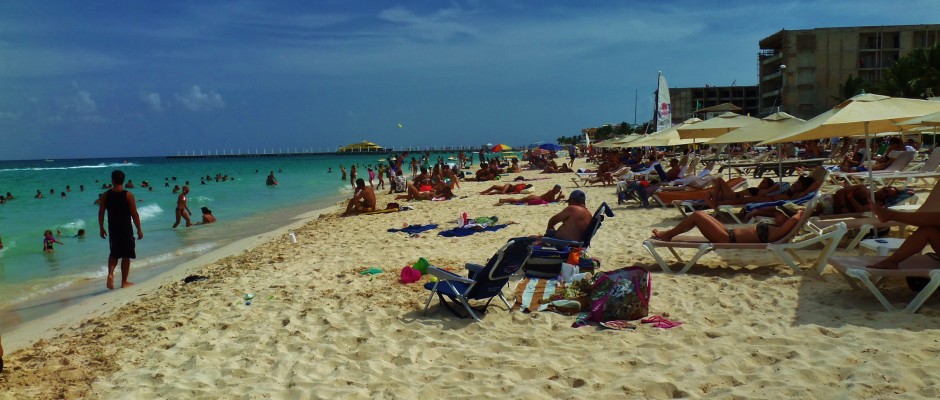 What makes Mamitas Beach Club so cool?
Wide white sand beach with nice ocean view.
Beach chairs, umbrellas and beach beds available.
VIP pool and bed area
Chill lounge/electronica music playing.
Waiter service that includes food and drinks.
Club house with sit down restaurant, bathrooms and outdoor showers.
Glamorous and fit people from all over the world that appreciate all the things above.
Lets talk prices at Mamitas Beach Club
Check with your hotel to see if they offer discounts for this beach club. That is one benefit to staying in Playa Del Carmen rather then all inclusive hotels. You can get local discounts or associated businesses discounts.
Tip: Get there early in the day to get a beach umbrella because these can be in high demand.
Towels(toallas)-60 pesos plus deposit
Showers or toilet-included if you are using other services but if you want to use just this it is 20 pesos. This is good to know since there are not too many bathrooms near the beach.
Beach chairs (camastro)- 30 pesos
Beach umbrella(palapa) -30 pesos
Note: So if you get two chairs and an umbrella it would be 90 pesos.
King Size Bed (Cama King size)-200 pesos plus 500 peso consumption.
Now depending on the season they will state an amount that is also required to spend on food and drink in addition to the rental. No outside food or drink is allowed. For example the large beds usually require 500 pesos of purchase during your stay. If you are several people that is not too hard to do (see prices below). For more on prices you can see their website here: http://www.mamitasbeachclub.com/en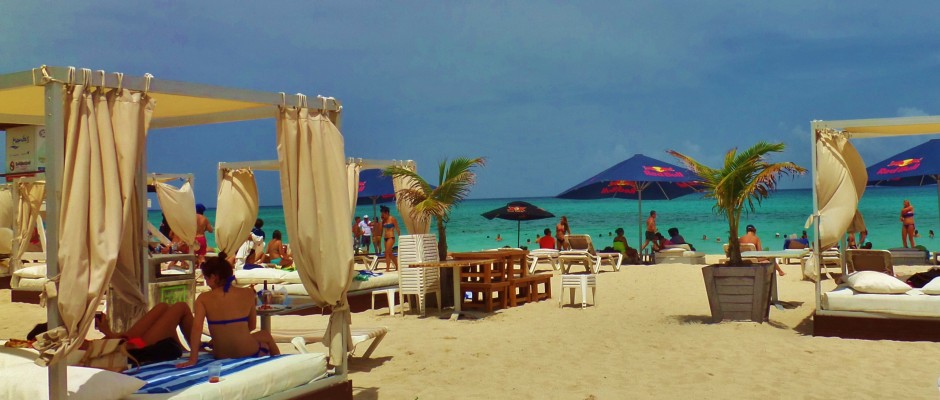 Food Menu and Drink Prices at Mamitas
You have to consider the luxury of being at the beach and having everything brought to you when thinking about prices. Compared to restaurants they are 5th Avenue prices and tend to be on the higher end. This is not for people that want to go to the beach everyday or those that live here year round. It is more of a relaxing special day at the beach.
Here are some sample prices off the menu.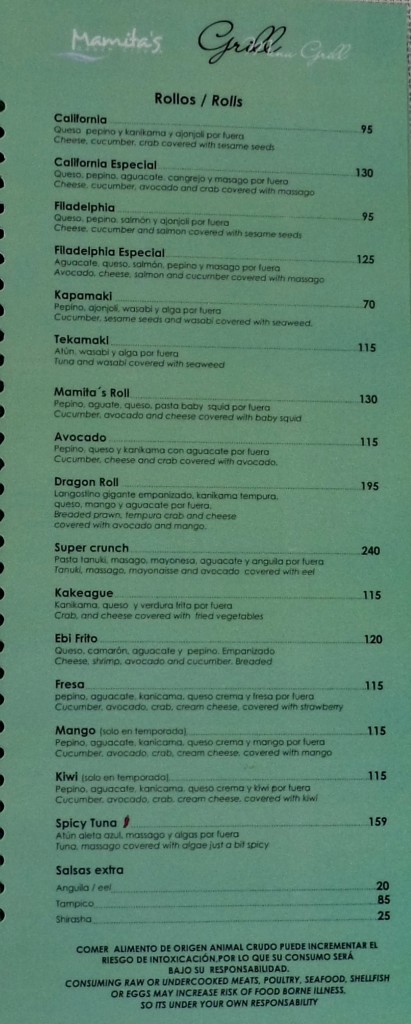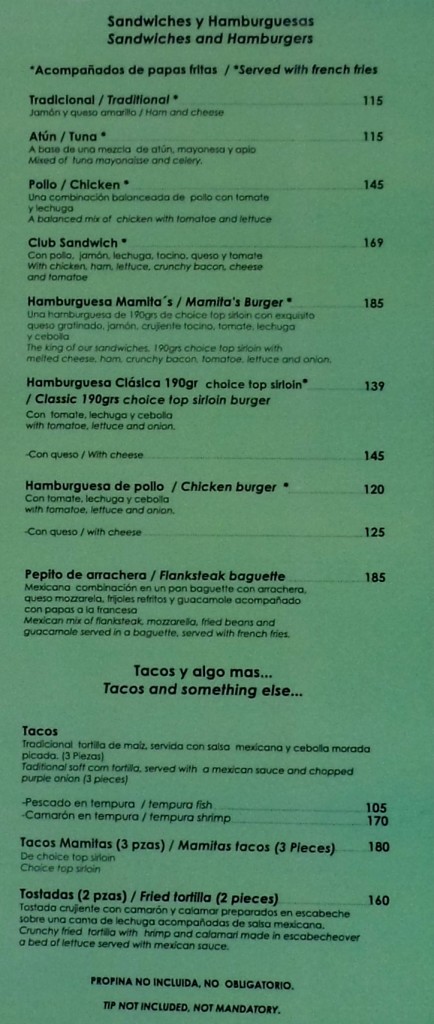 Food
Salads= 90-145 pesos
Ceviche=115-365 pesos
Chicken sandwich =145 pesos
Hamburger=185 pesos
Sushi=95-240
Drinks
Lemonade=35 pesos Small
1 Lt Evian Water =90 pesos
Beers=15-60 pesos
Red Bull=55 pesos
Most cocktails=120 pesos
Other things about Mamitas
Mamitas is building a large swimming pool for lounging around so look for this to open soon.
Concerts and music festivals often take place at Mamitas. For more about Corona Elements music festival at Mamitas, click here. DJ Fest also is an annual event at Mamitas.
Below is a short time lapse video showing a busy day at Mamitas Beach Club. You can see many people enjoying jet skis, catamaran boats and parasailing.
Hours
Open 9am-6pm Monday -Sundays.
Credit cards accepted.
Where is Mamitas Beach Club?
Mamitas is located at 28th Street and the beach. As you reach the beach it is on the left. Parking is available in paid lot. There is very limited on street parking due to the popularity of the area.
Your Vacation
So if you are coming to Playa Del Carmen and want a lounge/chill place to hangout during the day and you don't mind paying for the services they offer, then this is your place to come to. If you have the umbrellas you can move around and have sun and shade all day. In the beds there are curtains that can block or allow as much sun as you care to have.
Happy beach day everyone!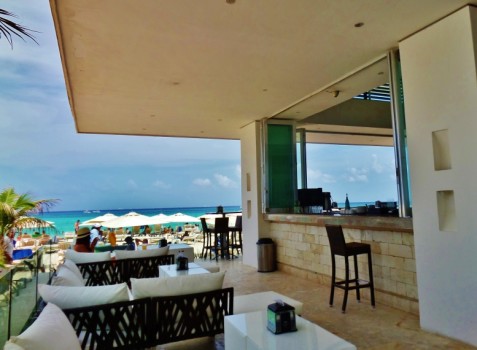 If you are looking for other beach clubs in Playa Del Carmen, here is our guide to all of them and a map.
Have you been to Mamitas Beach Club before? What did you think? Let us know in the comments below, we would love to here from you!