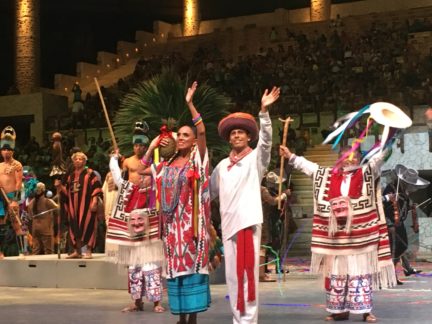 Xcaret Night Pass
Did you know that you can go to Xcaret for just the evening? You might have been to Xcaret before but want to go again mostly for the show. You can with the Xcaret night pass. This pass allows you entrance to the park after 4:00pm up until when the park closes at 10:00pm. This allows you to walk around and see some of the park and then see the grand show. Here is more about it.
Our video of what the grand show is like at Xcaret
The main reason people purchase the night or rather evening pass to Xcaret is for the grand show. This show is two hours long and briefly tells the history of Mexico and shares many regional dances and traditions. It is a spectacular show with live animals, dances, live music, and hundreds of performers. We tried to capture just some of it in the video here.
What can you see in the evening at Xcaret?
The park of Xcaret is beautifully laid out. It does deserves a full day of discovery. If you have been or perhaps do not have a full day to spend there, the Xcaret night pass might be good for you. If you come at 4:00pm you can walk around the some of the park to see the animals, a traditional Mexican hacienda, aviary, and also a few shows like the equestrian show right by the entrance. The night pass will also allow you time to go to Xcaret's scenic tower. The scenic tower is a great way to see the Riviera Maya from 80 meters up (262 feet). Just go before 6:45pm when it closes. If you do visit the scenic tower you will right there to enter the theater for the grand show.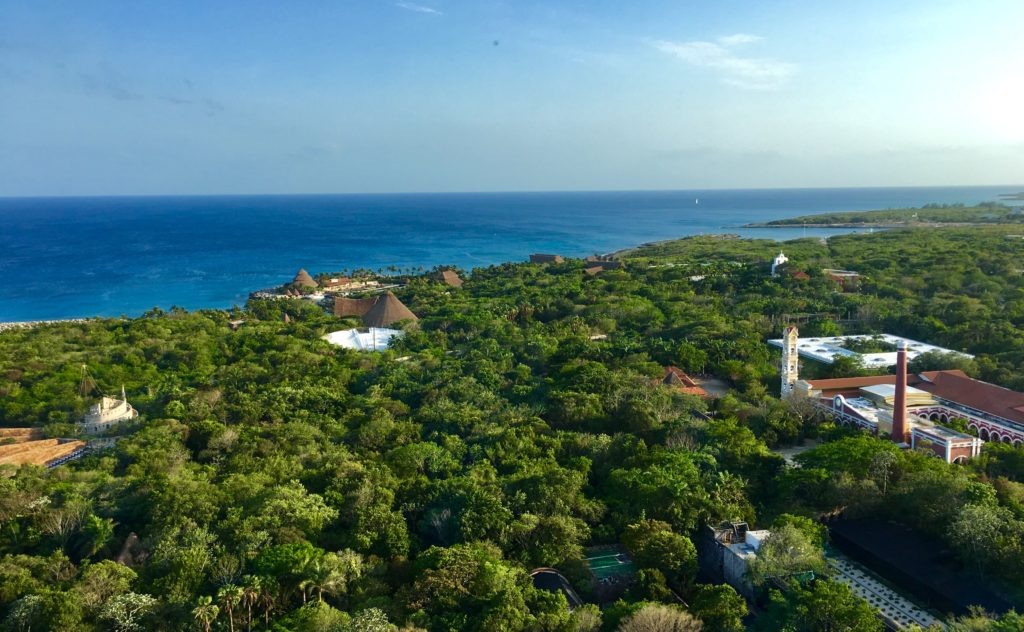 How to purchase the Xcaret night pass
You can click the link here to reserve a nigh pass. You will also save money if you book in advance. The price for an adult Xcaret night pass is $71.10 if bought in advance. This link will take you to the official page for Xcaret.

Dinner with your Xcaret night pass
To make for a very special evening you can also be served a 7 course meal while you watch the two hour show. By reserving a place you will have dinner and drinks in your special section of seating. This can be a vegetarian meal or non-vegetarian meal.
The Xcaret night pass does not include dinner with the show. If you would like to include dinner you can book this for $49.50 USD. You can do so buy clicking below and having this all arranged for your visit. This link will take you to the official page of the Xcaret where you get the best price possible.
Buying in advance not only guarantees your spot but also purchasing before is the only way to get a discount.

How much is the Xcaret night pass?
The pass is $71.10 USD for adults. This will give you a chance to walk around the park and see the grand show. Many people pay similar amounts for a show somewhere and Xcaret's show is not a letdown by any means as seen in the above video. If you want a spectacular evening in the Riviera Maya, this is one thing you should check out. This is one of the Riviera Maya shows that are available for you when visiting.
Xcaret at Night Adult – $71.10
from: EXPERIENCIAS XCARET PARQUES S.A.P.I. DE C.V.
Be sure to check frequently our Xcaret discounts page. Here we have coupons and sales for Xcaret parks.
How to get to Xcaret
Most people that come in the evening will drive themselves here but there are other options. Xcaret does include transportation options at an extra cost. They have busses that service the entire Riviera Maya and Cancun.
Public transportation options to Xcaret
If you are coming from Playa Del Carmen you can take colectivos to the highway stop for Xcaret. Here Xcaret has a free shuttle bus to the park that runs every few minutes. The free shuttle bus will also take you back to the highway after the grand show. See our article on colectivos in the link above. These are not the best option for everyone depending on where you are staying or if you are a large group.
Taxis from hotels in the Riviera Maya and Playa Del Carmen are also an option. If you check the taxi prices from 5th Avenue in Playa Del Carmen to Xcaret it is supposed to be 190 pesos each way for 1-4 people. Make sure you confirm this when getting a taxi because there are no meters and prices are subject to drivers.
Have you gone to Xcaret for the Xcaret night pass? What did you think? We would love to hear from you in the comments below.
If you like visiting Xcaret for the show or the other parks, did you know you can go to all of them for free? If you stay at the new Hotel Xcaret Mexico. See our article and video to see why we think this is one of the best resorts in the Riviera Maya.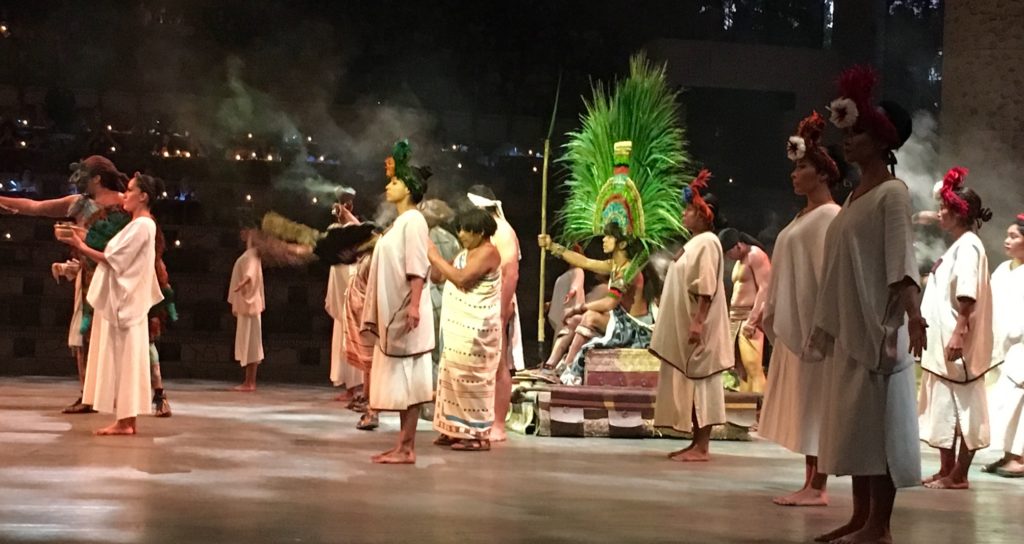 Performers at the grand show at Xcaret.