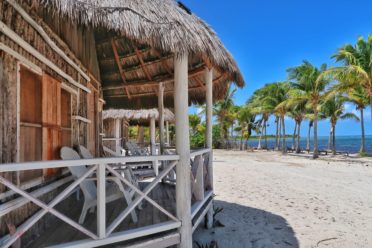 Getting away from it all at these remote cabins in the Costa Maya
Cabañas Ecoturísticas Costa Maya is about what you would expect to find in a remote corner of the Caribbean in the 1940's. The area is far removed from mass tourism and about as laid back as anywhere. Here you can stay in rustic cabins and just take in the quiet beach. Here is more about what it is like at these cabins near Xcalak.
Our video overview of staying here
Like everything on our website, we stay there, visit and experience it so we can report back to you. Here is our video from Cabañas Ecoturísticas Costa Maya.
Where are these cabins?
This area is known as the Costa Maya. It is a 100 kilometer (62 mile) stretch of the coast on the southern end of Quintana Roo. The two main towns are in the area are Mahahual and Xcalak. These cabins are just about in the middle of these two towns on a stretch of remote beach.
What the cabins are like
The cabins have a weathered wood exterior and palapa style roof. The inside features a wooden plank floor. The walls are louvered wood shuttles with screens. The bed has a moquito screen over it. At night there are solar power lights that come on. They are dim but light up the cabin enough to see. There are no electrical plugs for recharging and currently no signal for cell phone service.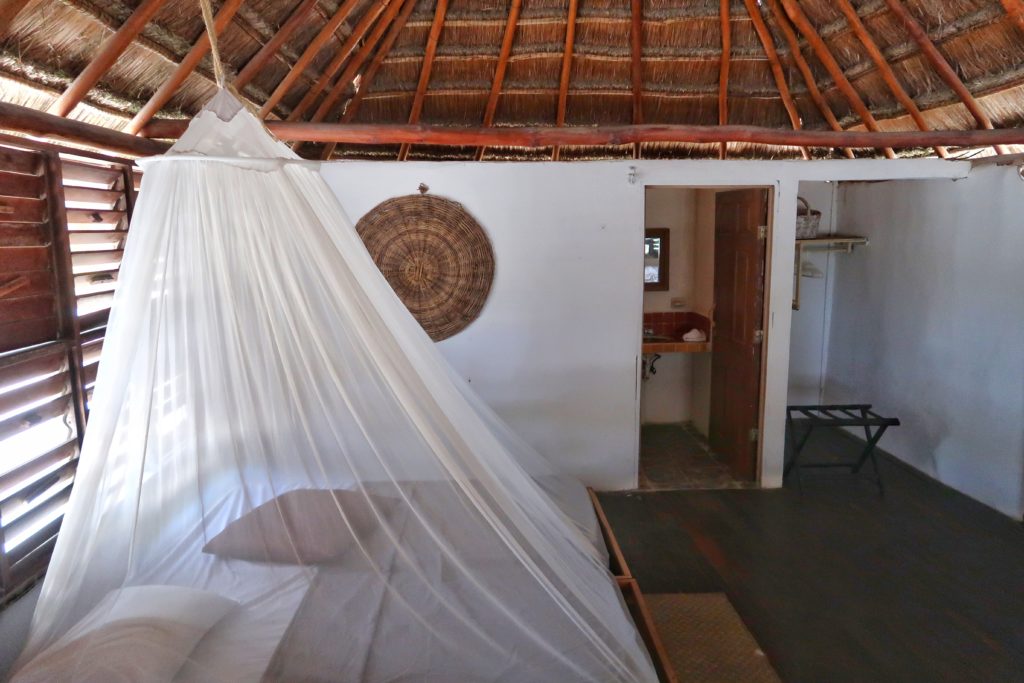 All of the cabins are close to the water. At night there is usually a steady breeze coming ashore that blows into the cabins.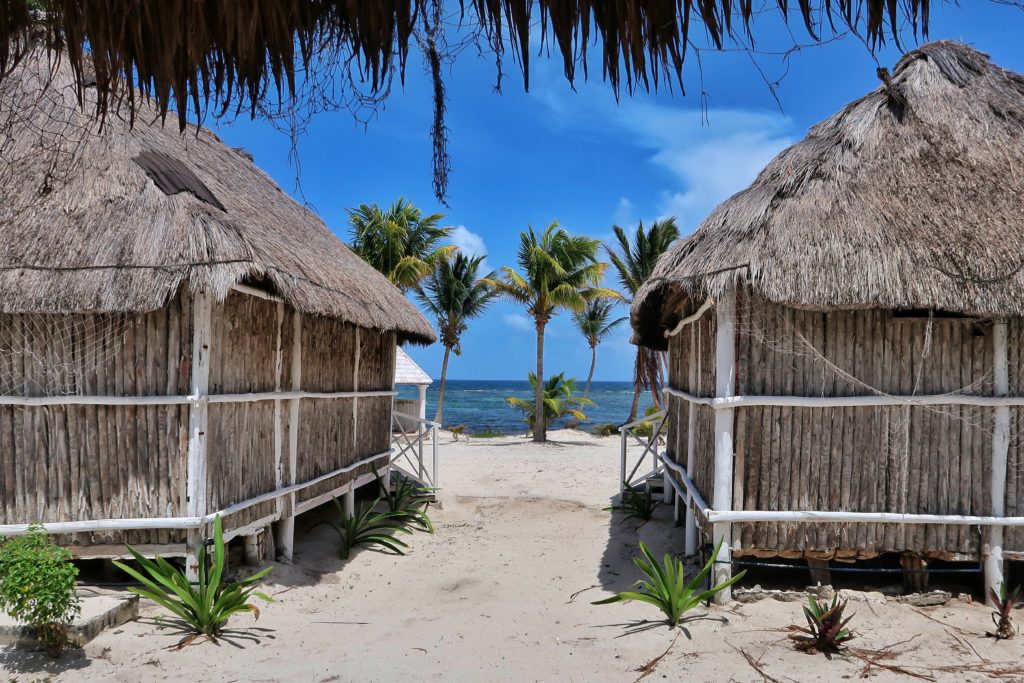 What is there to do and see in the area?
The main thing to do here is relax and take in the calm. When the weather is nice and water is clear, the beach is right in front of these cabins. Kayaks are available for going out on the small bay in front. The reef off the coast is one of the better reefs to snorkel. Local fishermen are often available to take you out to the reef.
With a car it is possible to drive to Xcalak to see the small town there. Xcalak is about a one hour drive. Mahahual is more of a small town with nice beach and a pier for cruise ships. Mahahual is about 50 minutes away.
Bacalar is also in this area and a not to be missed destination. Bacalar is about one hour and 45 minutes away.
Contact information for making a reservation
Facebook page: https://www.facebook.com/XahuayxolCabins/
Phone number:  983-123-0391
Tips for staying here
Bring snacks and drinks since there are not too many places to eat nearby or buy things.
Plan ahead and see if the owners can add on some cooked meals.
In this area there are only a few gas stations. Make sure to fill up when you can.
Be prepared to relax, unplug and take in the calm coast.
Staying here is good for locals living in the Riviera Maya that want to getaway or tourist that are traveling for a longer time and can explore more.
How to get to Cabañas Ecoturísticas Costa Maya
Most people will be coming from the 307 Highway that runs the length of Quintana Roo State. Take the highway toward Mahahual. Just before you reach Mahahual there is a right turn on the road toward Xcalak. In about 30 kilometers you will see the turn for Xahuayxol. Take this small road toward the beach. Then turn left and go about 400 meters until you see the green welcome sign (Bienvenidos).
Note: On the map now it is known as Cabanas Xahuayxol.
Tip: Don't take the road along the coast unless you want to go very slowly. This road also experiences different conditions due to the weather.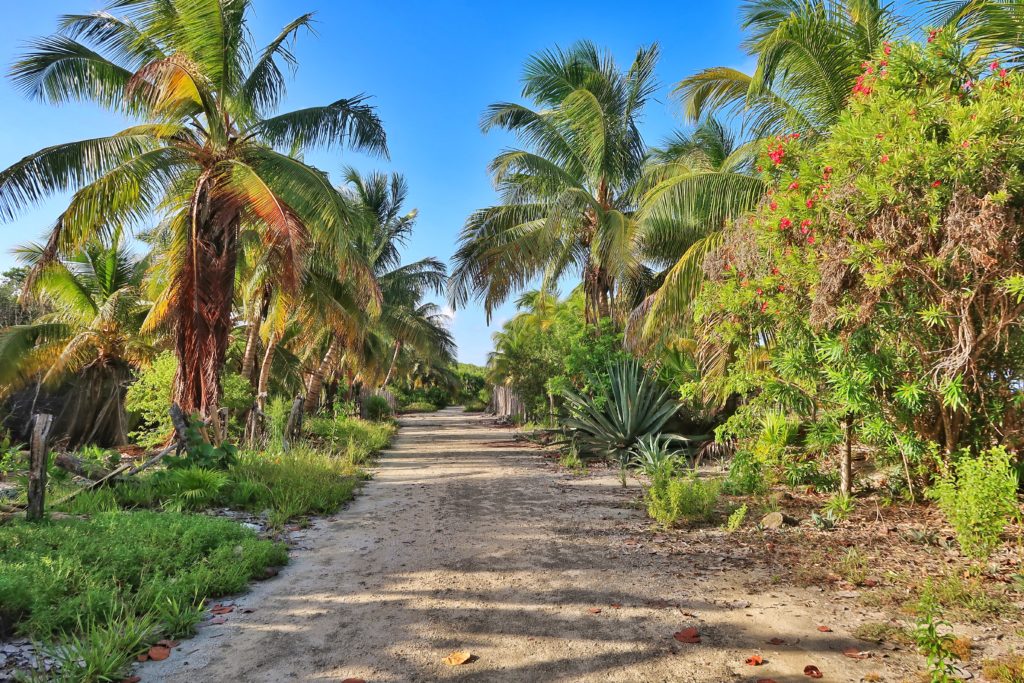 Thank you for reading our article about Cabañas Ecoturísticas Costa Maya. Be sure to follow along on our website and social media for more out of the way places and things that can make our vacation or travels unique.