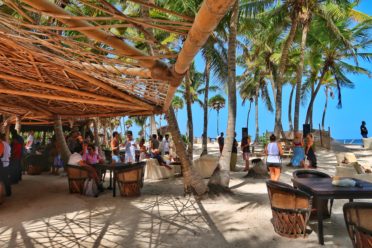 Ka'an Tulum Restaurant
A new restaurant concept has opened in Tulum that just might excite the culture vulture in you. The Ka'an Tulum Restaurant combines a remote Caribbean beach with authentic cooking of Mexican dishes. Very few places can give you as authentic taste in the Riviera Maya.
If you are staying in the Tulum area and want to experience something different this just might be for you.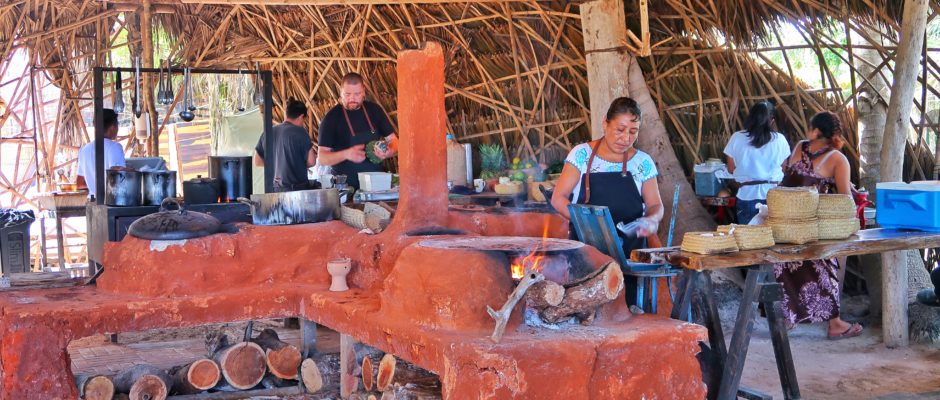 Our video introduction to the Ka'an Tulum Restaurant
Like everything on our website, we go to experience it so we can report back to you. Here is some video we took at the opening party of the restaurant.
The Chef of Ka'an Tulum
Hugo Duran is the chef of Ka'an Tulum. His  inspiration comes from his travels, field research and study of bio-cultural diversity of Mexico.  Chef Duran visits small communities and rural areas looking for new ingredients and traditional techniques to incorporate into Ka'an Tulum. His passion is taking in season ingredients and  preparing them with fire, roasting, and steaming  to expose visitors the a taste in time.
What the menu is like
Each week the menu is different here to reflect the seasonal crops. You can check their weekly menu on their website.
Below is a sample menu of what you can expect at Ka'an Restaurant.  Don't worry if you don't recognize everything on the menu. That is part of the fun of exploring. Finding unique local products is their passion.
Snacks
Chicken liver pate with honey and lime
Smoked cauliflower with salsa macha
Roasted chile dulce picadillo
Starters
Scallops with tabiche chili and dashi
or
Potato toast, herb ashes and cabbage
*
Lentil tamale with sweet ibes, beets and cheese
main courses
Octopus with relleno negro and platain pure
or
Local squash with relleno negro and soft boiled egg
*
Pib roasted lamb, cured seasonal vegetables
or
Pib roasted aubergine, cured seasonal vegetables
dessert
Nixtamalized melon, morir soñando
Drinks are not included in the set menu price. For the set menu it isn't 900 pesos. Cocktails, wine and other beverages are available.
Hours open
Thursday-Sunday 1:00pm-7:00pm. This is a lunch only restaurant.
For reservations you can call +52 9841053216 or email  [email protected]
How to get to the Ka'an Tulum Restaurant
On the map this restaurant is just 3 kilometers in to the Sian Ka'an Reserve. However getting to this restaurant is just part of the journey.
At the end of the Hotel Zone in Tulum is the entrance to the Sian Ka'an Reserve. You will need to pay the park entrance here of 35 pesos per person. From the entrance it is 3 kilometers on a bumpy dirt road. Depending on the weather, this road might be hard to drive for small cars. There are other options though.
You can take a taxi from the Hotel Zone in Tulum. You will need to ask first if the driver will take you. Not all taxis go to this restaurant. Option two is ride bikes. You can enjoy the tropical palms and natural road on you way to the restaurant. This is the best way to avoid the bumpy trip.
If you do drive, take your time and leave early. It will take about 20 minutes or more to go the 3 kilometers.
Have you been to the Ka'an Tulum Restaurant before? What did you think? Let us know in the comments below. We would love to hear from you. 
If you like delving into the local food culture you might also like to read these articles: