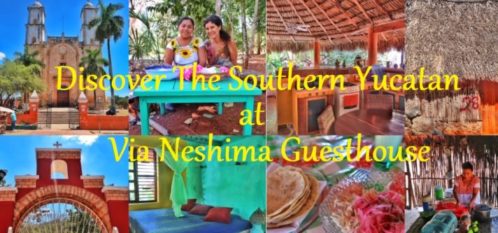 Visiting Via Neshima Guesthouse
We love to share different places nearby and in the peninsula where readers can get out and explore. The backyard of the Riviera Maya is the State of Yucatan. This area is full of treasures. The southern end of the state is not as visited and can give visitors a unique opportunity. Here you can experience a different pace of life and see a living Mayan culture. Via  Neshima Guesthouse is centrally located in Tzucacab and can be a good base to explore this area.
The host here is Avivit. She came to Mexico  from Israel three decades ago and fell in love with the Mexican people. She has been in Tzucacab for 11 years now and has built not only a guesthouse but a connection to the community for visitors. For people whole like authentic tourism and getting off the beaten path, this guesthouse can be a great place to stay. You will be in good hands of your host (she speaks English, Spanish, French and Hebrew). Here is our review of this area and property.
Our video introduction to staying at Via Neshima
Like everything on our website, we go in person to see and experience places. Here is our video about stay in Tzucacab at Via Neshima Guesthouse.
What does this guesthouse offer?
Here you have an entire private house for your stay. The house contains three bedrooms, two bathrooms and an open air kitchen and dinning area. The house is made with local techniques and  materials as well as creativity.
The layout can accommodate up to 9 people. Mostly couples or families come here to enjoy the area. Short or longer stays are welcome.
The kitchen is stocked with some basics for breakfast so each morning you can cook. If you want to have someone cook for you or have places to eat locally with locals, Avivit can arrange this. You can also have all three meals prepared for your stay here. Vegan and vegetarian food is readily available.
Hammocks, outdoor seating areas, meditation cave and pool are all available for guest.
Good WiFi is available in the house.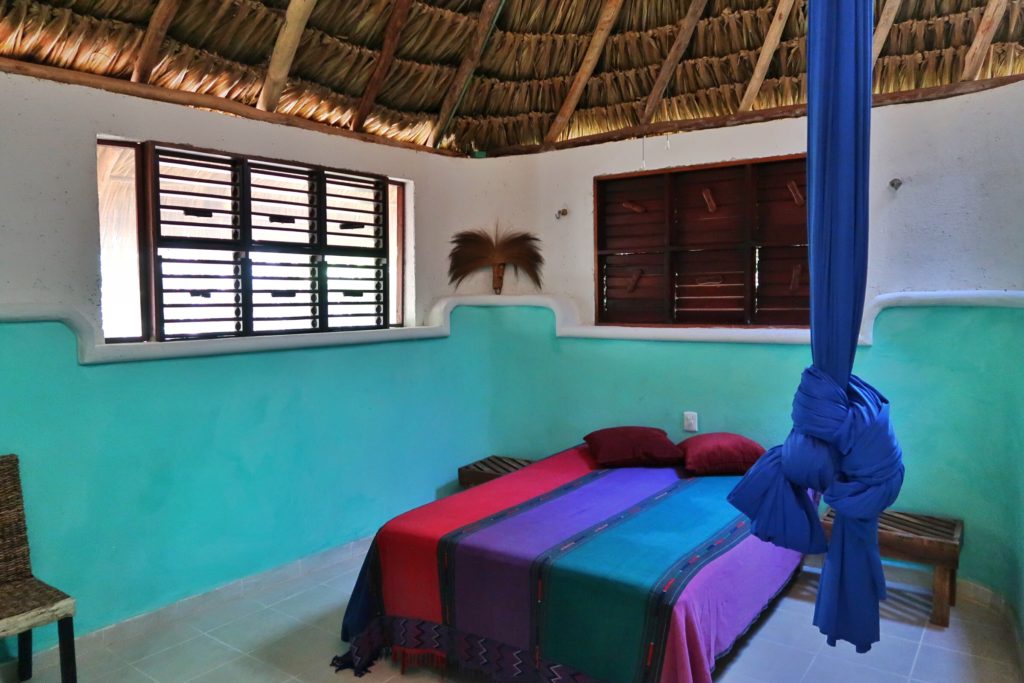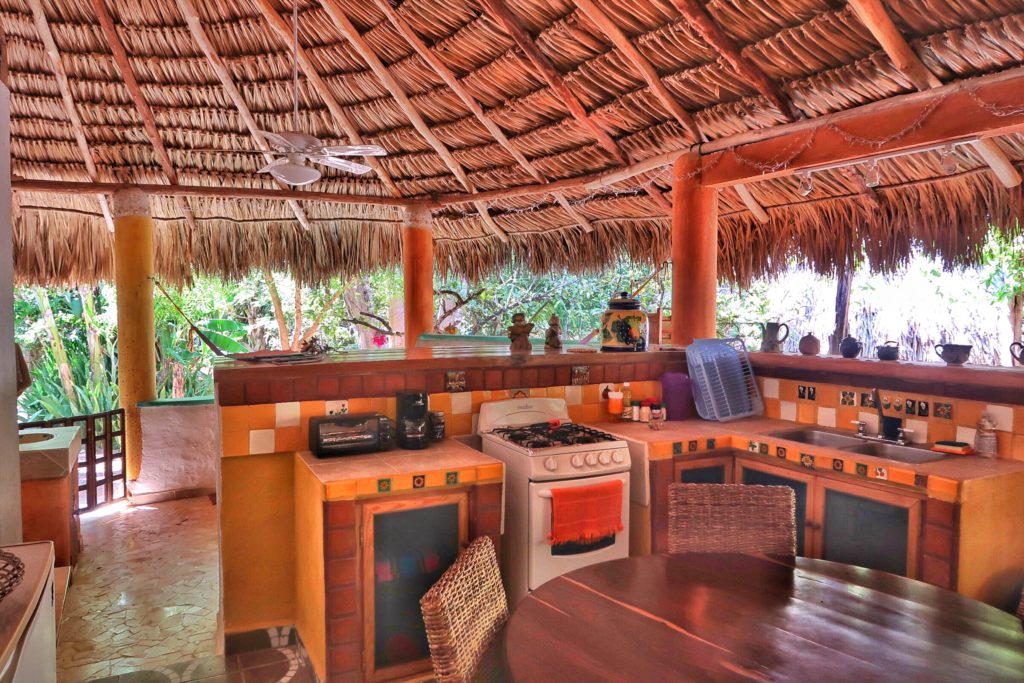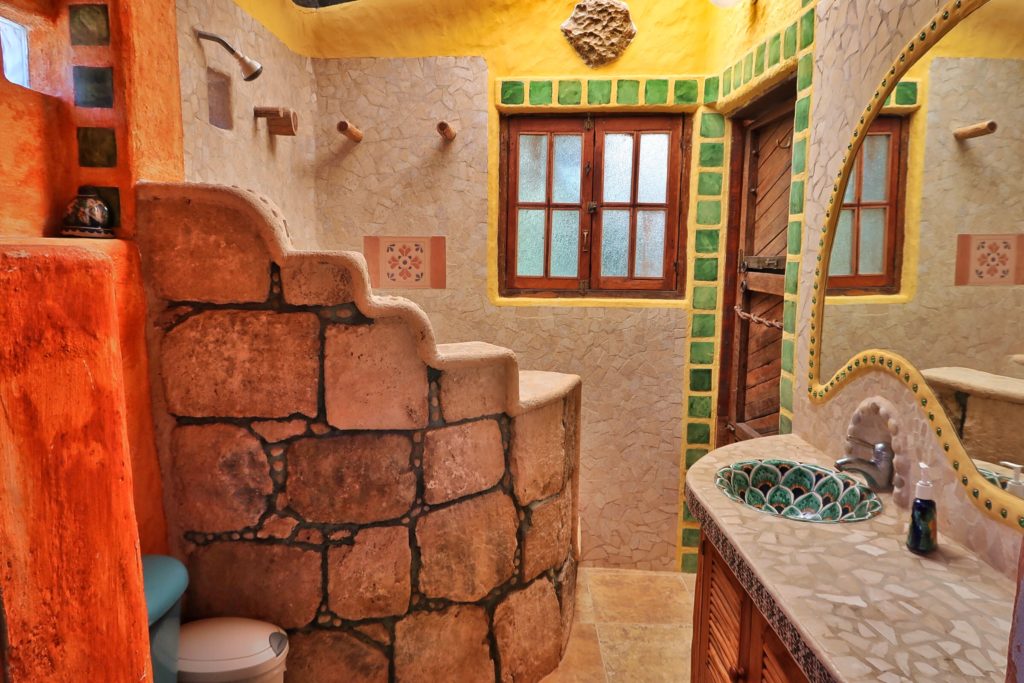 What can you do and see in the area?
Tuk Tuk local rides in and out of Tzucacab to a nearby little Mayan village. You will hear the Mayan language being spoken commonly here. In this town your host can arrange a visit to a Mayan families house where you can have a traditional Mayan meal with handmade tortillas. You will see where the families vegetable garden is and free range organic eggs and live stock live. You can have a vegan, vegetarian or chicken or pork traditional Yucatan dishes cooked for you.
Take a trip to an unknown Cenote of San Mateo in a tiny Mayan village of 9 families only. Here you can choose: swimming, rappel, or a bicycle ride to visit of a local hidden ruins and have a traditional Mayan meal.
Visit to the enigmatic ancient spiritual center of Ichmul.
Day trip to the Eco Village of Kaabna  which is 3 km away from the guesthouse. Here you can swim, see deer and the animal sanctuary, organic growing, and have a vegan or vegetarian meal.
Take a trip to the Grutas Loltun. These are the largest caves in the Yucatan.
Visit Uxmal and other Mayan ruins in the area.
Visit to the Choco Story Museum (just across the road from Uxmal Mayan ruins).
There are many small towns with colonial churches and architecture. Taking the time to explore both in person and online before going will open up this part of the world. It has many hidden things that are off the beaten path for many tourist.
Here are some of the activities Via Neshima can offer
Note: Most of the activities  here are designed for children as well as adults. This can make it a great option for families to stay here.
 Mayan cooking lesson: vegan or vegetarian menu or traditional Mayan menu with hand made tortillas on open fire.
Weaving hammock lesson and in between learn some Mayan words.
Mayan language lesson with a local Mayan teacher.
Mayan Massage – "Sobada".
Bike around Tzucacab.
On the property there is a small cave for meditation.
Have a campfire out under the stars at night.
There some outdoor games for children and indoor game and art materiel for your children to enjoy.
If you need babysitting either for children or for your pet the owner is happy to be of assistance.
Where is the Via Neshima Guesthouse?
You will find this guesthouse in the small town of Tzucacab, Yucatan. The house is near the edge of the town. This town is centrally located between many attractions and small towns. It is 5 minutes off the 184 Merida-Chetumal Highway.
For the exact location, email or book and they will give you directions.
Email: [email protected]
Airbnb:  https://www.airbnb.mx/rooms/6800824
Have you stayed at Via Neshima or traveled in this area? What did you think? Let us know in the comments below, we would love to hear from you.