Travel Secrets for a Great Vacation
Who doesn't like a little insider information for that perfect trip? Here are some travel secrets that may or may not want to know. Most of these are helpful tips to make your trip more affordable and better. These are things that we have picked up along the way, in talking to travel professionals and we just wanted to pass these tips on to you.
Travel secrets of booking a hotel
Hotels are one of the biggest expenses and also important for your comfort of your vacation. Here are some travel secrets you may want to know that can help you when booking a hotel.
Booking through a travel agent, booking site or Airbnb
Booking your holiday through a travel agent
Why would you book with a travel agent? You can just go online and in a few clicks, you are booked and set to go. Well, there are still some advantages to booking with a travel agent. Here are some of the benefits of booking through a travel agent.
Agents can plan your air travel and hotel accommodations in a package for you. This often can save some money since they have access to special booking rates.
Travel agents get alerts to sales and promotions that they can pass on to you.
Nothing is worse than booking your vacation and being disappointed with the hotel or resort. Good travel agents know what the resorts are like and who might enjoy them.
If you are traveling as a group, it is possible sometimes to get adjoining rooms and discounts through an agent.
On of our most trusted travel agents, we refer people to is Lori. She stays at the resorts in the Riviera Maya and is a huge help to many of our readers. You can email her here with your questions about booking an then she can set up a conference call to help book your trip.


Booking a hotel through an online website
Most people these days go to their favorite site and book. You get your reservation number and just go check in. But, did you know that most of the booking sites charge hotels a whopping 30-35% of the booking? Yes, it is a love hate relationship with online sites for hotels. They need them to be seen, but hate the high charges.
So can you call direct and get the price of the room with a good discount? No. For several reasons this is normally not possible. For one, the hotels are in a contract with the booking sites and the rates have to be set at a certain rate so there is fair competition. The other reason is that the person at the front desk usually has no authority to change prices.  Even when it is cheaper online and the hotel will lose more money, most hotel front desk staff do not have the ability to change prices.
Is the travel secret to book direct with the hotel?
Most of the time you get the best rate directly booking with the hotel. Sometimes it is the same price, but often can get breakfast included or some upgrade. Of course, if you are points colector or have a loyalty program with a booking site, this might not be for you.
We will note that if you book with a booking website, changing the reservation can be hard. Often, if you contact the hotel they will refer you to the customer care number on the booking site where you booked. The hotel cannot change your reservation and often help is limited. When booking with a hotel directly you often have more flexibility with your reservation.
If you are trying to book a hotel online and it is sold out, check with the hotel directly. Often a certain percentage of available rooms are for sale on booking websites and then some are reserved for the hotel to sell. Sometimes you can get one of the few rooms left if you contact the hotel directly.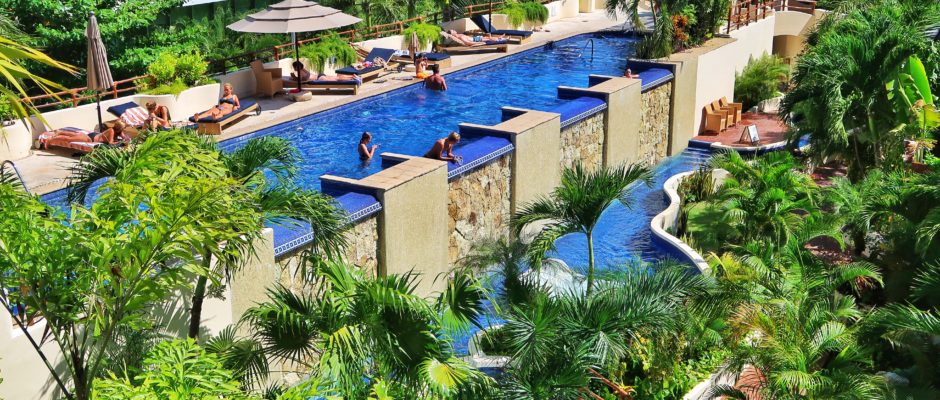 Booking a hotel through Airbnb
You might think that a hotel listed on Airbnb is just another way of booking the hotel. The devil is in the details though as the expression goes. Some hotels list rooms or condos here but do not offer all the services of the hotel. For example, you want daily room service or that transportation pickup from the airport, no way with your Airbnb booking.
One note on Airbnb reservations, it is important to note it can be canceled by the provider.  This can make it hard to rebook something close to the date of your trip. Airbnb tries to punish property owners that cancel a booked reservation but it does happen. When you are dealing with an individual, there are family emergencies, friends that show up, maintenance issues and other things that can move the owner to cancel. 
Hotels list on different platforms to get different audiences, but also list different prices. It can be hard to compare if you are getting the same room as you saw on another site.
Sometimes it is good to check on both booking sites and sites like Airbnb because you can find something that fits your vacation style and budget.
Location of your hotel is important!
If you are online searching for hotels or resorts you will see lots of beautiful photos. A photo can sell a resort to you, but what about the rest of the place and the location? Where you stay is going to affect your holiday. For example, how long is the transportation time to and from the airport? How far will it be to get to touristic destinations? Will you be within walking distance to many of the things Playa Del Carmen has to offer? These are just some of the things that are affected by location. So, we made maps to help people know what areas are good to stay in.
Location in Playa Del Carmen or Tulum for a hotel
Most listings will state the location  as "Playa Del Carmen" but is it a good area? Even if it is in the city limits or center it does not mean it is a good location for tourists to enjoy. You might be far from the beach or far from restaurants and other attractions. Because many people are not familiar with each location we have the following maps. There is one for Playa Del Carmen and one for Tulum.
Transportation secrets getting from the Cancun Airport
When arriving at the Cancun Airport you might notice as soon as you leave immigration and customs you have to pass by tour booths and information. That is nice right? Well, this is not really the official welcome information you might be thinking of. Many sellers of vacation clubs are looking for people to target. They might even offer you transportation. The catch is the time and presentations you will need to take in while on your vacation.
The best thing is to just walk past and out of the airport. It is also important to have your transportation already booked. This makes it easier, faster and one less thing to worry about on vacation.
Official "badges" at the Cancun Airport
Once you get out of the Cancun Airport you will see a  large crowd of people with signs and transportation companies. It is busy and many people will offer you a ride. If you looked confused you might even be approached with someone with an "official" looking badge. You might think this is someone that works with the airport and official tourism office. These however, are nothing more than taxi touts or transportation companies trying to get you to take a ride.
These "official" looking people can be convincing but remember the smart traveler has already figured out how to get from the Cancun Airport to their hotel. The best options are the ADO bus to the center of Cancun or Playa Del Carmen or pre booking a private transfer. The best transfer company that many of our readers like is below in the reserve now button. They have nice vans, good service and good prices that even include a discount for round trip.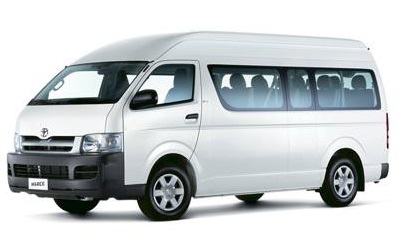 Most hotels are very secure and are watching you
The large resorts are small cities in themselves. There are hundreds guests and hundreds of people working there. Resorts in the Riviera Maya are very safe. Some of this safety is behind the scenes work by the hotels to keep their guest safe.
The first step in providing a safe stay starts with the design of the hotel. Most standards are instituted for non skid strips, safety inspections and uneven surfaces. The next step is keeping a watching eye on guest. Not only are bartenders and lifeguards keeping an eye on the safety of guests, there are safety teams that patrol the property. Ok, this might seem obvious but look closer, there are actually a lot of camera at resorts. Pools, lobbies, and hallways are all monitored for safety. You probably have not noticed and that is what they want. This way you can enjoy your vacation and not worry about anything.
Also behind the scenes at resorts there are many security procedures. Most resorts have employee entrances with coded entries and metal detectors and bag inspection upon leaving. Tight security behind the scenes keeps anyone who might be tempted to take anything from doing so. See our article about safety in Playa Del Carmen.
Safety starts with you
It is no secret the hotels and resorts want you to have a safe time. However, many accidents happen when people are drinking. In Mexico, if you need to go to the hospital, often you will need to show proof of payment before being accepted. Also, doctors and medical staff on-site at resorts are expensive. Be prepared with trip insurance or at least know your consulate contact information in case you have an emergency.
Tours-what you should know before booking
Do you want to the best tours for your vacation? Do you want to know all your options? If you are staying at an all inclusive resort and wait to book your tours when you arrive, you will be limited in your selection plus might pay more. Hotel lobbies are prime real estate for tour providers. So the tour desk sometimes are run by a separate company that has contracts with certain tours. They will only sell some tours and many niche tours that might interest you are not sold there. See our article about booking tours in Playa Del Carmen.
If you plan on walking around Playa Del Carmen you will notice many tour booths on 5th Avenue. Many have signs for discounts and promotions. This might be an easy way to book a tour since they speak English and have all the details. However, some of the tours they sell are the ones they get the most commission off of. Sometimes they say this tour is 2×1 but in reality it is a cheaper tour that is not as good and is just half the price as another tour.
You only have a limited amount of time for your vacation and you want to enjoy your days. It is best to do some research online before coming so you can know what is available and what you want to do.
Save money and buy in advance
Did you know you can save up to 15% off some tours if you buy in advance? Some of the most popular attractions and tours offer this promotion. You can select when you want to go and you can even change the day if you want to later. All of Xcaret's Parks allow you to do this. Click the link below to be taken to the official page for booking.

Other articles about tours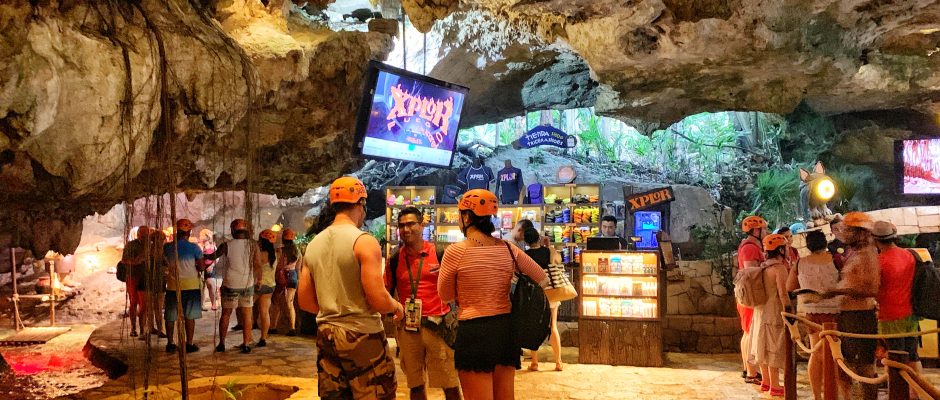 Beach beds-what are they hiding?
Hotels have them, beach clubs have them. You will find beach beds all over in the Riviera Maya. Are these special beds just for the beach? What are they made out of? You might not want to know.
Since beach beds take a beating, they are not going to be anything too fancy. Many beach clubs use old mattresses and wrap them in plastic. Then they are topped off by a nice cover that make them look great. There is not much of a problem for you because the bed is covered and separated from you, but there is something else to think about.
Imagine all the people that have used that bed and sweated on it. Laying in the sun makes people sweat. That is just a fact. That means many beach beds are soaked in human sweat. You just might want to use your beach towel on that beach bed the next time you use one.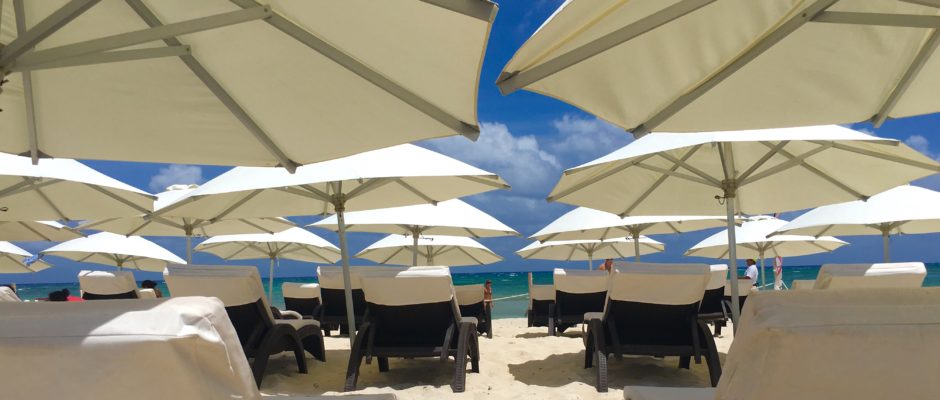 Thank you for reading our article about travel secrets. Do you have some that we should add to this list? Let us know in the comments below.