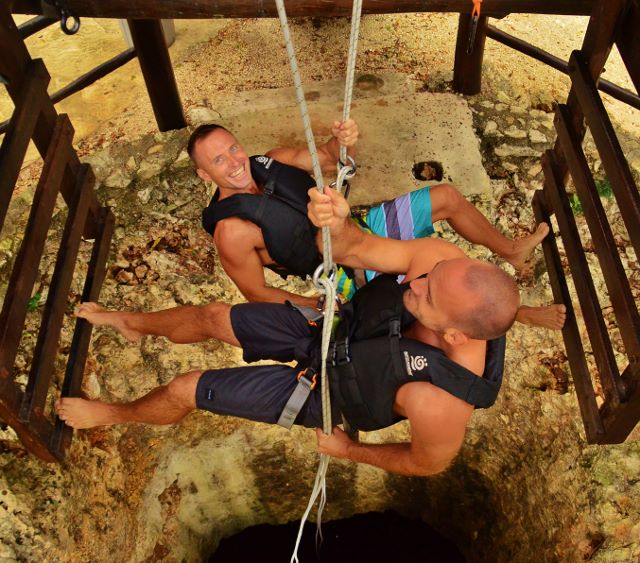 The Jungle Maya Tour by allTOURnative tour company is one of the ten tours and excursions they offer. We set off to give you a full report to let you know what it is like and if it is worth it for you to do.
Jungle Maya Tour by allTOURnative
Your free transportation will bring you the to Mayan ranch between Playa Del Carmen and Tulum. Here you will transfer to the Jeep-like transport trucks that will drive you into the jungle. This is lovingly referred to as a "Mayan Massage" because the bouncy suspension and dirt road. It certainly starts off your adventure into the jungle.
When you arrive you will put all your stuff in a locker. If you did not wear your swimsuit under your clothes you can change there. Depending on where other groups are starting and how many there are, your order of activities may be different. Since it is all small groups with a guide you can get around easily on the ranch and do not spend a lot of time waiting for the next thing.
Mayan Ceremony
The Mayan ceremony is real and authentic. It takes place in a dark cave which is lined with candles. Your guide will explain it and you can breath in the copal incense that is burned. Again, this is something that makes this tour company different and you get a bit of culture with your tour. The ceremony takes about 10 minutes.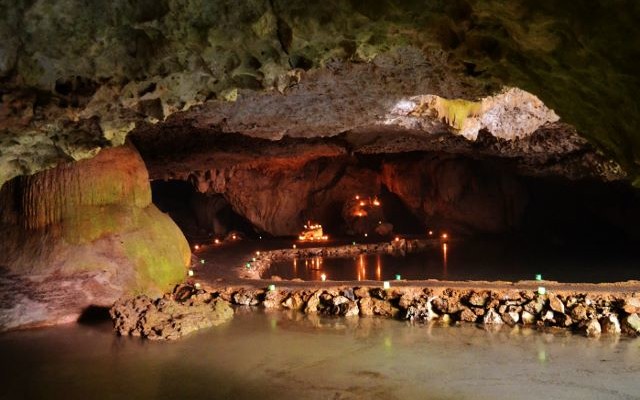 Zip Lines of the Jungle Maya Tour
There are three zip lines on this tour. The first is a very fast and long. The wooden towers have swinging ramps that you walk up. The last one goes into a cave and you land in the water. Fun stuff! All through the tour you guide will tell you when to take off your shoes and there are places to put your stuff. For example before you go on the last zip line you will leave your dry clothes and shoes.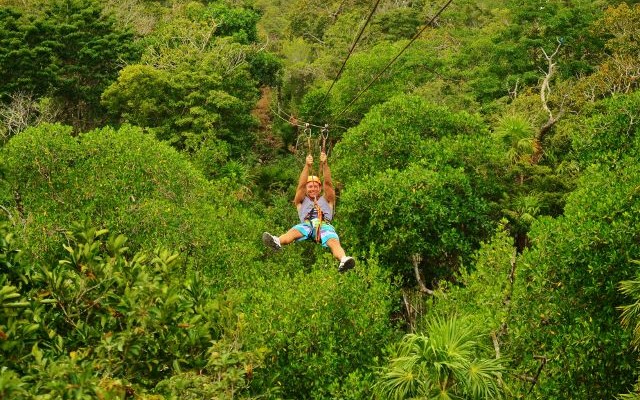 Rappel into a cenote
Rappelling is one activity you will do on this tour. You will go 40 feet down an entrance to a cenote. You can go one by one or two at a time if you like. It is really easy to do and you don't need to hold your weight or anything. When you get to the bottom a guide will unhook you and you swim to the side of the cenote.
Snorkeling on the Jungle Maya Tour
You will snorkel twice on this tour. One is a swim without masks in a shallow water cave with natural and artificial lights. You will have a life jacket so it is easy to float around and enjoy looking at the formations in the cave.
The second snorkel was the highlight to of the trip! This snorkel is with a mask and goes into a dark cavern. Your guide will have a light and one assistant in the back will have a light. You go two by two through a circular route in the cave. The amazing part is how deep it  is with a whole other world feel to it. This is what divers get to see but you get to see it when snorkeling. Seeing a cenote like this is a rare and a unique experience that Jungle Maya Tour offers. See the photo to the right? Imagine floating along and looking down into this deep underworld!
Meal time! What is Mayan food like?
allTOURnative tours does a good job with exposing people to the local Mayan cuisine. They offer a buffet with about five main dishes to try. Everyone usually agrees that they are very satisfied with the food and it is something that you will not get at the all inclusive resorts.
Photos of your adventure
Since rappelling, snorkeling and zip lining keep you busy with your hands and eyes, they have photographers that take pictures along the way and sell them at the end of the tour. You can preview them on a computer and have them put on a disc. They also put stock footage of animals, the park and Mayan culture on the cd for you.
How much is the Jungle Maya tour and how to book
This tour is $89 USD here. This is the entrance price with the tour and meal included. Children's entrance is $69 USD You can book this below. Transportation to the park is not included in this. There is booking more booking information on the page when you click below.

Tips for the Jungle Maya Tour
1. Wear your swimsuit under your clothes so you don't have to change there.
2. Don't wear sun creams or other body sprays. They want to keep the crystal clear waters of the cenotes clean.
3. If you have back problems, pregnant, are under 6 years of age or over 264 pounds this tour is not good for you.
4. It might sound very active but most people can do these activities. Even the rappelling is easy for older people.
4. Allow four hours for this tour plus transportation.
If you are looking for more tours and excursions while on vacation here you should take a look at our interactive map and all the tours you can do. We personally review each one so you know what to expect.
Have you been on the Jungle Maya Tour before? What did you think? We would love to hear your comments below.