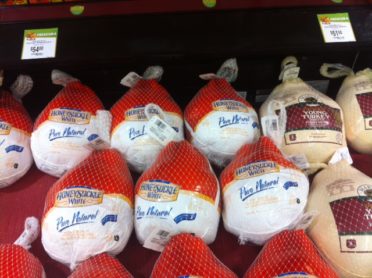 Thanksgiving in Playa Del Carmen
The weather may say summer but the calendar says it is Thanksgiving in Playa Del Carmen. Just because you are not in the United States, it does not mean you cannot enjoy all the fixings for the holiday. Of course if you try to go to the supermarket to try to get all the ingredients for your dinner, you might find it like a wild goose chase. Some things are just hard to find here. You just might find it a lot easier to go out to a restaurant.
Here are some restaurants and their menus for Thanksgiving in Playa Del Carmen 2017.
Andaz Mayakoba Casa Amate Restaurant
At the Casa Amate Restaurant you can find a set menu with:
Romaine salad with fresh radishes, dried cranberries, goat cheese and walnuts topped with a raspberry vinaigrette dressing.
Pumpkin cream soup. It is a smooth cream of pumpkin soup with sweet potato tortellini and a dash of black truffle oil.
Turkey roulade. Traditional roasted turkey stuffed with a combination of apples, onion, corn bread, bacon and raisins. Sweet potatoes and cranberry sauce with sherry also go on this plate.
For dessert you have a choice of pumpkin tart with bourbon honey and hazelnut crème or mini carrot cake with caramelized pineapple or cream cheese flan with cinnamon and chocolate cookie.
The price for this meal is $75 USD per person.
For reservation you can email: [email protected]   or call: 984-149-1234
Andaz Mayakoba Cocina Milagro Restaurant
The Thanksgiving meal here will be served as a buffet. The price is 1,100 pesos per person. The full menu is below.
C-Grill at the Thompson Beach House
At the C-Grill Restaurant on 8th Street and the beach in Playa Del Carmen you can find the following menu. This dinner is 750 pesos per person. Reservation information is at the bottom of the photo below.

Sundowner Yacht Club
At the south end of Playa Del Carmen you can find the relatively new Sundowner Yacht Club Restaurant. Here is there menu for Thanksgiving. They are serving this on Thursday from 1:00pm-9:00pm. The price is 750 pesos for adults and 400 pesos for children.
We hope wherever you have your Thanksgiving dinner this year, it is a good one. For another look at what Thanksgiving in Playa Del Carmen is like, see our older article here.
Do you have any Thanksgiving traditions in Playa Del Carmen? Let us know in the comment below. We would love to hear from you.