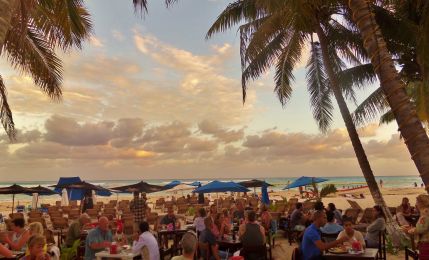 Thanksgiving in Playa Del Carmen
Spending the holidays away from home and family can be a worrisome feeling. Knowing that years of traditions are suddenly different, but when you come around to the fact that you are thankful for being in a place that is warm, no snow, new friends, and you are in a place where people share your customs and holiday traditions, there will be a calm that sets in. Here is what Thanksgiving in Playa Del Carmen looks like.
See our article on Thanksgiving 2017 and what menus are being offered.
Mexico is so close to the United States and holidays cross the boarder freely (just think of Cinco De Mayo and how popular that is north of the boarder). American Thanksgiving is much more popular in Playa Del Carmen then Canadian Thanksgiving, but everyone can celebrate together, after all it is about being thankful and each year more and more places serve up a traditional meal.
Other restaurants to check out are Lucky Luciano and Off the Vine. Even some other places get in the spirit and just offer a drink promotion.
If you want something high end you can check out Mayakoba Resort.  They get in the  American holiday spirit and offer up a large buffet of holiday treats. For those of you who do not know what Mayakoba is, it is one of the top resort companies in the Riviera Maya and world class, and their menu was superb to match their level of service. Here is a sneak peak at what they had last year, butternut squash and roasted apple soup with corn and multigrain bread. Salad bar with everything you can imagine and apple slaw with red cabbage, nuts and cranberries.  Assorted cheese platters.  Carving station with roast turkey, suckling pig, and sides of giblet gravy, cranberry orange relish, baked apples and horseradish sauce. Then for hot sides and what would almost be a meal in itself, grilled salmon with pistachio tapenade and vanilla sauce, beef medallions with caramelized onions, mushrooms and cabernet sauce, chicken breast with serrano ham and mozzarella with a sun dried tomato butter, wild rice with dried fruit and toasted almonds. turkey stuffing, seafood pasta with crushed tomato and basil, roasted garlic mashed potatoes, sweet potatoes with orange sauce, and corn on the cob with butter. For dessert they had pumpkin cheese cake, pecan pie, tropical fruit with passion fruit and honey, orange vanilla ice cream with berries, coconut and pineapple cake, apple cobble with cinnamon, and chocolate cake with amaretto cherries.
After Thanksgiving Dinner Traditions in Playa Del Carmen
Looking to watch a little football? Well Playa Del Carmen has you covered. EZ Sports Bar (now Taco City) on 5th Avenue between 12th and 14th is always a popular place to watch some games since they have so many screens there.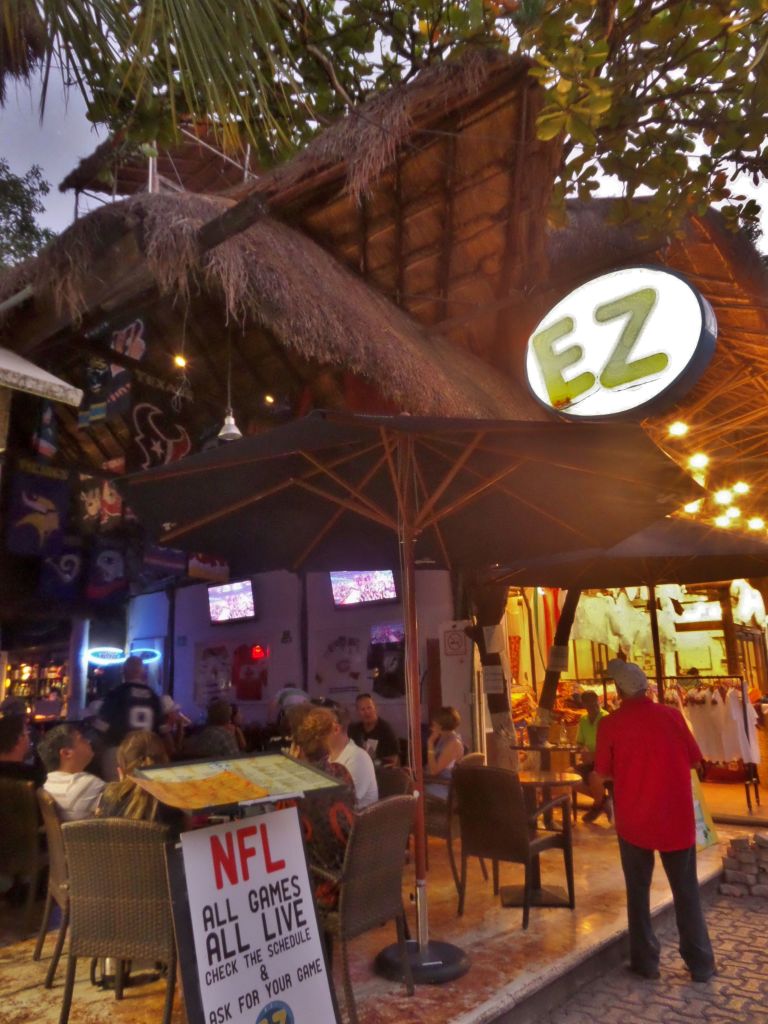 Where to Find the Thanksgiving items in Playa Del Carmen
Being in another country for the holidays might make you want to try your hand at reliving those traditions in your own home. So what is it like shopping for all the traditional foods in Mexico?  Well it will be a little like a scavenger hunt to say the least but you can do it with a little creativity. Sams club is a good place to start. The other grocery stores will have some things except Aki, they are more of a local store.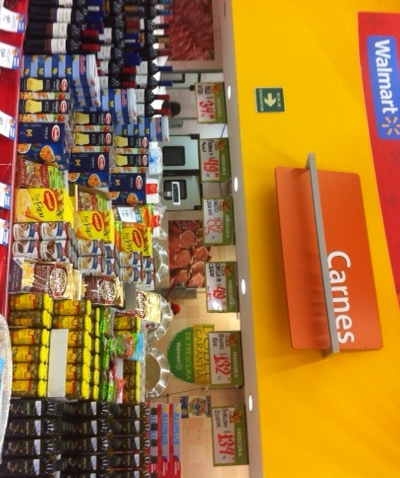 The supermarkets that get tourist and expats will sometimes have a display for the holiday. It is humorous what Walmart does each year because it is a mix of somethings you would need like an aluminum turkey pan, gravy mix and instant mash potatoes but olives, pasta and hearts of palm somehow don't fit in.
First the turkey, turkeys are a common food staple of the Mayans in the Yucatan but are not offered in supermarkets as much. Around the Thanksgiving period you will see a small sampling. They go for about 50 pesos a kilo or about 400 pesos for a whole bird.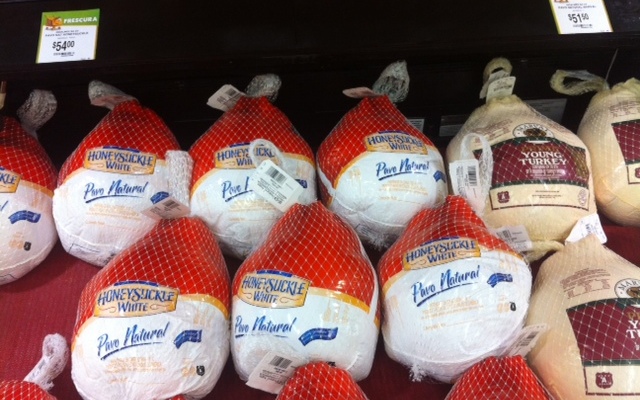 If you do a roast ham with pineapple, then you are in luck, it is very easy to find everything you need include oranges for a fresh glaze.
Stuffing is going to be easy to do with bread but finding sage to season it is a little hard. Finding a box of premade stuffing is going to be near impossible so you better have a recipe to make it from scratch.
Cranberries are only found in a can. We have never seen fresh cranberries here. And don't expect the good canned cranberries  that have whole berries, just be thankful if you find a jellied can of cranberry sauce. Oh, and here is a tip, look in the jelly and jam section of the grocery store. It kind of makes sense to put it here.
Vegetables. You might want a little flexibility here. If you do a green been casserole each year, well green beans can be found about 65% of the time. We do have beautiful carrots all the time and great honey here to make honey glazed carrots.
Sweet potatoes and regular potatoes. Regular potatoes are easy to find and are really nice quality. Sweet potatoes, called "camote" in Mexico, are in the grocery stores about 70% of the time. They are however lighter in color and flavor. You will need to jazz them up with sugar and marshmallows.
Pumpkin pie is the quintessential dessert for the holiday. Canned pumpkin can be found but you might have to try a store or two. Fresh pumpkins are usually only in the markets around Halloween, so if you want a fresh one, buy early, very early and plan ahead.
Black Friday? What happens the day after Thanksgiving?
There are no sales the day after and the Friday is normal here in Playa. But the tradition of starting off the holiday season and Christmas shopping starts a little earlier at what is called "Buen Fin". You can read more about Buen Fin in our article here.
New Traditions in a New Place
So if you are in Playa Del Carmen for the holidays, don't fear that your delicious traditions are lost, they are alive and well, and you just might start some new traditions to add to it like eating on the beach having turkey!
If you liked these photos of Playa you should check out our other galleries and for our best photos please follow us on Instagram.