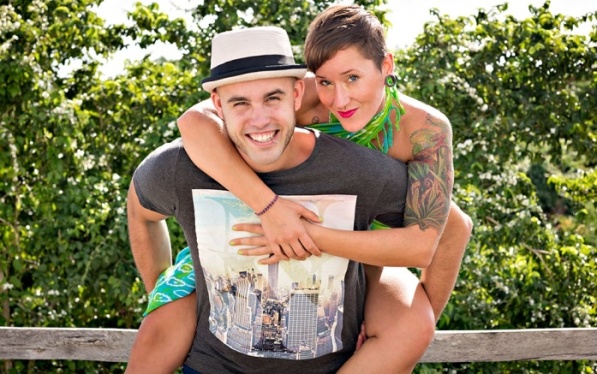 It is no secret that the Riviera Maya is a popular place to get married and have amazing wedding photos to share with friends. Have you ever wondered who is behind those photos? We wanted to introduce you to Jasmin & Matt, a fun loving couple that moved from Canada and brought their wedding photography business here.
Jasmin & Matt moved to Playa Del Carmen in July of 2014. Since then they have been adjusting to life here and busy working with new clients in their wedding photography business. We caught up with them and asked them a few questions regarding living in Playa and working here as well.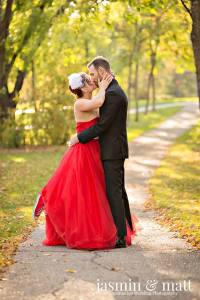 What are your backgrounds in photography?
Jasmin: I have been working exclusively with wedding photography for the past 2 1/2 years. Before that I was a photographers assistant coupled with my university Fine Arts background, I am able to combine  all that to creatively shoot weddings and make our clients happy.
Matt: I have 10 years of photography experience and have been doing wedding photography also for 2 1/2 years. At first I was not interested in wedding photography because I thought it would be a large production but then realized it was enjoyable because the production comes from the other parts of the wedding setup and I just need to focus on taking the photos. I enjoy it now because it is always a challenge and it is never the same.
What would you say is specialty or style of wedding photography?
We strive for a photo-journalistic feel, with a focus on candid, non-invasive shots. Also, it's important to be aware of the dreaded unexpected spectators in bathing suits. We also like being creative with the framing of our shots.
Have you found that there is enough work for you here in the wedding photography business?
There are thousands of weddings here each year, a mix of locals, expats, travellers & tourists. Some photographers travel alongside the wedding party while others, like us, have relocated here permanently. There are so many different types of weddings, too, which really allows photographers to perfect their craft, and style, sometimes with the possibility to try new techniques with some of the more unique and eccentric weddings or vow renewals, and more adventurous couples.
Do you have any favorite places to do photos?
Having recently moved here this summer, we are still exploring and discovering new places, scoping out various beaches, towns, cenotes and such, so it's safe to say we have some spots in mind where we're just itching to be able to do photos. Most of the work we've done has been on location at resorts, which is the most common for weddings. Guests aren't required to travel unnecessarily, all the amenities are available, and it helps the day flow fairly smoothly. Thankfully, the resorts all have unique architectural angles, hidden footpaths surrounded by greenery, and, of course, you simply can't go wrong with the beach access adjacent to each resort.
What advice do you have for couples looking to take photos here in the Riviera Maya?
It's beautiful to photograph in the Riviera Maya, the landscape has so much variety! There's luscious green tropical foliage everywhere, countless types of flowers which seem to be in a constant state of bloom, sunsets and sunrises that take your breath away, gorgeous clouds being lit in ways which are uncommon in the prairies of Canada. Don't get me wrong, we love our seemingly endless prairie skies back home but there's just something magical that happens here. And each night is different. Each night is like its own little show.
As for advice for couples liking to take photos here, number one would be to hire professionals, and it's a bonus if they are familiar with the area and perhaps know of some more secret, hidden gems. The other important need-to-know is to be aware of sunset hours. The dusk period here is short, meaning it gets dark fast. If you want photos at sunset, you have to be ready to jump on the opportunity.
What has been the biggest adjustment to moving here from Canada and how have you found living in Playa Del Carmen?
There's definitely some big adjustment such as being away from family and friends and the comforts of home. You learn that life runs at a slower pace, less tension, less stress and less rigid schedules. There's always opportunities to make friends, whether for a week while they are vacationing, or for a few months for long-term travellers and backpackers. We moved here with our equipment and some clothes so home life for us has been starting from scratch, realizing common items back home are considered luxury items here.
What do you like to do on your days off?
When we take a break from work for a portion of the day, we head down the street to Xcalacoco beach for a quick swim and a cold cerveza. As for a full day off, they are typically spent exploring, at times walking nearly 2 hours along the sand and beaches into town. We try to have a date night once a week where we head into town, try a new restaurant, meeting expats, locals and travellers to share stories & experiences with each other. When possible, we take day trips to become travellers ourselves.
What is the best advice you have for tourist coming to Playa Del Carmen?
Best advice is to explore, explore, explore! Don't be afraid or nervous to venture away from your resort, there is so much more to the Riviera Maya than your resort and day excursions only. Playa del Carmen has such a vibrant energy both during the daytime and night time, or if somewhere more low-key is sought after, Puerto Morelos, Tulum, Cozumel and Akumal are spectacular day trips with so much to see and do.
Thank you both for talking to us and we wish you the best with your photography business although it seems you are doing really well already. To find out more about Jasmin & Matt you can visit their website: http://www.jasminandmatt.com/
Below are photos of a gay wedding here in the Rivera Maya. Gay weddings have become very popular here since it was moved to be legal in Quintana Roo State, the state where Playa Del Carmen and Cancun reside in.