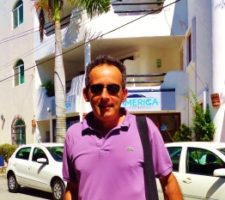 Today we interviewed Playa Del Carmen resident Lorenzo Casco. He worked as a property manager in Playa Del Carmen and we recommended him ,but  he is no l0nger working in that position. It is still interesting getting to know about why people live in Playa Del Carmen and how it is to live here.
How many years have you been in Playa Del Carmen?
16 or 17 I forgot what year I moved here.
Where did you move from and why did you move to Playa Del Carmen?
I moved from Rome, Italy. I was tired of the city life. I actually moved first to Cancun and lived there for 8 months and then moved to Playa Del Carmen.
This brings up an interesting question, why are there so many Italians in Playa Del Carmen?
It is really all about the weather. In Italy you have 3 or 3 1/2 months of warm weather, here it is year round. Playa attracts more Italians then Cancun because Playa has the Caribbean style that people like.
What do you do in Playa?
When I first moved to Playa Del Carmen I had the idea to buy some land and build a small family style hotel called a Posada.  Something with ten rooms to rent out. Well, half way through  construction my money ran out, so I had to come up with a way to make money. I liked to build and thought since I like buildings I could sell them. I started into real estate. Today I also represent properties for rent. I oversee about 45 properties currently. These are primarily tourist rentals.
Since you manage properties, how far in advance should someone reserve a property?
Well many Canadians will book one year in advance, they love it here and want to come back to the same place the next year. So some of the best places get booked up well in advance. Europeans tend to book 1-2 months in advance. Americans are sort of like Canadians, they book one year in advance, that is if they are older. If they are younger Americans, they tend to book one month in advance.
Do you have families that come to Playa and rent properties you represent?
Yes, we do get families.
What activities do you think families can do with their children when visiting Play Del Carmen?
I think the number one activity is swimming. Kids can be outside year round here and get to do lots of outdoor sports. Just outside of Playa is a place to go horse back ridding. There is also the water park in Cancun that is for kids. Xcaret is a great place to take children and that is near Playa as well. If you like swimming with your kids, Xel-Ha park is a great place for all day swimming and snorkeling. You can treat your kids to swimming with dolphins in Puerto Aventuras  or  in Xel-ha. It is not a cheap activity but worth doing.
What is your best tip for tourist to Playa?
Bring lots of money! There are a lot of opportunities to spend money. Playa is also different then most of Mexico, things cost more because there is a big demand and more and more people coming.
What is one of your favorite places in Playa Del Carmen?
I like Da Bruno Restaurant. It has great Italian food. It is right on 5th Avenue and 12th St. http://dabrunoplaya.com/
What is your favorite day trip out of Playa Del Carmen?
I like going to Tulum. I like the white beaches, the ambiance, it is like old Playa Del Carmen, how it was 15 years ago.
Thank you Lorenzo for you time and insights into living in Playa Del Carmen.