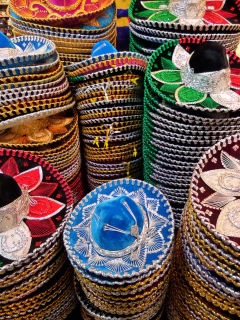 Shops in Playa Del Carmen
In Playa Del Carmen you will see many shops selling the same souvenirs as the next shop or offering what looks like a small inventory of inexpensive items. You may have wondered as well how these businesses pay the rent and survive. We hit the streets to ask some locals about their businesses and see if we could answer this question.
We should note that this refers to more businesses that are not on 5th Avenue. If a business is on 5th Avenue there is so much foot traffic that there is a lot of business to go around. We did an impromptu survey midday and found about 40 people per minute walking by. Most places would love that many potential pedestrians walking by their store. But even on 5th Avenue there are a lot of shops that sell the same souvenirs.
Cost of rents for shops in Playa Del Carmen
Small stores spaces for rental  are called "locals". These generally refer to smaller spaces. Spaces on 5th Avenue can go for around 25,000 pesos a month for 60 sq. meters with some possible sidewalk space.  (Of course rent on 5th Avenue will vary depending on the popularity of the section.) Small spaces of 50 sq. meters about 4 blocks further from 5th Avenue can go for 6500 pesos a month.  These rent prices give you an idea of just how many sombreros, sunglasses, or other tourist souvenirs they need to sell just to pay the rent.
Cost of shops overhead
Wages can be very low in Mexico. Some small stores a few blocks off  5th Avenue will pay 100-150 pesos a day for someone to run the store. So overhead with cost of wages is minimal. Overhead can be low on the actual cost of some items. Sunglasses for example can sell for 4-12 times the retail price. Owners will also take apart packages of goods and sell them individually and make even more money (example cigarettes).
Some of the shop owners own their property. They may have purchased them a long time ago when prices were much cheaper. This makes it very hard for a new business to start up because they now pay a higher rent or overhead that existing stores. It does however make it easy for those that own because they only need to rake in profit to cover electric, wages, and annual property tax. The for mentioned  things all being fairly low in cost for shops in Playa Del Carmen.
One insight we received from a shop owner is that many owners will operate several stores. When one is doing good they borrow money from that one to pay for discrepancies of the other store. One store might have to be closed and then all the merchandise and money goes toward the other business(s). It becomes like a juggling act.
Some stores offer services you may not see. For example they will add credit to your cell phone and get a commission, sell Avon or run a catalog sales business in their business. Then there is the fact that some "other" business is going on in the back. People in Playa Del Carmen are entrepreneurial and will look to fill needs. At the same time you will see many businesses that open and close due to poor planning and  not calculating the cost before starting a business.
When it is  high season, owners need to be prepared for the low season when profits drop but the price of rent does not. In the past the contrast from high and low season was more extreme. In some low seasons landlords would have a hard time collecting rent until the next high season.
We also found that some shops are run by house wives that may do it as a hobby. They have family support and other sources of income so making a profit is not a major priority.
There are a lot of shoe stores and inexpensive clothing stores. (Just visit Juarez Avenue) One of the three needs of people is the need of clothes. Since the quality of these things is poor, they wear out fast and people out looking for more to buy. This tends to be a lower income trap, only being able to afford to spend a certain amount on clothes or household items but these easily wear out and end up costing more in the long run. Many people will not save up for something good and pay more in the long run.
Conclusion
Overall it is a mixture of the above things mentioned as to why and how these shops in Playa Del Carmen stay in business. The fact is that many owners are not making a killing on profits and just maintaining. We hope this gives you a little insight into the business life of Playa Del Carmen.