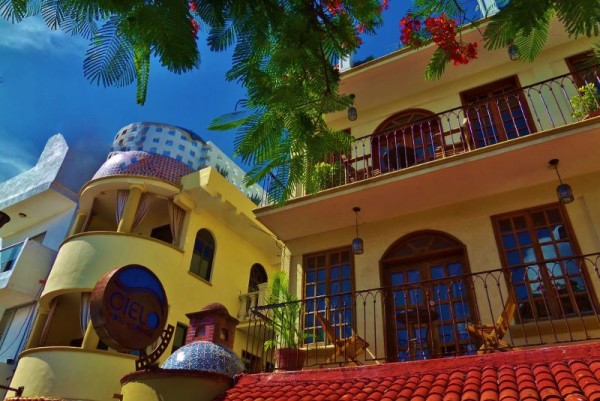 Do you like the feeling of being in Mexico when in Mexico? What do we mean? It means staying in a Mexican style hotel that adds to the feel of being on vacation away from what you are used to. Hotel Cielo has a more Mexican feel then some of the more modern designed hotels in town. For example Mexico tile  can be found throughout the hotel as well as other local touches. The staff is friendly here and will be able to answer your questions and direct you to local stores and places of interest. Here is more information and photos on this hotel.
Features of Hotel Cielo
Hotel Cielo is just off 5th Avenue and right in the downtown of Playa. It is one block to the beach. The hotel offers beach towels or you can take advantage of some of the beach clubs the hotel has arrangements with so you can have a beach chair and drinks on the beach.
There are 18 unique rooms at this hotel. Two of the rooms are handicap accessible. Note: This hotel does not have an elevator.
There is a rooftop deck on this hotel where you can enjoy sitting and looking out over Playa.  The roof top is currently getting upgraded with more space. From the roof you get a view of the turquoise Caribbean as seen in the photo below.
Parking for this hotel is a couple blocks away at in a parking lot. It is also close to the bus station where the bus comes from the airport or other points in the Rivera Maya. So you do not really need a car here and everything is within walking distance.
On the first floor there is Carboncitos Restaurant. A well known restaurant where you can take breakfast or enjoy a nice diner before going upstairs to bed. Other dinning is just steps away on 5th and 10th Avenues.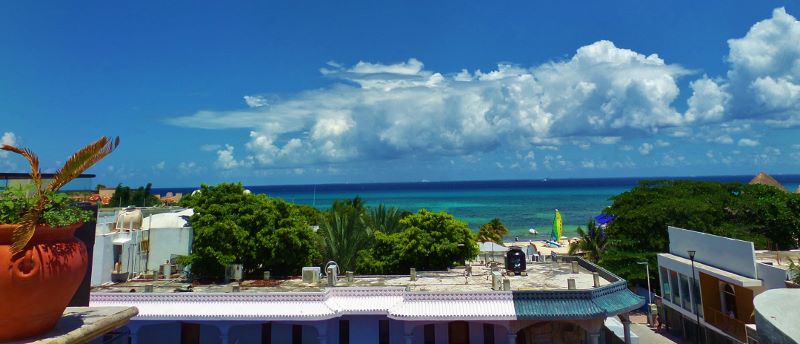 Rooms at Hotel Cielo
The 18 rooms feature comfortable beds, cable TV, free Wi-Fi, beach towels and air conditioning. Each room is unique and some have murals on the walls. All of the rooms have a Mexican feel. Rooms on the front of the hotel have balconies that face 4th Street.
We played around with some random dates on the hotel's website and found prices to be about $95-$130USD a night including taxes. This is just to give you a general guideline of prices.
Do you want to stay here? Here is a tip, you always get the best price booking directly with the hotel. You can contact them by email at: [email protected] or by calling 52-984-873-1227 or by visiting the website: http://www.hotelcielo.com/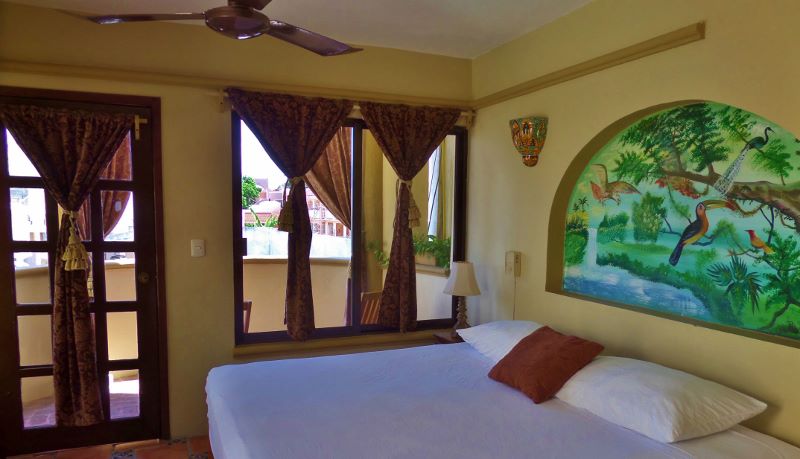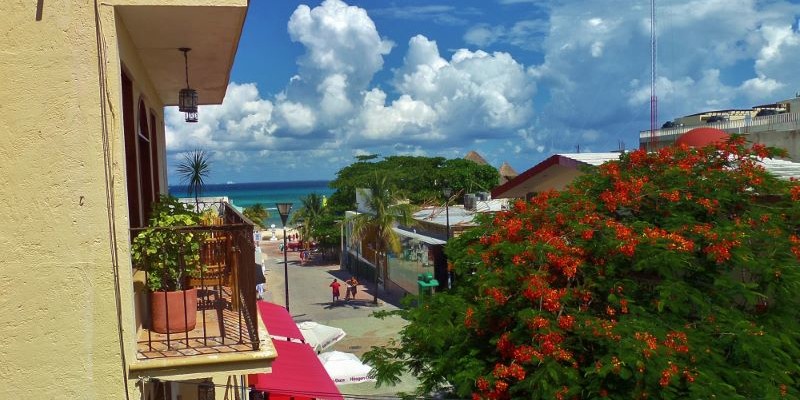 Recommendations
If you like smaller hotels with charm and in this case some Mexican flavor, then this hotel might be for you. It also might be good for those that are a little more independent of travelers and want to get out and about in Playa Del Carmen trying all the good places to eat. The prices here are reasonable and are good for couples or a few people looking to stay in a room. This hotel is more casual and low key. It is a comfortable place to stay and spend your days exploring.
Location
Hotel Cielo is on 4th Street between 5th Avenue and 10th Avenue. It is one block from the beach as you can see in the photo above.

Have you stayed at this hotel? What did you think? We would love to hear from you in our comment section below.