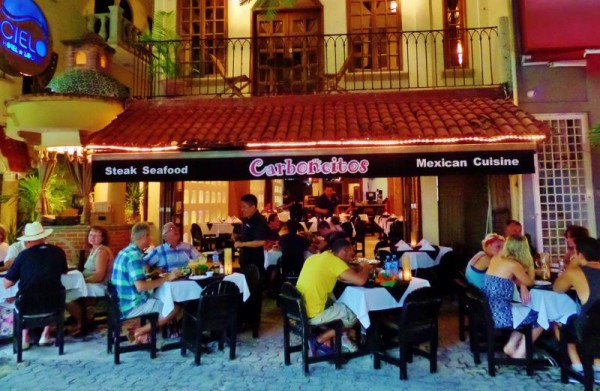 Carboncitos Restaurant is a long running restaurant on the south end of town. In  fact they have been around over a decade now. It gets repeat customers  from those that return yearly and it also very convenient since it is downstairs from the Hotel Cielo.
The restaurant is small and cozy with sidewalk seating and indoor seating. The wait staff is friendly and when you order a drink, they bring it to you in a very interesting way.
The Menu at Carboncitos Restaurant
There is a very large menu here. It includes soups, salads, appetizers, seafood, steaks, BBQ, Mexican food, Mayan dishes, pastas, tacos, vegetarian options, some kids options and desserts. It would be hard not to find  something on the menu of interest to you since the menu covers a lot of sections.
There is a full bar here.
There is a section on the menu for flambéed items that they cook tableside. So you can get a little bit of a show with dinner if you like.
Check out Carboncitos Restaurant  on our Hamburger Guide to Playa as well to see their burger.
Prices
Appetizers range from 89 pesos-195 pesos. Mayan dishes from 189 pesos-210 pesos. Steaks 310 pesos-495 pesos. BBQ items 199 pesos-236 pesos. Seafood 200 pesos-395 pesos. Mexican dishes 125 pesos-225 pesos. Pastas 147 pesos-189 pesos. Taco plates 114 pesos-168 pesos. Desserts 65 pesos-150 pesos.
Make sure you bring cash because they do not take credit cards.
Below is a photo of two appetizers at Carboncitos Restaurant. It is the fried calamari with chipotle mayonnaise dressing and the sizzling shrimp which comes in olive oil , garlic and guajillo chiles.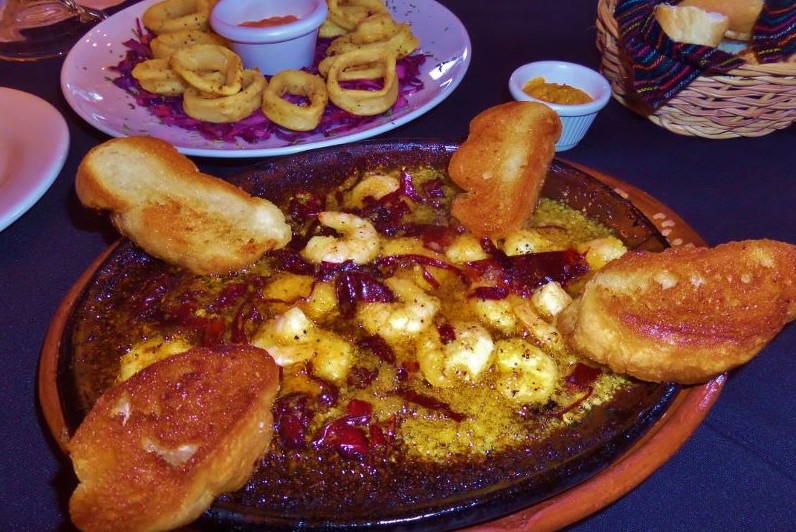 Below is a main course. It was the Mayan fish of the day called Tikin Xic. It is marinated in sour orange juice and achiote spice. It came with rice and chaya with fried plantains on the side.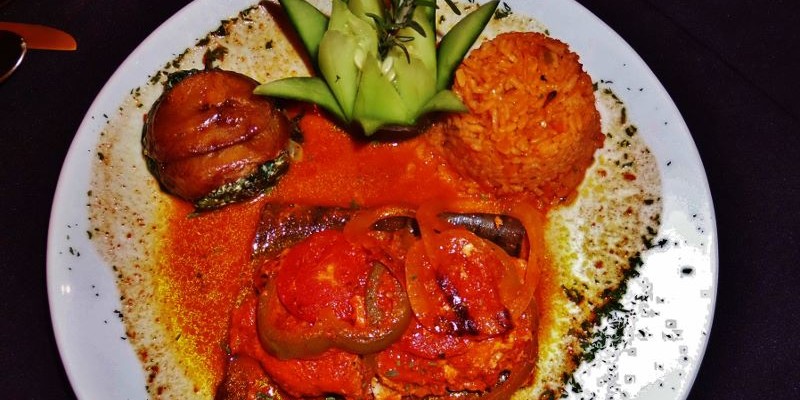 Below is their Mayan dish, conchinita pibil. It is pork marinated in sour orange juice and achiote spice. It came with refried beans, chaya and fried plantains.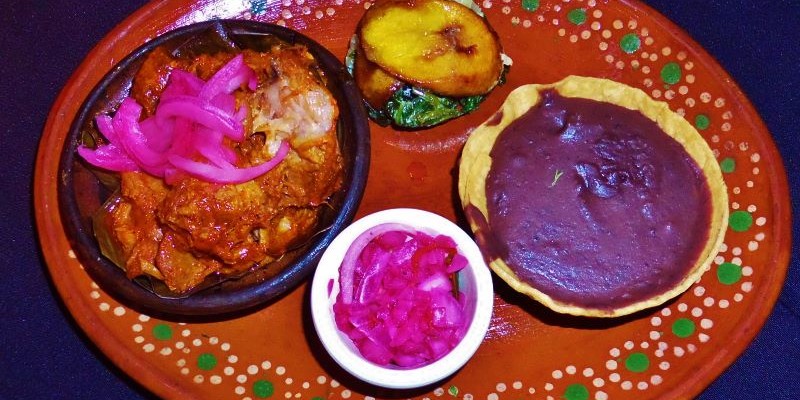 For more restaurant reviews and information see our full Playa Del Carmen Restaurant Guide here.
Hours
Open all day. Breakfast, lunch and dinner.
Location
Carboncitos Restaurant is on 4th Street between 5th Avenue and 10th Avenue. It is below Hotel Cielo.

Have you been to this restaurant? What did you think? Let us know in the comments below.