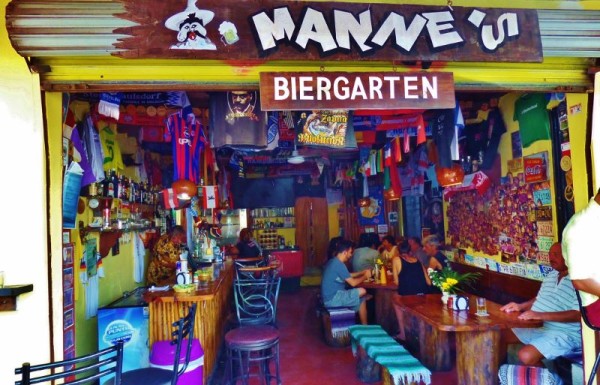 The Menu at Manne's BiergartenManne's Biergarten Pub and Restaurant has been around so long that it is a staple here. In fact Manne (who the place is named after) has been in Playa for 20 years now and had his restaurant and bar in three different locations. It has resided on 4th Street for some time now and is "THE PLACE" to get German food and beer in Playa.
Manne runs the restaurant with his lovely wife, Susie. Together you could not ask for a more welcoming host and hostess. Like most of the good small restaurants in Playa Del Carmen, when the owners are there, it is a good sign that care about it and give attention to all their regulars and newcomers alike. You will really be impressed with this warm couple that will take care of you and ask how you are doing in whatever language you speak.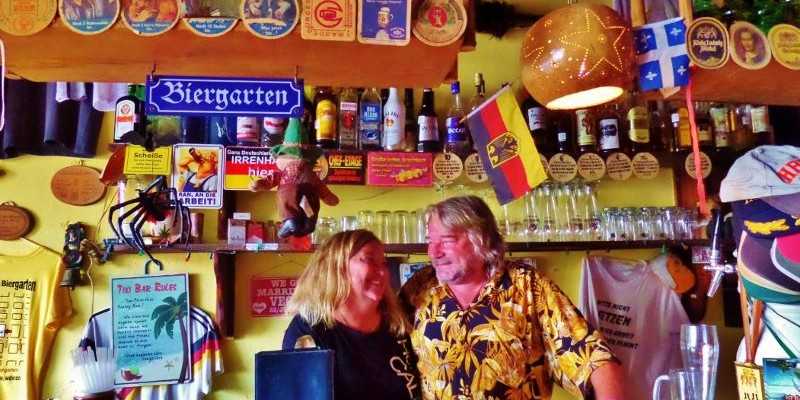 The Restaurant and Bar
This is a small friendly spot on 4th street where there is some sidewalk seating, open air  indoor seating and a back garden. This place has character and so should a place that has been around for a long time. If you like local charm then this place is for you. Come here to get away from commercialized places on 5th Avenue and enjoy the atmosphere of German signs, photos on the walls of customers and beer bottles.
The Menu at Manne's Biergarten
On the food menu you will find some bar snacks, grilled chicken, a few pastas, Mexican dishes like fajitas, and then there are the German dishes. The German dishes are a highlight here. They have bratwurst, sausages, and Bavarian meatloaf just to name a few. Of course they have the German sides to go with it like sauerkraut and German potatoes. Look for the daily specials. For example on  Sundays they do their prime rib special. It is a garden salad, baked potato with sour cream and horseradish sauce with a very tender slice of prime rib.
From the bar you can enjoy Mexican and German beers as well as full bar. Of course we are partial to the beers here because it fits so well with the menu and atmosphere. For more on bars see our Bar Guide to Playa.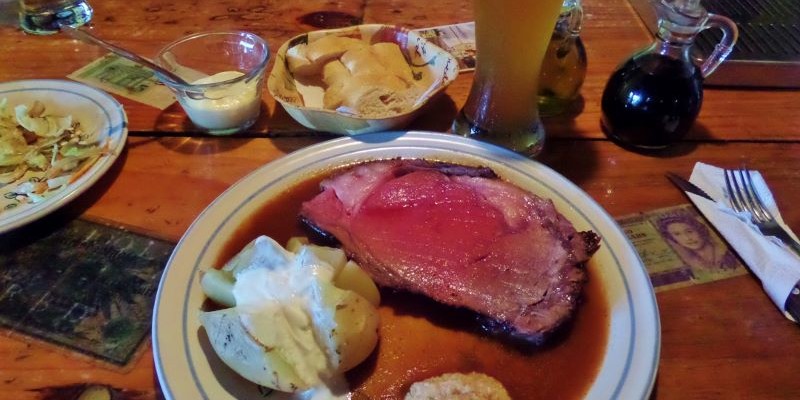 Recommendations
If you want a friendly place to go that is casual and relaxed, then this place is good for you. If you want a beer, potatoes and meat, then even better reason to go here. Enjoy the gracious hosts here and we are sure you will leave happy and not just because you had a lot to drink.
Have you been to this restaurant? What did you think? Tell us about it in the comments below.
Hours
Wednesday-Monday 4:00pm-1:00am. Closed Tuesday.
Location
Manne's is on 4th Street between 10th Avenue and 15th Avenue.

For more restaurant reviews and information see our full Playa Del Carmen Restaurant Guide here.
Have you been to Manne's? What did you think? We would love to hear from you in the comments below.