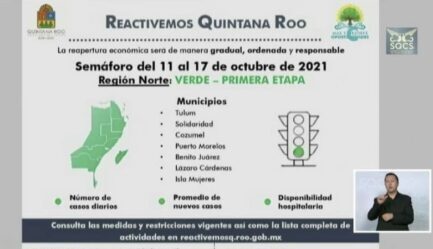 Less Restrictions Starting Next Week
Since the beginning of the pandemic, Mexico has instituted a traffic light system for each state and region. The traffic light has four levels, red-meaning the most severe restrictions, Orange-slightly less restrictive but still high, yellow-caution, green- the least restrictive. Each state sets the traffic light setting depending on the amount of people in the hospital, new cases and overall Covid-19 conditions. Since June of 2020 when parts of the Riviera Maya opened, we have not reached the green light until now.
Normally, the Governor makes an announcement for the following week. You can see the announcements on Carlos Joaquin's Facebook page here. The new level green takes effect October 11th-17th. (normally it is weekly and most likely it will stay green unless there are greater infections). Basically from Tulum to Isla Mujeres is in green and the southern half of the state of Quintana Roo is in yellow.
What does this mean for tourists and locals?
Here are some of the highlights of what is going to change starting next week.
Essential services are operating normal capacity. These are Banks, laundromats, supermarkets, and schools.
Open at 85% capacity are places like administrative jobs and accounting services
Open at 80% capacity are conventions, fairs in open air, and expositions. In closed areas. it is 60% occupancy. Gyms and sports clubs in open air are allowed 80% capacity and closed spaces 60% occupancy.
Open at 80% capacity also are historical sites, tourist services, golf courses, restaurants, malls, theaters, and hotels.
Casinos are open at 60%.
Bars, nightclubs and nightlife are open at 50%.
Capacity in public transportation is 1 person per moto, 3 people in a taxi including driver, Private vehicles 4 people, and 80% of public transportation.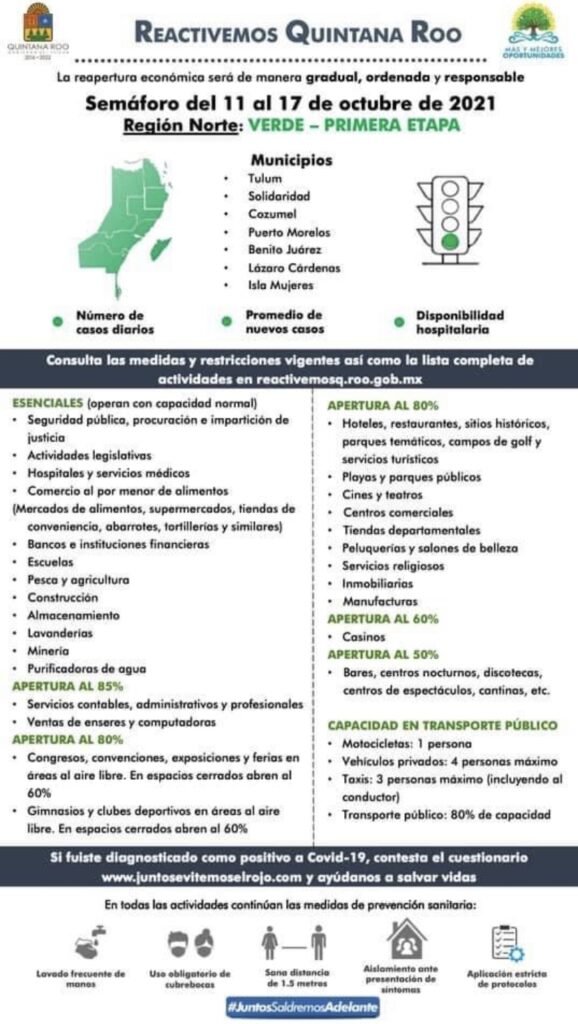 Moving forward
This is a good sign that things are moving forward. There still is a need to follow safety protocols to continue on a path to full recovery. In general Mexico is about a month behind the United States and the delta variant spread. We are just seeing the United States move over the peak now. Mexico has been vaccinating its citizens and residents at a decent pace. Currently the population of ages 18 and up are available to get the vaccine. The population of Mexico is young and this does have an impact on how the covid-19 virus effects the population. For example the average age in the United States is 38.1 years old. In Mexico the average age is 29.2 and in the state of Quintana Roo is it 26 years old.
Since the population is younger in the Riviera Maya, many people have slight infections, but continue to work or take only a few days off. So it is important to get vaccinated if possible and maintain health standards to protect your own and others health. This will all help minimize the virus and help everyone travel again more freely.
We are expecting a busy travel season this winter. As we mentioned here in our most recent article about tips for the 2021/22 winter season. If you do plan on coming, be sure to book in advance because it will be a busy time.