Frida Kahlo Restaurant in Playa Del Carmen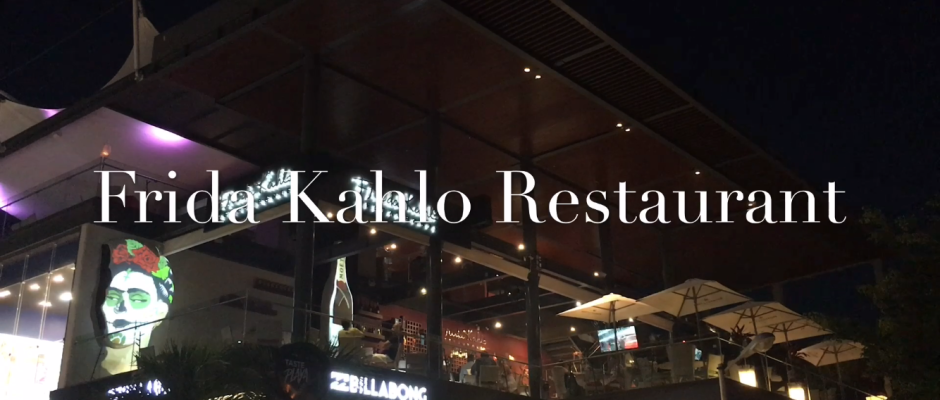 Update: This restaurant is closed as of May 2018. We will update this if anything changes. This restaurant has been asked about a lot because it is something new and interesting and welcome addition to 5th Avenue in Playa Del Carmen. We are please to bring you this review of the restaurant.
What makes the Frida Kahlo Restaurant Different?
First off when you have the rights to the name "Frida Kahlo", that is a big deal and a big responsibility to the legend of the Mexican artist. This restaurant is the third one in Mexico that they have opened and it is a major investment into the Riviera Maya.
The restaurant is open air and modern with multiple levels. There is art found throughout the restaurant which is Mexican and Frida Kahlo themed. Look for the huge Frida face at night that looks out over 5th Avenue with the moving eyes!
Gastromapping-What is it?
It might be easier to see our video below but to explain it, it is like imaging projected on the table in a 3d like way while you watch. They have created a show with images from Frida Kahlo's life and imagery from her art. It is a dinner show for you and part of the experience of this restaurant.
They have designated tables for the show that you can sit at before, during or after your meal at your own table. The show is about 5 minutes.
Modern Mexican Food
When most people think of Mexican food it is tacos, guacamole, or burritos. This restaurant will challenge what you think about Mexican food because the menu is a culinary journey around Mexico to the visit the diverse foodscape of the regional cuisines.
Their menu is a fusion of traditional recipes and modern takes on the food. In addition to this, it is presented in fun and creative ways to make your experience memorable. Tip: Look for anything on the menu marked (FK Experience) for a special presentation.
Prices at Frida Kahlo Restaurant
This is a higher end restaurant but the prices do reflect the gourmet nature and creative presentation of the food. Here are some sample prices for you.
Appetizers range from about 90-245 pesos.
Soups 110-195 pesos
Salads range from about 120-220
Main courses range from about 190-470 with a few specialty items that are higher.
Our Recommendations
Most visitors to Playa Del Carmen are either in town for one night or one week and want to have that special meal out. This restaurant should fit the bill! Between the gastromapping, exciting way they present the food, and a taste of modern Mexican cuisine, you should have an enjoyable time here. You might think the food would be tourist quality and the restaurant is more a gimmick to get you in the door, but the food is surprisingly gourmet and creative.
If this restaurant is in your budget and you want a memorable meal out, this is a great option.
Our Video of Frida Kahlo Restaurant
Now a new dinner experience await you here!
A new project of the Frida Kahlo Restaurant is a special 6 course meal. This limited seating meal offers guest a look at the life of Frida Kahlo with a tour of the museum and then a menu based on the life of her. For more about this dinner experience, see our article here.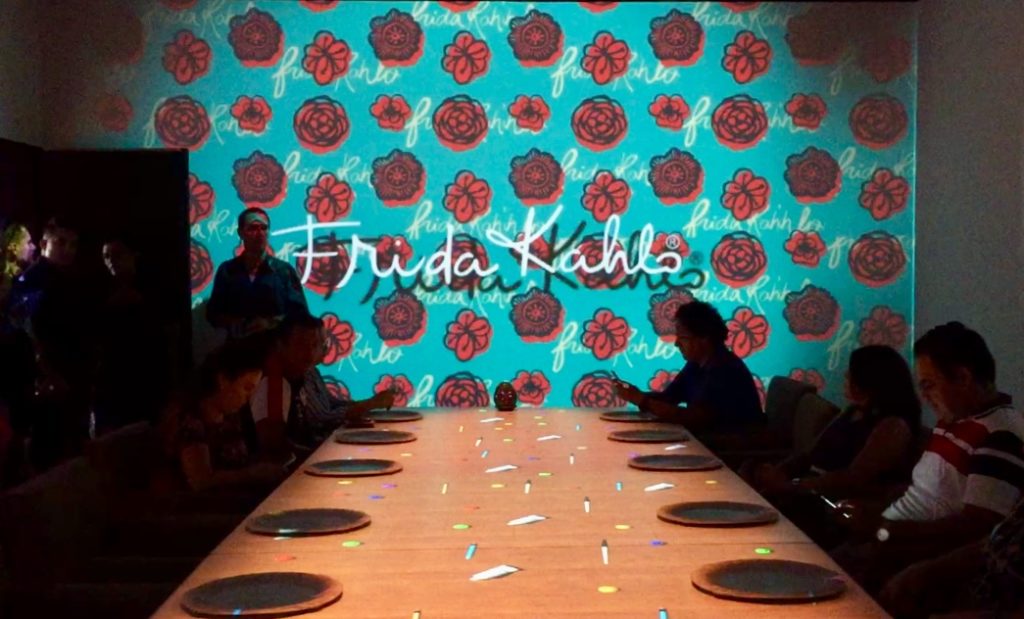 Where is the Frida Kahlo Restaurant?
The restaurant is on 5th Avenue and the corner of 8th Street.

For more restaurants in Playa Del Carmen see our Restaurant Guide here.
Have you been to the Frida Kahlo Restaurant? What did you think? We would love to hear from you in the comment s below.