Enjoy a dinner like no other at the Frida Kahlo Restaurant!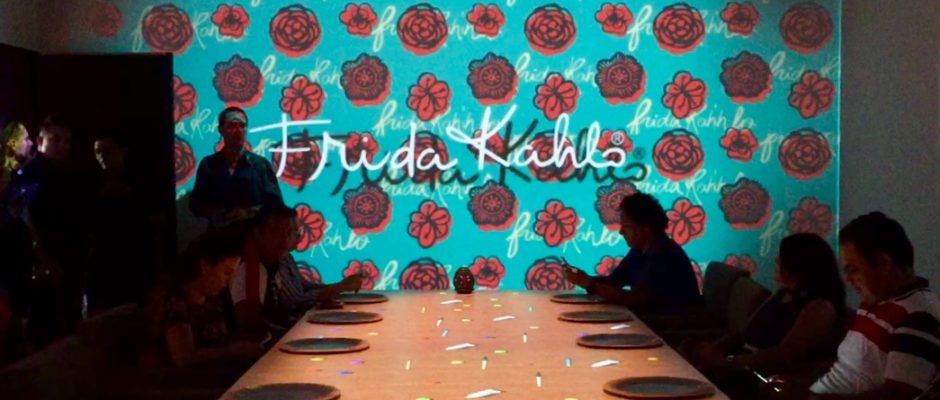 Frida Kahlo Restaurant special dinner experience
Update: This restaurant is closed now. We will update this article if it reopens. There is a new dinner experience at the Frida Kahlo Restaurant in Playa Del Carmen. This dinner experience is just for 16 people at a time and features a tour of the Frida Kahlo Museum and a six course dinner. Not only will you have a sampling of Mexican cuisine you will be surrounded with video mapping of the life of Frida Kahlo.
This dinning experience is perfect for a romantic dinner or a fun group outing! It will be a memorable experience and a great introduction to Mexico!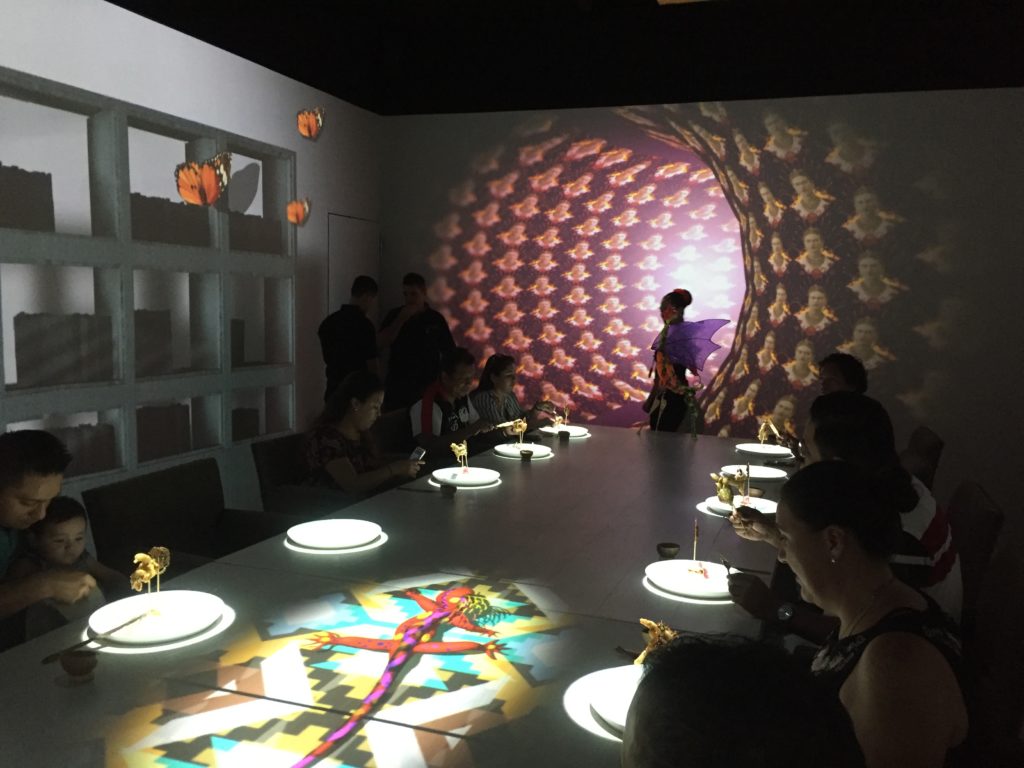 Our video of the special dinner at the Frida Kahlo Restaurant
Because photos alone cannot do justice to what you are in for during this dinner, we made this short video for you.

Start your evening with a tour of the museum
To give you a background of some of the dishes and the life story of Frida Kahlo, a tour of the museum is arranged for you. Even if you have visited before, having a guide take you around and explain things to you will come in handy later at dinner. This tour can be in English or Spanish.
Drinks and dinner
This six course meal will take about two hours and take you on a tour of different taste and experiences. Each course comes with a diffent beverages and gives you a good sampling of Mexican spirits.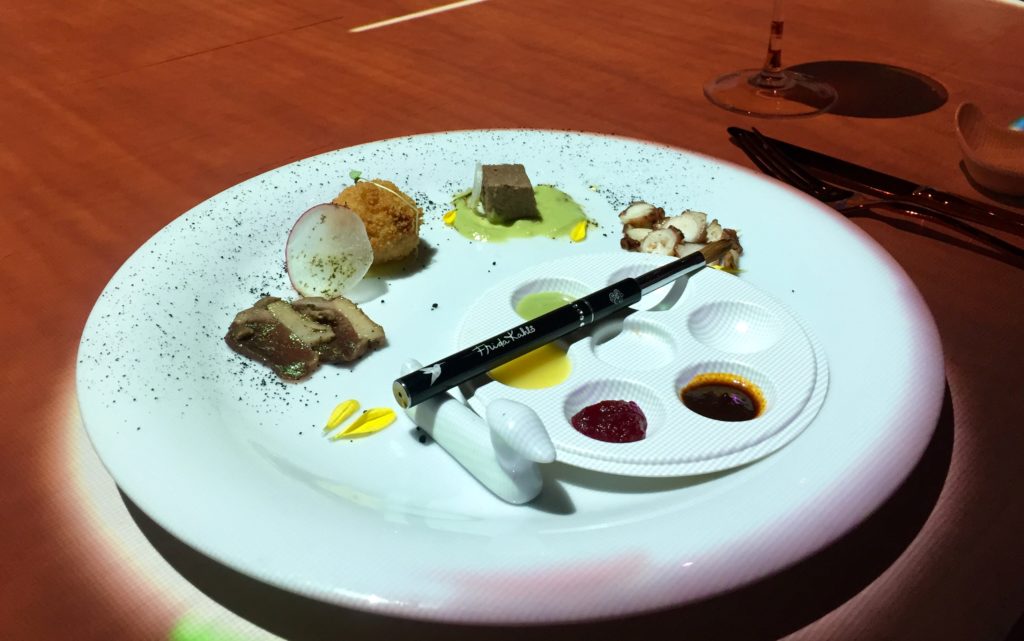 Who says food cannot be fun? Paint your meal with this course which includes different sauces and a paint brush.
What is on the menu?
There are six courses on this food tour. They are as follows:
Lobster medallion over pork and coconut sauce served with a Mexican Chardonnay
Fresh salad with watermelon, creamy yogurt, mango./passion fruit sorbet, arugula, basil and cheese from Chiapas. This course is accompanied with fruit punch.
Exotic skewer of crab toped with a chili aioli. A palatine of chapuline with chicatana ant and cardamom salt. This course is served with a mezcal cocktail.
Sample meats with palate of sauces. This course is accompanied with a infused hibiscus flower tea.
Delicious traditional lamb barbeque served in a consume with chick peas. Aged tequila is served with this course.
A dessert of made of cheese and cajeta (a type of caramel). Traditional Mexican coffee is served with this.
Vegetarian and substitute menu
If you have allergies or are vegetarian, they have the following menu option available.
Other important information
There is an age requirement for children to be at least 8 years old. There is no minimum amount of people needed to reserve, meaning 1-16 people are allowed to book at each seating.
Cost per person
For people transporting themselves to the Frida Kahlo Restaurant the dinner is $125 USD per person. This includes the museum and a 6 course dinner. There is no children's price for this dinner.
For guests that wish to have transportation added it is $145 for the dinner and transportation. Limits do apply to distance.
Three dinner times a day
There are three times a day you can reserve this special dinner experience. The times are 2:00pm, 6:00pm and 8:30pm. The dinner experience at the Frida Kahlo Restaurant is 3 hours. One hour for the tour of the museum and two hours for the restaurant experience.
How to make reservations for this dinner
Since this dinner is limited to two times a night and also limited to only 16 people it is necessary to reserve this. You can email us below and we can check for availability and book for you.
Some important details to include in your menu are:
What time would you like?
What date you want.
How many people you are.
Do you need transportation?
Do you have any allergies or how many in your party would like the vegetarian menu option?
Have you experienced this special dinner at the Frida Restaurant in Playa Del Carmen? What did you think? Let us know in the comments below.