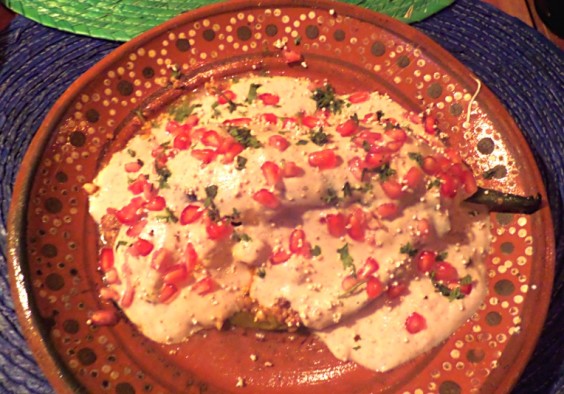 Chiles en Nogada is a very famous Mexican dish that exemplifies the art of cooking in Mexico and highlights the food culture of the rich nation. If you have a chance to taste this dish, you certainly should. Here is some of the history behind this dish and where in Playa Del Carmen you can find it so you can taste it.
A Little History of Chiles en Nogada
This dish was invented by nuns in Puebla, Mexico in 1821. It was made to present to the visiting Mexican Army General Agustin de Iturbide. He was involved in a decisive battle to gain control of Mexico City and win the Mexican War of Independence. He had just signed the Treaty of Cordoba which gave Mexico it's independence in Veracruz and was on his way back to Mexico City. He was passing through Puebla and the residents presented this meal to him. This is why this dish is so closely tied to the Mexican Independence Day (for more on how people celebrate today Mexican Independence Day, see our gallery here).
This dish has the red, green and white of the Mexican flag which also makes this a patriatic dish. Coincidently enough, Agustin de Iturbide is accredited with created the Mexican flag.
What is Chiles en Nogada?
Lets break it down. Chiles (poblano peppers are used, they are like a dark green pepper and not spicy) en or (in) nogada (actually is walnut or walnut sauce). The peppers are stuffed with a ground meat that is usully beef and/or pork along with dried fruits like raisins and nuts. The dried fruit adds a little sweatness to the dish. The sauce is a cream sauce with pureed walnuts in it. It is topped off with pomagrante seeds.
This dish is really wonderful when prepared correctly. This is an incredibly complex dish and of course there are shortcuts. When the pepper is cooked with the filling and it is soft enought to cut with a fork, when the sauce has the taste of walnuts and quality ingredients are used, it is an incredibly complex tasting dish where you can savor the individual taste.
When it is chiles en nogada eaten?
This dish is traditionally served in August and September because it is the season for walnuts and pomegranates. Nowadays fruits and nuts are available year round and this dish can be made at anytime of the year. You will see it as a special sometimes in a restaurant but generally the afore mentioned months are the best time because it is made special for the season.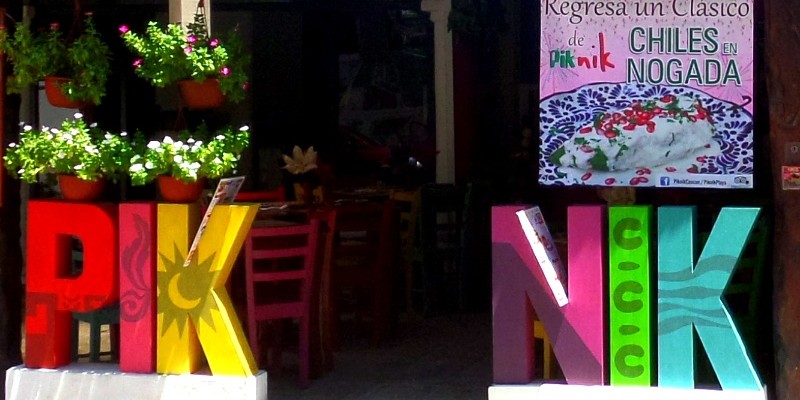 Two restaurants in Playa Del Carmen to try chiles en nogada
La Perla Pixan Cuisine and Mezcal Store. This very Mexican restaurant is a great place to go for chiles en nogada because they dedicate themselves to retaining food culture from all over Mexico. They have a special of a chile en nogada and a craft beer for 200 pesos. They serve their version warm and the nogada sauce is incredible.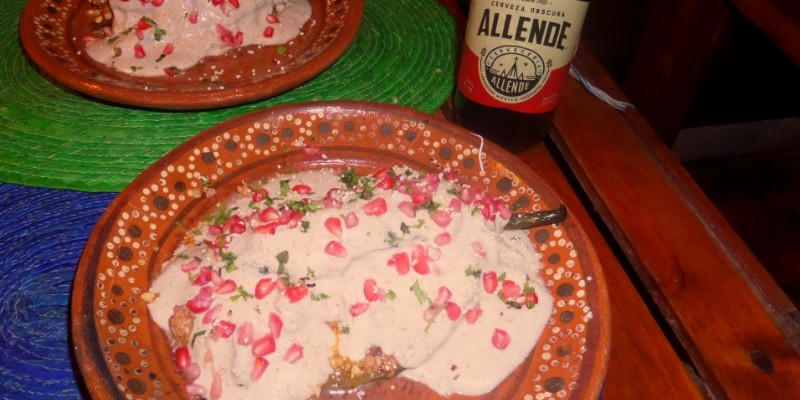 Pik Nik Restaurant. This cute little Mexican restaurant is tucked into 10th Avenue between 24th Street and 26th Street. The friendly people here will serve you up an their version of chiles en nogada. This dish is served warm or cold. They serve it  cold here. It is 160 pesos here for the chile en nogada.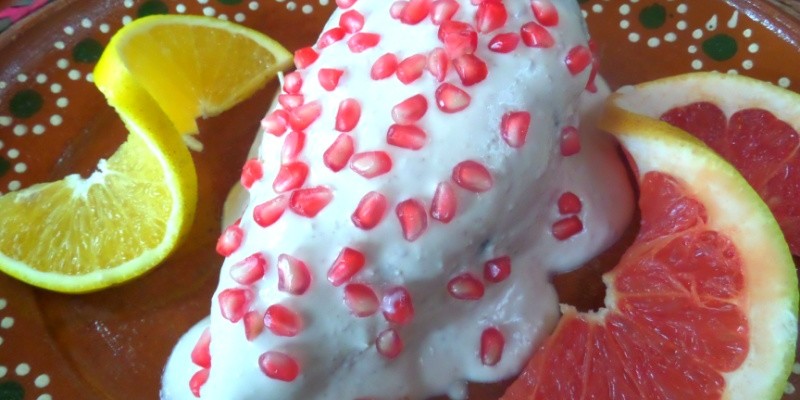 We hope you get to taste this dish in Mexico. It certainly is history and tradition in every bite!