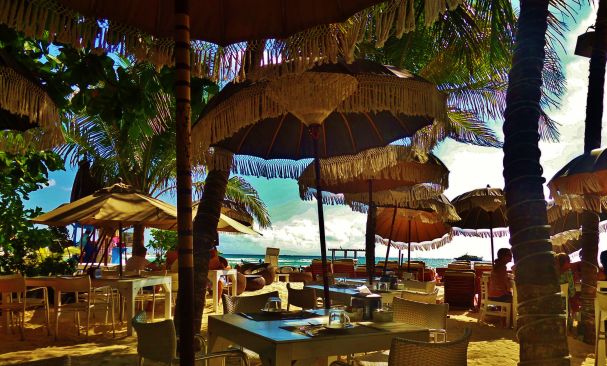 Breakfast at Indigo Beach Club
Who would not want to wake up to this in the morning? Breakfast on the beach, this will certainly make you want to get out of bed and enjoy a bite to eat. Indio Beach Club offers breakfast everyday. They have a menu which you can order one plate of food (two photos below show some options) and a small buffet which you can get small plates of sides. Coffee and juice come with the meal.
Menu at Indigo Beach Club
On the menu is traditional breakfast plates and there are Mexican breakfast foods as well. Quesadillas chilaquilies, huevos rancheros are more the Mexican side of the menu and then there are the eggs benedict, French toast or you can get omelets made.
The buffet is small and has small sides to your meal. There are cereals, dried fruit, nuts, fresh fruit, cheeses, pastries and bread. There is a toaster to make toast.
Tip: They also have a juice menu which you can order off of. Unless you really want a specialty juice, you might want to skip the juice because it is expensive at 60 pesos.
How does this place compare?
Breakfast in Playa Del Carmen is harder to find then you might think since breakfast in general is not a huge meal in Mexico and Playa is not a morning town. So how does this breakfast spot compare to other places we have been to?
Well the location is special since it is on the beach and eating while having your feet in the sand and looking out toward the ocean is what makes this place so nice. The main plates are good but we find the buffet a little lacking and part of the price you pay for is the view.
Here are two other places in town for breakfast that you might want to compare. La Vagabunda is a popular place on 5th Avenue with two locations but the food is not as good and certainly not as good a view unless you like people watching while eating. Chez Celine is a popular French café style restaurant on 5th that is open for breakfast where you can have a good meal for close to the 100-120 pesos range. Chez Celine has better pasties and the best coffee in Playa if that matters to you. When it comes down to it, if a small place on the beach with a breeze sounds good to you, then check this place out, the view never disappoints.
Also check out our Breakfast Guide to Playa Del Carmen here.
Have you been to Indigo for breakfast? What did you think? Where is your favorite place to eat breakfast? Let us know in the comment box below.
Hours
Breakfast is served daily from 8:00am-12:00 noon
Location
Calle 14 and the beach (14th Street does not go from 5th Avenue to the beach so you have to walk around to 1st. Avenue and down 14th Street). It is in the same building as El Taj Condo Hotel.