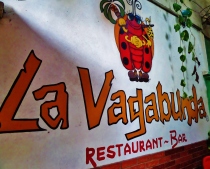 La Vagabunda  Restaurant is where you can find a crowd each morning as well as throughout the day (although just be quick to just a place by how many people are there, many small hotels in the area use this as their breakfast option).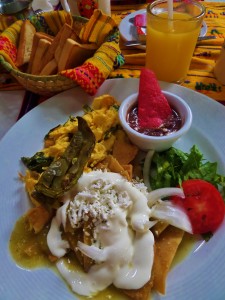 La Vagabunda has been an institution in Playa Del Carmen since the mid 1990's and has nestled into the way people eat here.
They now have two locations right on 5th Avenue. One location on 5th between 4th and 6th St. and  The other on 5th Avenue between 24th and 26th St. We much prefer the location between 24th and 26th because of the nice trees that shade it and the large thatched roof building housing the restaurant. Both locations are open from 7:00am-23:30pm each day (one of the earliest breakfast you can get in Playa Del Carmen) but we recommend it for a start to your day. It is a good place to have a hearty breakfast. Just look at these two colorful breakfast that were served up. They offer some local tastes and flavors along with internationally accepted breakfast items. They have such Mexican items like chiliquiles, eggs with nopal cactus and refried beans. Do not expect true Mexican cuisine, it is dumbed down  little but you the sense of it.
Tip: Get there early for their breakfast specials!  You could end up paying less for your meal. Usually 7am-9:30am. If you were out partying the night before you are going to miss it if you sleep late.
Insider note: This place may look like it gets a good crowd each day. Part of the reason is that some of the small hotels use this as a place for guest to use vouchers for breakfast. It is not because it is that popular.
So if you are near the north end of 5th Avenue (or south end near 6th St.) and want a good breakfast where you can have service in Spanish or English, La Vagabunda is a good choice. It is a great place to site and have a casual breakfast and people watch on 5th Avenue.