Bovino's Churrascaria Restaurant is the latest steakhouse to open in Playa Del Carmen. Their style of meal service is different and brings a higher form of restaurant to Playa. Here is a little more about Bovino's Restaurant.
What is Bovino's Restaurant like?
The first thing you will notice is the handsome brick and wood beamed building with large glass windows. This restaurant sits on a prominent corner where there once was a Banamex bank. As you enter you will be greeted by good  air-conditioning and the host. There are different dinning area and a second floor as well.
When your waiter comes he will explain the concept of the restaurant. There is a round card at your setting and one side is green and the other is red. When you are ready to have meat served to you, simply turn the card to green. Often they come so fast you have to turn it over so you get a chance to eat what is on your plate. At any time you can go to the salad bar, although salad bar might not be the best name for it because it really is a buffet, just without the red meats.
Bovino's Buffet-Awash with options
This is actually better then the meat! This is the real surprise here. There is a great selection and they offer things that are not often found in this part of Mexico on menus, so it is a treat. Here are just some of the things you will see on this huge buffet: assortment of cheeses, coconut shrimp on skewers, paella, sushi, salmon Carpaccio, deviled eggs, green salads, and an assortment of cold cuts.
You are sure to go at least twice to make sure you try what you like and try your favorites again!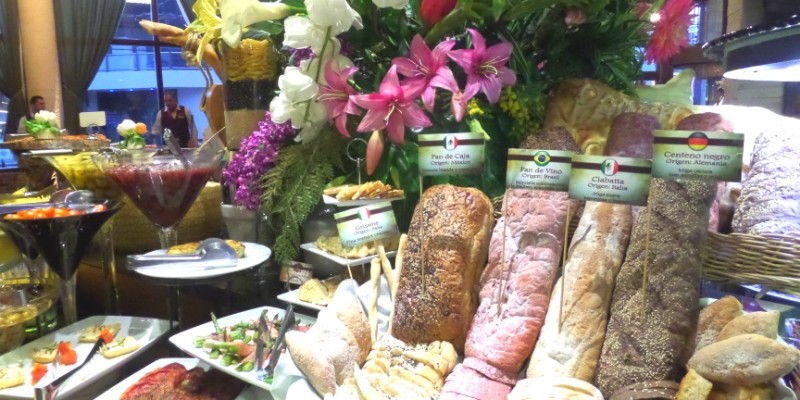 How is the meat at Bovino's Restaurant?
You will get to sample many meats here. Some of the things that will come to you table are short ribs, leg of lamb, chicken breast wrapped in bacon, pork tenderloin in parmesan, sirloin, sausages, and more! There should be something for all meat lovers here.
We do find that some of the meat is a little salty and some of it dry. It is known that in this part of Mexico we do not have the best quality meat but this restaurant does a decent job with it. Just note some  meats may make you want to drink more.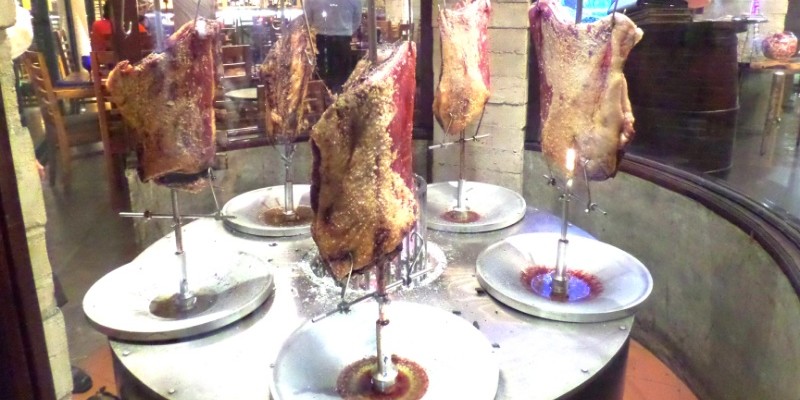 Don't forget dessert if you aren't full already
Dessert is not included in price of buffet and meat courses but it still might tempt you. There are many choices for you including mouse creams, chocolate cake and flan.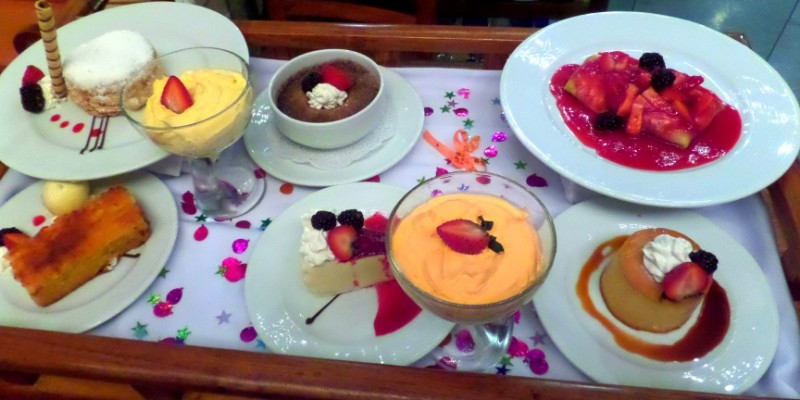 Recommendations
This is a good restaurant to spend special occasions and even better if you like meat. It may get a bit repetitious and not so exciting a couple of times in a month but most people are here for a short time anyways. For locals this can be a fun experience for a special occasion and certainly is a good value since there is a price for residents of Quintana Roo.
Hours
Daily from 12:00 noon-12:00 midnight.
Location
Bovino's is on the corner of 12th Street and 10th Avenue. This is in the center of Playa but if you do drive here there is limited parking in the surrounding blocks. They do offer valet service.

If you are looking for a steakhouse restaurant but might like a cheaper option you might like to see our article about Ipanema's Grill Brazilian Steak House.
Have you eaten at Bovino's Restauarant? What did you think? We would love to hear your comments below.
*For more restaurant reviews and information see our full Playa Del Carmen Restaurant Guide here.