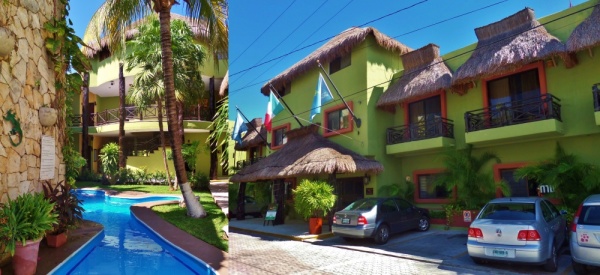 The Aventura Mexicana Hotel  is one of those hotels that is in a great location and a favorite place to stay for many. We have had it on our recommended hotel list for Playa Del Carmen for a while now but wanted to show you exactly why we recommend this hotel to you.
Inside the Aventura Mexican Hotel
This is one of the real treats of the hotel. In one word "Oasis".  As soon as you walk through the front doors you start to see the tropical garden that has been carefully maintained and will make you feel like you have started your relaxing vacation in Playa Del Carmen. The hotel features two separate gardens with many nooks and crannies so if you want to relax on a lounge chair and read or take a nap, you can easily find a spot to yourself. Also in this interior complex there are  two pools and a smaller dip pool.
  Hotel and Services of Aventura Mexicana
This 49 room hotel features air-conditioned rooms with all the standard things you would expect like safety box, Wi-Fi, mini fridge, phone and a TV. A continental breakfast is included at the Mayan Bistro Restaurant on the property. There is onsite parking, a spa, free international Skype calls in the lobby, and arrangements with different beach clubs in Playa so you can lounge by the ocean in style.
Three things we like about this Hotel
One thing we noticed on our walk though of the property is how all the staff is happy and has been working there for a while. This is a sign of a good hotel with good management. When people like working there and stay for a long time it creates harmony and good energy in a hotel that guest can feel. If people working there like being there everyday, surely you will like it for the week you will be staying there. It is also nice for guest to come year after year and see friendly faces.
The second thing we like is the fact there are two sides of the hotel. There is an adult side that has its own garden and pool and a side for families with its own pool and garden. This makes everyone happy and can be a good hotel for a group coming for a wedding or event.
The third thing we like about this hotel is the fact everything is integrated so well. There is the Hotel and the  Mayan Bistro Restaurant. The restaurant is open for breakfast, lunch and dinner and is open to hotel guest and to the general public. The Aventura Mexicana Hotel offers a meal plan if you want a more all inclusive plan and don't have to worry about finding restaurants while on vacation. They cook everything to order just like a restaurant would. That way you are not just eating some buffet food somewhere as a meal plan. The three business work well together and offer guest different options in one boutique hotel in the center of Playa Del Carmen.
Who we recommend this hotel to
This hotel is good for a couple looking to be right in the center of Playa Del Carmen and want the chance to explore a little. It would be good for small families that want an adult feeling hotel but have an area with other children. Groups would find this hotel nice as well since it has two sides and space for meeting together and so many options for things  close by. Wedding groups also could use  the gardens for great photos and they do have wedding planning on site.
Where is the Aventura Mexican Hotel?
The hotel is ideally located on 24th Street just off 5th Avenue. This end of 5th Avenue has become where many of the nicer restaurants are and trendy beach clubs can be found. (From Constituyentes Avenue to 38th St.) Since the hotel is on a side street between 5th Avenue and 10th Avenue you are not in the buzz of 5th but just a short walk to it.
Prices and Booking
For prices of the dates you are interested in, here is a link to give you current prices and deals.
Additional photos of the hotel.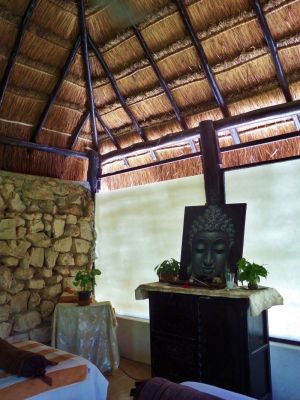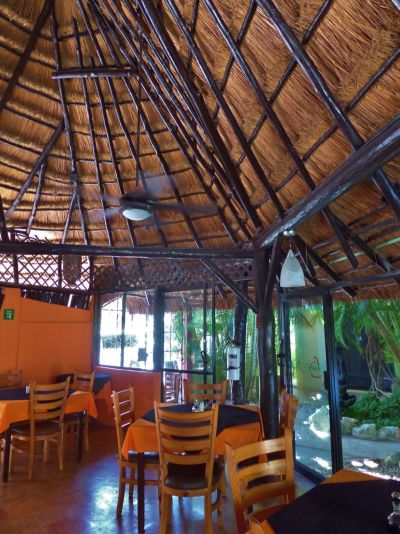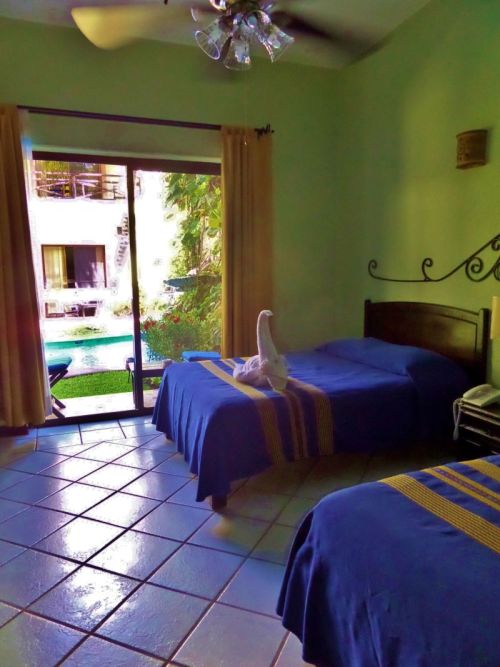 Have you been to this hotel? What did you think? We would love to hear from you in the comment section below.