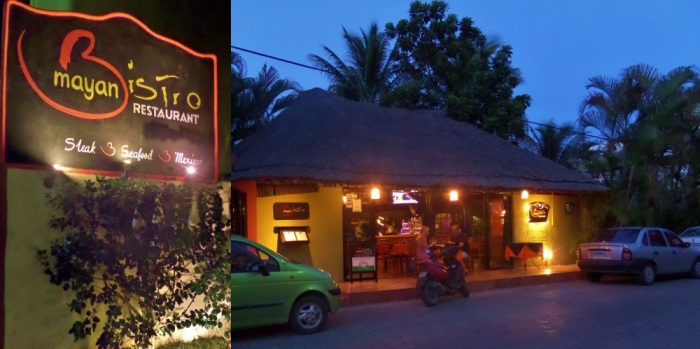 Mayan Bistro Restaurant
The Mayan Bistro is a quiet little restaurant just off the busy 5th Avenue pedestrian street in Playa Del Carmen. This open air palapa restaurant overlooks a garden and  pool. It  gives you the choice of dining inside or in the quiet garden in the back. This is ideal for a romantic dinner or just a good meal with the family.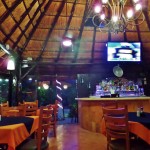 Long time residents and concierges at large hotels know that eating here is always consistent quality and a nice alternative to eating on the touristy 5th Avenue. The manager of the Mayan Bistro likes to keep the atmosphere Caribbean feeling and relaxed.  There is no dress code here and you can come comfortably to the restaurant. You also will not have mariachi bands coming  strolling around the restaurant here, so this adds to the relaxing atmosphere.
Menu at Mayan Bistro Restaurant
Lets dispel a myth first about this restaurant, it is not Mayan food, and there is nothing wrong with that. The name is just an ode to the Mayan Riviera. The Mayan Bistro serves a full international menu with lots of seafood, meats and Mexican food. The menu reflects Playa Del Carmen and the amount of world travelers that descend on our fair city to soak up sun and culture.
Having such a food selection makes it nice for locals to have a wide selection to choose from. This also brings us to myth number two. The restaurant is open to the public for all three meals and even though it is connected to the Aventura Mexicana Hotel, it is an independent restaurant. The restaurant however does offer meal plans to hotel guest of the Aventura Mexicana Hotel.
Since these two properties are back to back they share the garden space and it makes for an easy stroll from hotel guest rooms to the restaurant. The meal plan is actually a really good idea. Guest can choose to have three meals a day in The Mayan Bistro and order anything off the menu they want (minimum amount of consecutive days required). This is much better then an all inclusive hotel where you have a buffet to choose from and then other restaurants on the property for an additional charge. This meal plan is like having a personal chef for you while you stay in Playa Del Carmen. You can either do it for a few days and then explore the restaurant scene in Playa or you might just want the meal plan for the whole time you are staying because it offers such a good value and the menu is very extensive.
The head chef here has had over a decade of experience in the Mayan Riviera and is used to preparing a wide variety of dishes for guest from all over the world. They are able to accommodate people with food restrictions like vegetarian and gluten free diets. Feel free to ask what they have available and if they can accommodate your needs.
The restaurant does not have a happy hour because they want to maintain a relaxed family restaurant atmosphere. They do however serve top shelf alcohol, which is nice to find in Playa Del Carmen.  The kitchen is open from 7:00am-9:00pm and the bar is open until 10:00pm. So this is not a late night eating establishment but still offers a full day of serving food. They do close earlier because the hotel backs the property and they like to maintain the peaceful garden oasis for guest there.
Did you know this locals?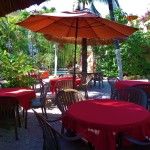 For locals that live in Playa Del Carmen you might be interested in knowing they serve very affordable breakfast and lunch menus. One nice thing we noticed is the large salads they serve at lunch and they are reasonably priced at around 100 pesos.
If you want to come and use the Wi-Fi and grab a drink or snack, you are more then welcome to come here. It is a nice alternative to going to a coffee house each day. The garden in the back with tables and umbrellas provides a great place to sit and relax.
Where is the Mayan Bistro Restaurant?
The Mayan Bistro is located on 22nd Street between 5th Avenue and 10th Avenue. It is on the backside of the Aventura Mexicana  Hotel.
We hope you get to stop by this restaurant and enjoy the friendly service, food and atmosphere. Even if you are staying at an all inclusive hotel and want to come into Playa Del Carmen for the night, you might want to check out this restaurant.
Have you eaten at the Mayan Bistro Restaurant? What did you think? Let us know in the comments below, we would love to hear from you.