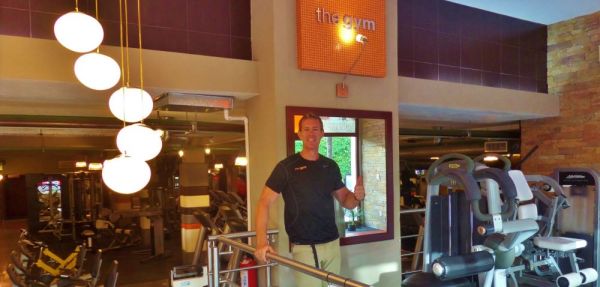 We sat down with Ian Kelley for an interview to talk about why he moved to Playa Del Carmen and how he has created his own niche in the fitness world here. Many of you will know him from Evolve Gym since he works there as a trainer. Ian found our website because his love of biking in Playa and saw our article about bicycling in Playa Del Carmen. He offers great deals on long term bike rentals so  we wanted to tell everyone about this as well and the details are below. Here is the interview:
Where are you from and why did you move to Mexico?
I am from the United States. The number one reason I moved to Mexico is because it does not snow here. Like many people up north this is a great reason to live here. I did visit Mexico for the first time 15 years ago and I felt like I had arrived.  I really like the Yucatecan food and the Riviera Maya. Each region of Mexico has a different taste and I love the habanero, avocado. tacos and other regional flavors.  Growing up I always like Mexican food and when I came here it just made sense why I liked those things.
Why did you choose to live in Playa Del Carmen?
I did fall in love with Tulum at first but there really was no work for me there. There was not enough going one. Playa Del Carmen has got everything from restaurants, night life, shops and beaches. It is like the city that never sleeps. I think that if I did not have to work, maybe I would look at living in Tulum but I might get board there, who knows.
How long have you been living here?
Two years now.
What do you do for work here?
I am a personal trainer at Evolve Gym and group fitness instructor and trainer at The Gym. I currently teach 11 classes which I mainly teach in English but will cue in Spanish.
What is your most popular class?
I would say the water aerobics class. They are at Indigo Beach Club which is just down the street from The Gym. I think the classes are popular because there is a sense of community with that group and besides coming to the class people like the social element as well.
You mentioned you like biking and work to promote it by offering low cost rentals to people wanting to rent, can you tell us more about this?
I like bikes to be available for people that are here for a little while. I do weekly rentals for $5 USD a day, two week rentals for $4 USD a day and $3 USD a day for a month rental. I have a pick up location just off 24th Street between 10th and 15th Avenue in the center of Playa Del Carmen or I can also deliver the bikes to you. The bikes come with locks and I have 15 bikes available. Unlike a lot of tourist places that rent bikes, I make it easy and just require a credit card impression or  people can leave an ID for the rental. If people want to rent I ask them to contact me at least one day in advance so I can set up a deliver of the bikes or arrange a time to meet. People can contact me via email: ian@organicbodybuilding.com
Where is your favorite place to go biking in Playa Del Carmen?
I like Avenue Juarez because they have built a bike path up the center of it on the other side of the highway. You can bike up Call 1 Sur because that street has a bike lane and then cross the highway and go by Park La Ceiba. On Juarez you can bike along and stop for local tacos if you like. If you want a long ride, you can continue up Juarez until you get to the cenote which is just outside of town.
What goals or plans to do you have for the future in Playa?
I would like to start a fitness boot camp at The Gym. It would be a class more for beginners so people can get the benefits of fitness and get started with a healthy lifestyle. When I work with people I always have three things in mind, I like people to have fun, feel successful, and get in shape.
With my bike rentals I would like to expand it, possibly have advertising on the bikes and get sponsorships. This could make cheaper rentals available to more people.
What do you like to do on your day off?
I like to go to the beach by Playacar or ride my bike with my girlfriend to the movies. The movies here are inexpensive and have good air-conditioning. I don't do much exercise on my day off since I get enough of that at work!
What would your best tip for tourist coming to Playa Del Carmen be?
Don't use the ATM's on 5th Avenue. They have been used to clone some cards before. It is better to go to a bank. Also don't be afraid to eat at the taco stands and eat off 5th Avenue.
Thank you Ian for talking with us and also making affordable bike rentals available in Playa Del Carmen.