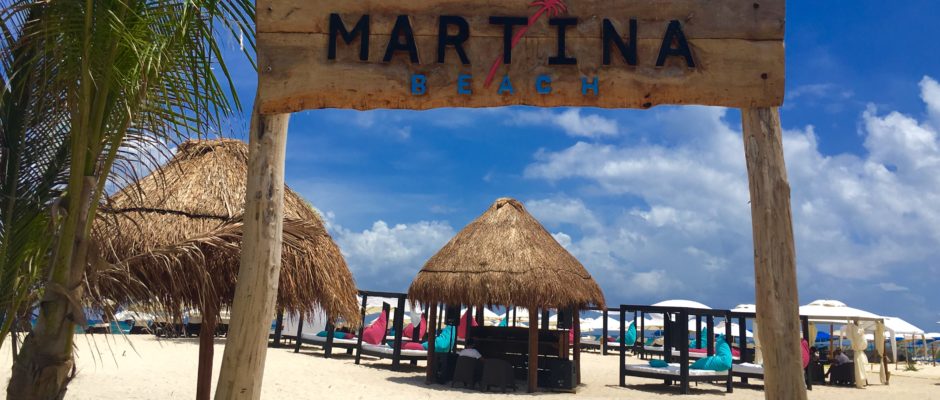 Martina Beach Club
Martina Beach Club is a new addition to the oceanfront clubs in Playa Del Carmen. This beach club is on the north end of Playa and has a little more space and less crowd if you are looking for something a little more tranquil at the beach.
The vibe is clubby with deep house, funk and chill music. The music is not overly loud and you can sit near or far from the music depending on your preference.
One nice thing about this club being on the north end of town is the availability of more on street parking. Try parking near Mamitas Beach Club, it is really hard!
Prices of beach beds and chairs at Martina
Beach chairs are 100 pesos and beds are 500 pesos.
Food and Drinks on the menu
Martina has a full bar. Here are some sample prices.
Cocktails 90 pesos.
Beer 35-45 pesos.
Shots 50-75 pesos.
There is also bottle service here.
From the food menu here are some sample prices.
Plate of tacos 65-72 pesos.
Tostadas 75-127 pesos.
Burritos 65 pesos.
Seafood cocktails 175 pesos.
Hours
Martina is open 10:00am-6:00pm daily.
Where is Martina Beach Club?
This beach club is on the north end of Playa Del Carmen. It is just before Canibal Royal. If you go down CTM Avenue (aka 46th Street) to the beach it is just to your right.

For other beach clubs in Playa Del Carmen, see our guide here.
Have you been to Martina Beach Club before? What did you think? We would love to hear from you in the comments below.