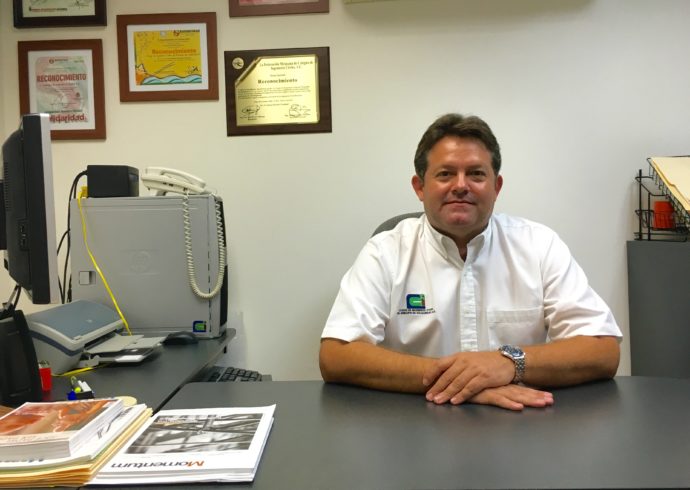 We sat down with the president of the Colegio De Ingenieros Civiles, Ing. Jose Tomas Farfan Bravo to learn how the City of Playa Del Carmen prepares each year for hurricane season. It is interesting to know all the things that go on behind the scenes to keep residents and tourist safe during storms.
Hurricane Preparedness in Playa Del Carmen
Every year the city turns to the Colegio De Ingenieros Civiles (Association of Civil Engineers) to do inspections of all the hurricane evacuation centers in the area. Both public evacuation centers and hotel evacuation centers are inspected. All hotels are require to have inspections each year to and they pay for this service to make sure they have adequate preparation for guest.
There are 39 public evacuation centers in Playa Del Carmen and 2 in Puerto Aventuras. These centers are schools and open to all residents and people in need at the time of a hurricane. When schools are built in the area, they are built with this in mind and double as an evacuation center.
Before a hurricane and when one is approaching, the Army makes sure these evacuation centers have water and other supplies for those that would come. There is preparation both in the beginning of hurricane season and actions taken when there is a hurricane in the forecast.
What happens when a hurricane approaches Playa Del Carmen?
When there is an alert of a hurricane all parties go into action. The City Hall of Playa Del Carmen directs agencies and coordination efforts with the Army. The Army goes to neighborhoods where there are known issues of flooding and areas suspect to damage. They check with who is in the neighborhood and make sure people get to evacuation centers. The Association of Civil Engineers checks with hotels in the area to make sure that everything is in place.
CFE (the electric company in Mexico) flies in supplies and people ahead of time to get ready for repairs. They have warehouses that are designated supply depots. They can also send in people from all over Mexico that work for CFE so an intensive effort can be made to restore power. This is a main step in restoring things to normal and the power is needed for the cleanup effort.
After a hurricane
The Association of Civil Engineers also plays an important part after a hurricane as well. When there is a need for cleanup, calls first go to City Hall, then a large number of those calls go to the Association of Civil Engines. They have lists of what companies have equipment and then coordinate who gets sent to certain areas.
When is hurricane season in Playa Del Carmen?
Hurricane season is from June 1-November 30th.
Conclusion
It is comforting to know that so much care and preparedness is taken each year to insure to safetly of the residents of Playa Del Carmen and tourist visiting the area. We can look to the last strong hurricane that hit our shores, Hurricane Dean in 2007 and see that no one was killed when it landed as a category 5 hurricane. Mexico is very prepared for this natural phenomena and we can thank all those who work ahead of time for the safety of those living and visiting the area.
You might also like to read our article on how to prepare your home in Playa Del Carmen for a hurricane here.