Visit Cenote Hubiku near Ek Balam and Valladolid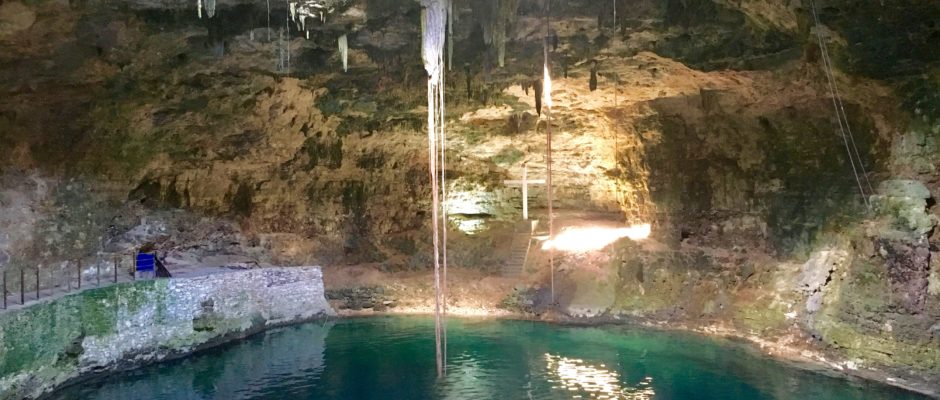 Visiting Cenote Hubiku
Cenote Hubiku is a large enclosed cenote close to Ek Balam Mayan ruins,  and the colonial cities of Espita and Valladolid. This cenote is visited by people usually in tour groups that are visiting the nearby Mayan ruins. This small complex is touristy and set up for groups but you can still enjoy visiting here yourself.  Here is what Cenote Hubiku is like.
What you can see at Cenote Hubiku
This cenote is more of a tourist attraction for bus groups so there are a few things to see here. If you just want to swim in the cenote , you can do that or you can walk around and take in the tourist attractions.
Main entrance and gift shop
In the photo above you can see where you can buy tickets to enter Cenote Hubiku. There is also a large gift shop here. It is mainly the typical things you find in gift shops.
Cenote Hubiku
You will descend down wide stairs to enter into the cavern that houses this cenote. On the scale of cenotes, this one is one of the larger ones and hence is why it is visited by tourist groups.
You can enter the water from a wooden platform. The water is deep here but clear so if you bring your mask you can look around. You can even see the catfish that live in the cenote systems.
Mayan Village
On one side of the cenote there are several traditional Mayan houses. Here you can take photos and see up close what houses have been like for over a thousand years in this part of the world.
Tequila Museum- Museo Don Tadeo
The "museum" has few agave plants out back and few demonstrative props of how tequila is made. There are several tequilas you can taste here including flavored low alcohol tequilas. As you might know, tequila comes from the other side of Mexico, so this is not going to be the best representation of tequila. As long as you know this and take this tourist attraction for what it is, your are fine.
Restaurant Kin
Restaurant Kin is a buffet style restaurant with a bar. This is 150 pesos which includes entrance to the cenote. The food is somewhat regional and has meat and a few vegetarian options.
Entrance cost and details for visiting
Entrance for the cenote is 100 pesos. If you do eat at the buffet restaurant, the price of the meal which includes the cenote is 150 pesos. This is a good deal especially if you need to eat. There are not many restaurants in the area.
Hours are 9:00am-5:00pm daily for the cenote.
At Cenote Hubiku you can rent life jackets for $2 USD, lockers for $1 USD an towels for $2 USD.
How to get to Cenote Hubiku
Most everyone will be coming from the direction of  Valladolid heading north on 295. Once you exit the town of Temozon you will immediately see a dirt road on your right with a small sign. Follow this dirt road for two kilometers. There is a large parking lot surrounded by the buildings.
Have you been to Cenote Hubiku? What did you think? Let us know what you thought in the comments below. We would love to hear from you.