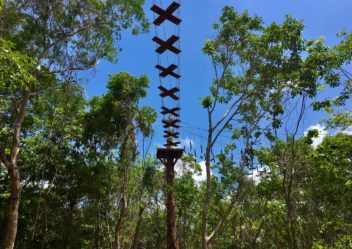 Xotik Ha Eco Park
Xotik Ha Eco Park is a new place to get out in nature. What makes this eco park different is the obstacle course for adults and children that will take you up to the treetops. This eco park is between Playa Del Carmen and Tulum just off the 307 Highway.
There are many eco parks in the area to enjoy nature but this one is different. This park has built challenging obstacle course in the trees. Here you will have a chance to see nature and be in nature. This is not like a zip line park where you just sit and zip through the trees. There is one zip line but only after you pass the other obstacles will you go on this. See what an adventure this park is like in our video below.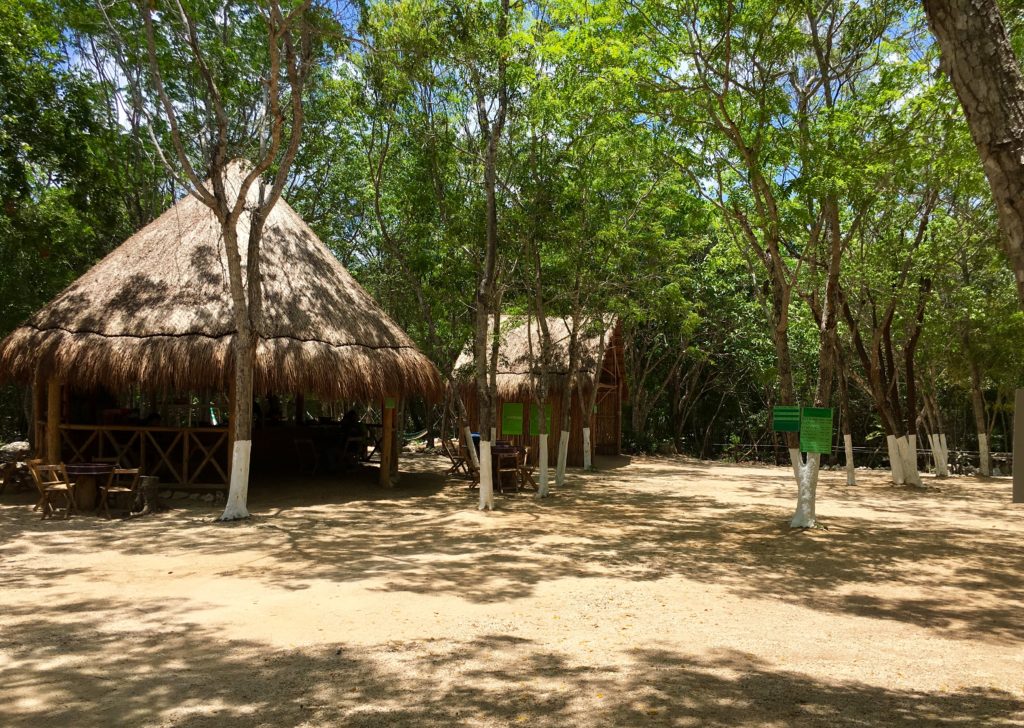 Our video introduction to Xotik Ha
We spent a few hours going through the obstacles and then swimming in the cenote there to show you a little of what it is like.
What activities are at Xotik Ha?
To begin with, this eco park has a circuit of obstacles in the treetops. There is one circuit for adults and one for kids. Some of the "bridges" are optional and you have different routes you can take. These can make it more difficult or easier for you.
This obstacle course for adults will challenge your technics, stamina and strength all while having fun. Each "bridge" between platforms is different.  Some of these require more balance, others more arm strength. These will challenge you, so be ready!
Into the cenote to cool off and see the formations
After spending time navigating the obstacle course you will surely want to cool down in the cenote. Here you will see one of the beautiful cenotes in the area and be able to pass though the cave. Here it is lit with lights and you can observe the formations. Part of this will be climbing through and other times it will be swimming. At the end of your cenote tour, you will climb up a ladder and come out refreshed.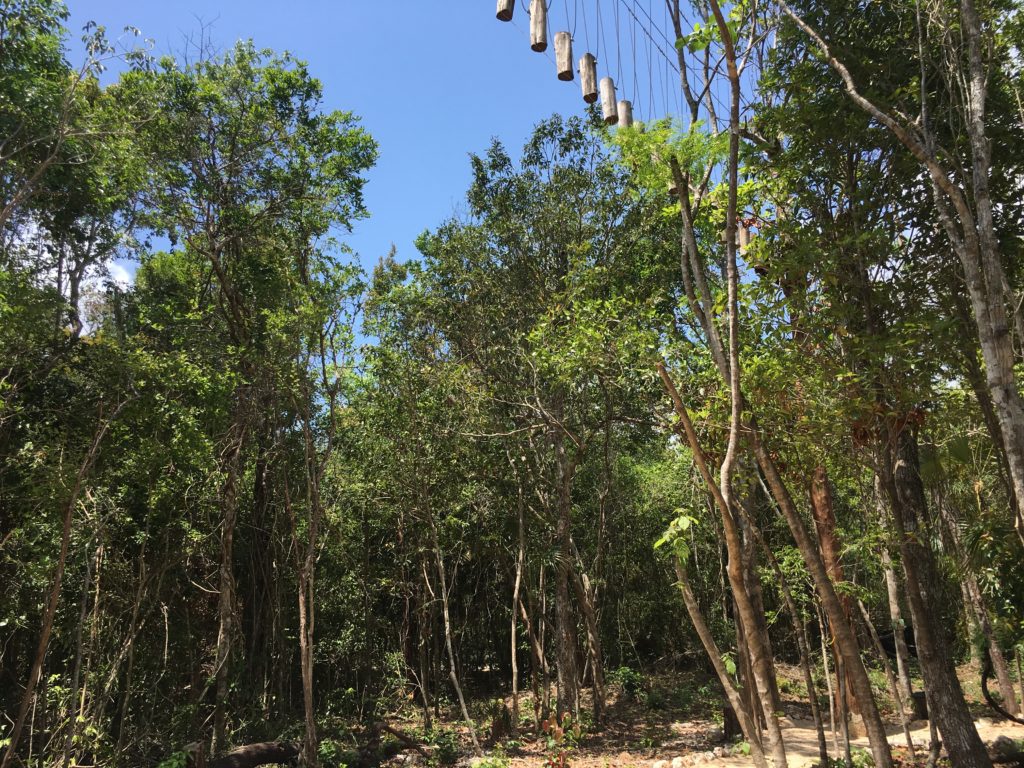 Activities to wear out your kids
At Xotik Ha there is a whole circuit of obstacles for the kids. They can be just like the adults and have just as much fun. The children's part is not as high but it will be perfect for them to explore nature. There is even a zip line for the kids. Plus the kids can join in on a visit the cenote.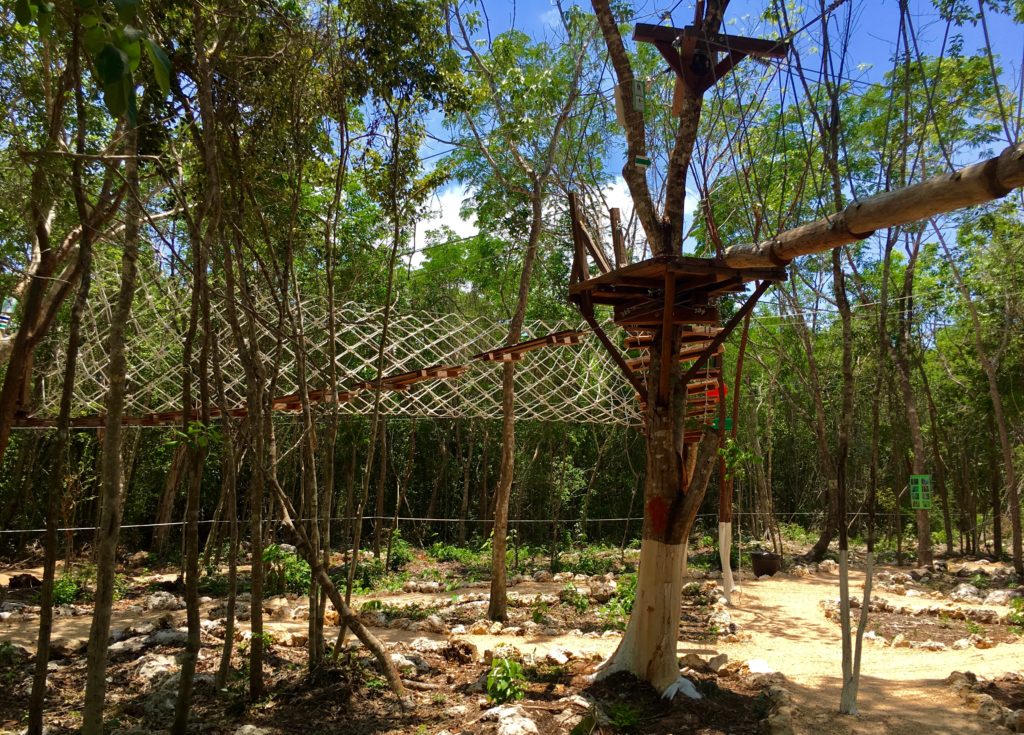 Safety at Xotik Ha Eco Park
You might wonder what it is like being up on swinging bridges and trying to climb across all while being a good distance off the ground. Here at Xotik Ha you have one safety line the entire time you are on the circuit. This line prevents you from falling. You will also have to wear tennis shoes and they will give you gloves for grip.
A guide will go with you in order to show you how to move your safety line through the course and also show you how to best use technic to pass the bridges.
Other services and what to bring
At Xotik Ha Eco Park they have a restaurant that serves tacos. Lockers are available as well as bathrooms. A photographer can catch you in the act while you visit the park. These photos are available for purchase later.
When coming be sure to bring sneakers for the obstacle course, comfortable clothes, and a swimsuit. Optional money for souvenirs, photos and tips.
What are the prices at Xotik Ha Eco Park?
General admission prices
Kids up to 2 years old are free.
Kids 2 years old to 12 years old are 700 pesos.
Adult 900 pesos.
Entry just to watch with no activities is 350 pesos.
Quintanarroense-Locals with ID
Kids up to 2 years old are free.
Kids 2 years old to 12 years old are 350 pesos.
Adults 450 pesos.
Entry just to watch with no activities 180 pesos.
Where is Xotik Ha Eco park?
Xotik Ha Eco Park is between Playa Del Carmen and Tulum. It is off of the 307 Highway across from Xpu Ha Beach. There is a sign along the highway but you can miss it. If you are coming from Playa Del Carmen, pass the 3 cenotes, Eden, Cristalino, and Azul. Just a little further you will see Xpu ha beach entrance on the East side of the highway, you will find the entrance across the highway on the west side.
Follow the signs until you get to the parking area.
This is a new place so many people will not know where this park is. If you take a taxi or colectivo you should have an idea where it is because they might not know. Also this drive is over 1 kilometer from the highway. If you take a taxi you should mention this to the driver so he knows what to charge you. It is not recommended to take the colectivo here because it is far off the highway.
Have you been Xotik Ha Eco Park? What did you think? Let us know in the comments below, we would love to hear from you.