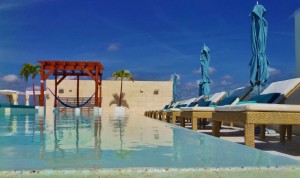 The Palm at Playa Hotel opened December 2012 in Playa Del Ca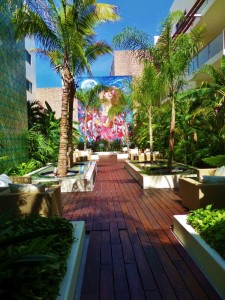 rmen. This 69 room hotel brings very large deluxe rooms to the center of Playa that rival many all inclusive hotel rooms. This can give you the opportunity to stay in style and be downtown in Playa to visit all the great restaurants. This might just tempt you to jump off the all inclusive hotel stays and move to the stylish hotels in town. Not only are the rooms a great feature of this hotel but you get an awesome roof view looking over Playa Del Carmen and over the Caribbean to Cozumel. You will also get a quiet refuge with a tropical courtyard in the center.
Hotel Palm Prices
This is where you can see the value of this place. We randomly chose some dates on our Hotels.com link on this page for some prices. Depending on dates and level of room you wish for, prices ranged $150-$340 a night. That can be quite attractive for a couple to stay at this boutique hotel. Think about it, many all inclusive hotels can be $400-$500 a night. With the savings it affords you plenty of cash to skip the buffets at the all inclusive hotels and actually eat at a real gourmet restaurant in Playa. Try plugging in some dates to see what prices are available for the dates you want to visit.
Hotel Palm Rooms
We really cannot stop mentioning the large size of these rooms as well as style. Also we have to tell you about the showers! Imagine a large glassed in room with two showers. These also are very large and very sexy.
If you are coming for a romantic stay ask about romantic packages for the room or even private dining on your balcony.
There are four different room types available here. All have wet bar and some have kitchenettes. Rooms have iPod dicking stations, flat screen TV's and free Wi-Fi. Rooms can be street view or courtyard view. All rooms are very quiet with sound proof glass windows.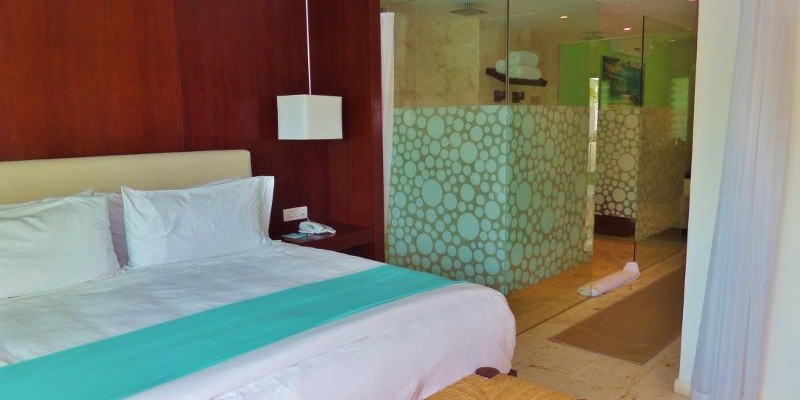 Services and Amenities at the Palm Hotel
Besides getting one of the largest boutique rooms in Playa Del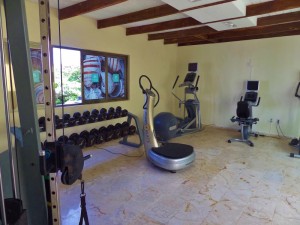 Carmen you will have access to one of the best rooftops as well. The Roof Club features a large Jacuzzi,  infinity pool with lounge beds and even a hammock to swing in over the water (open from 10:00am-8:00pm). There is a full bar On the roof as well and that stays open until 11:45pm. You can lounge all day here and order food of The Roof Club menu. The food menu ranges from nachos to ceviche and prices range from 85 pesos-150 pesos. Most cocktails cost 120 pesos.
Room service is available from 7:00am-11:00pm.
At night if you want to take advantage of the cooling Caribbean breezes, you can have dinner at The Roof Grill. On the ground floor there is another restaurant where you can take breakfast or stop in during the day for lunch or dinner.
During the week there are complimentary yoga classes either in the studio or on the roof. There is a small gym available with cardio equipment and weights. Massage is available here.
There is guest parking under the hotel. Access is from 8th Street (limited) or paid parking available nearby.
What We Like About This Hotel
Amazing roof space with pool and view
Some of the largest rooms and nicely decorated
The fact you can make this practically a destination in itself with in-house services and restaurants
Huge glassed in showers for two
Romantic setting
Central location in Playa Del Carmen
It is just off 5th Avenue and one and  a half blocks to the beach.
Energy of the hotel when they have dj's on the roof or special occasions.
Recommended For:
We recommend this hotel for couples that want a stylish place to stay and that can be romantic. For the single person wishing to pamper themselves with a nice stay and explore all that Playa Del Carmen has to offer. It can be good for small groups that may be on business since they do have a small conference room available for use on the roof. Wedding groups could find this to be an attractive place to stay since they have 69 room available and the rooftop can be reserved for private parties.
Location
The Palm Hotel is located on 8th Street between 5th Avenue and 10th Avenue.