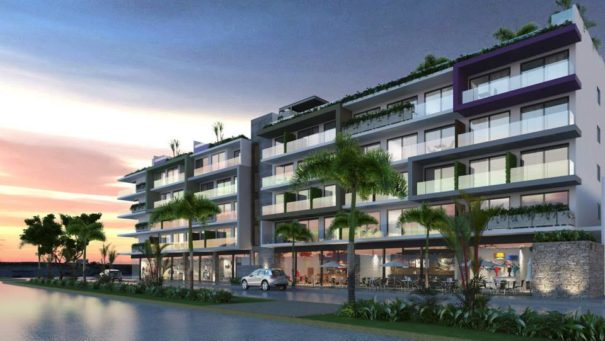 The City by Menesse Condo Building
The ground breaking has taken place and building has commenced on a new project called "The City". This new condo building is going up in the center of Playa Del Carmen. We went to check it out and let you know what the details are and what we think of it.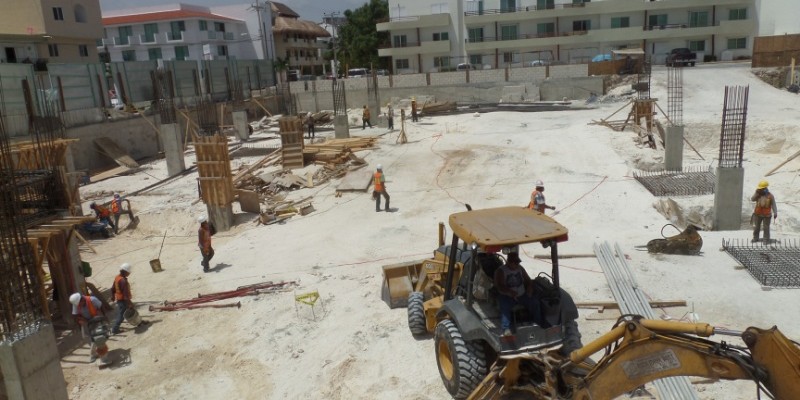 The Location of The City by Menesse
As the saying in real estate goes, it is "Location, location, location" and this project certainly has it. This new building is going up on Consituyentes Avenue between 20th Avenue and 25th Avenue. We have mentioned it before, this area is a trendy neighborhood and is getting filled in with more buildings, good restaurants and cafes. This location is very convenient for walking to the beach, strolling four blocks to 5th Avenue or just walking across Constituyentes Avenue to the Mega grocery store.We knew that this project would sell fast because it is in an ideal location to rent or live. This has proved true, the building is just going up and already for example all the studios are sold.
The land where this building is being built was empty and it is nice to see it being used for something. It was only a matter of time before it was developed. This area is highly sought after for vacation rentals. A building nearby was one of the most rentable buildings in Playa, so that only tells you that this is a desirable area for people looking to rent for vacations.
The City by Menesse
"The City" building is half a city block. The main entrance and lobby will be on 25th Avenue but there will be side entrances on Constituyentes Avenue and 20th Street. There will be 4 elevators to take people to the 5 levels of this building.
Underground parking is provided for all units. Studio units will have only scooter parking and infact each studio unit came with a free Vespa scooter! The one and two bedroom units come with a car parking spot and also a storage unit. This is good news since there is no street parking on Constituyentes Avenue and limited street parking on the other sides. We actually imagine though that not many spaces will be used since many people will be vacation renters and people do not need a car because things are within walking distance from this building.
Along Constituyentes there will be 7 locals (rental commercial spaces). This no doubt will make Constituyentes Avenue a more walkable place. It will also start to change the avenue from random construction to  more of a grand avenue into the heart of Playa Del Carmen. We can see Constituyentes becoming a nice avenue with new condos and commercial shopping. This should help exicting businesses as more people live, rent and visit the area.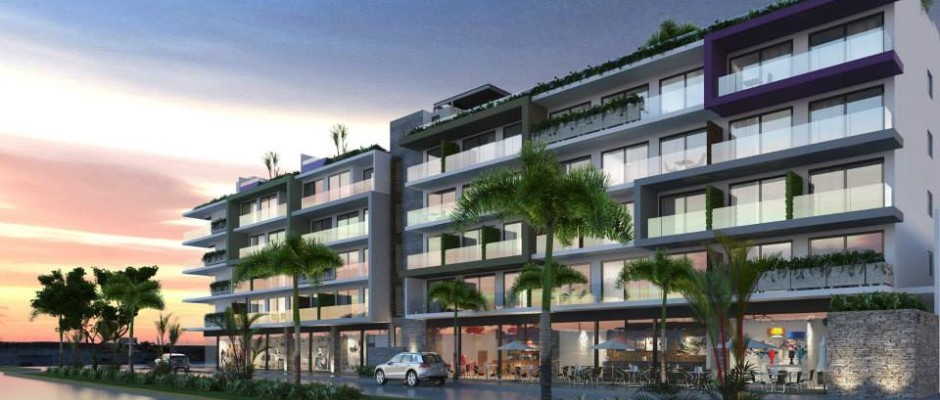 In the courtyard of this building there will be one of the two pools. This pool will be for families while the rooftop pool will be for adults only. Both swiming pools will have the ability to be heated. That may sound crazy in Playa to have a heated pool but in the couryard it can be shaded for part of the day and in the winter months it might be needed. The rooftop pool will also have the Sky Bar, a place to have drinks and enjoy the view.
On the main floor there will be a full gym, spa, cimema and Kids Club. The Kids Club is intended for parents that are visiting to have some time out in Playa by themselves.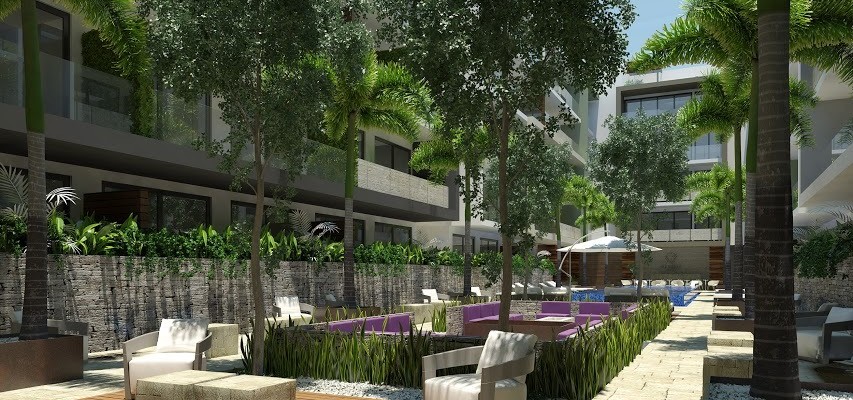 The Condos
There are studios, one bedroom units, two bedroom units and penthouse units that come in one or two bedroom sizes. All of the units come furnished. This can be good because most people will want to use these as rental units and they are almost ready to go as soon as you purchase them. If you do not want the furniture then you can sell it and replace it with what you want. There is a two year warrantee on all furniture which will give investors a little peice of mind.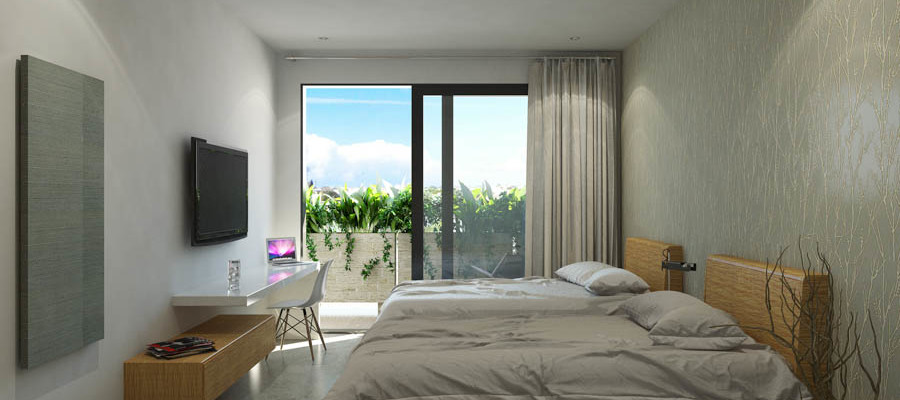 The kitchens will come with microwave, stove, and refrigerator. Countertops will be granite. Below is a model of what a kitchen will look like. The table and chairs would come with the unit but not the dishes and silverware.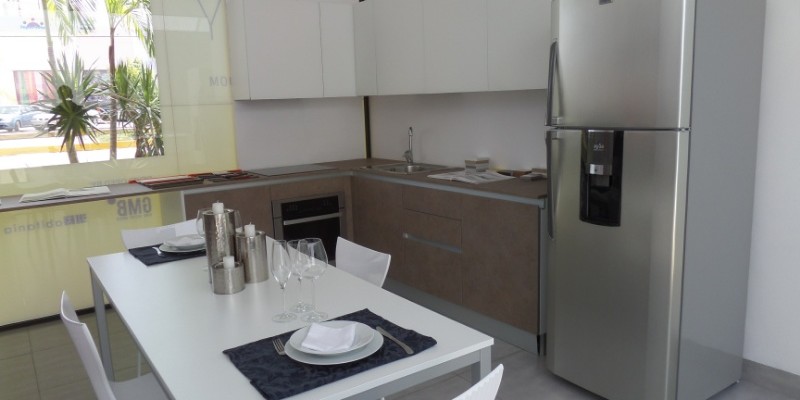 Mini split air conditioners are included in each condo. Studios will have one unit, one bedrooms will have 2 mini splits and a two bedroom unit will have three mini splits.
All of the penthouse units will have their own roof patios with dip pool.
There are 158 units in the building. It is interesting that not all of the studios are on the first floor. Here is a breakdown of the building.
First floor there are 6 studios, 10 one bedroom units, and 3 two bedroom units.
Second floor there are 25 one bedroom units, and 8 two beroom units.
Third floor there are 40 studios, 7 one bedroom units, and 6 two bedroom units.
Fourth floor there are 15 one bedroom units, and 14 two bedroom units.
Fifth floor there are 12 one bedroom penthouses and 12 two bedroom penthouses.
Recommendations
We knew this building would sell fast and it is, even before the first floor is built. The attractive entry level price of $99,000 was a great feature even if the studios are small. We see these as great rental units because they are in a great location. This remains a good option for people considering a condo in Playa Del Carmen.
This is a large building with more units than other condo buildings in Playa but that means you have more services and common space with less cost. The services in the building will be nice and the two pools with one being an adult pool is a nice feature. The exterior of this building will be modern and yet Playa feeling and we can see this changing  the area for the better. It will be interesting to follow this project and see how the area changes.  This developer has several other projects going on in the area and we look forward to seeing how they come along.
Location
This condo building is on Constituyentes Avenue between 20th Avenue and 25th Avenue.
Here is the developers

For more information about Playa Del Carmen real estate see our large guide here.