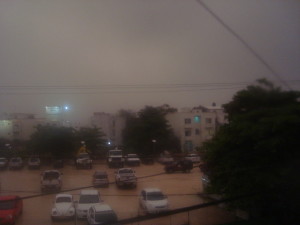 We have gotten a lot of questions from readers about options for protecting your home from hurricane damage. Hurricanes are one of the only natural disasters we face here in the Riviera Maya and it pays to be proactive in protecting both you and your investment.
We have not had a hurricane in several years now and it can be the tendency to become complacent about it. We do get reminders from time to time and see storms forming in the Caribbean. Unfortunately it is too late to start installing protection when you see a storm coming so you need to think about it ahead of time. We do not recommend you using plywood because there is not much of it here, cost go up when a storm approaches and it is not nearly as safe for you to use.
We found one local company that can do easy installations  for your home and is who we send people about protection.
Who is Hurricane Solution?
Hurricane Solution is a company from the United Stated that started developing new systems of protection after the devastating hurricanes in south Florida. With trial and error they came up with a final product in 2012 that can withstand a category 5 hurricane and is stronger then other methods of protection.
They use a resin coated hybrid fabric that is 40% stronger than polypropylene. They also developed a special anchor system  made from carbon fiber to hold the fabric in place during a storm.
They have installed on many homes in the Riviera Maya and  cover about 2,500 hotel rooms with protection.
How does it work?
Most people worry about the windows breaking in a hurricane but that is actually not what you should be focused on. Windows are relatively inexpensive to replace here in Mexico. Most are a single pain of glass and new ones can be made quickly to fit your home. It is really about the water damage, wind and projectiles in a storm that you have to worry about. Keeping direct wind and rain out of your home saves considerable damage. You have to keep in mind water damage to your electrical systems and contents of your home.
If you stay in your home during a storm you want to be protected from flying materials and the windows are the weakest points in your home. In test,  plywood and metal hurricane shutters do not offer anywhere near the same protection for your home. Once many materials break it lets in wind and water.
Hurricane Solution installs anchors around your windows and will just look like screws when not being used. You can even paint them to match your house. When a storm approaches you simple unscrew and install the lightweight fabric across your windows. The fabric overlaps the edges of your window and creates sort of a seal during the storm to keep out the elements.
What does it look like when installed? Take a look at this building in Playa Del Carmen. It is protected from hurricanes and you might not even notice the small anchor points around the windows.
You can also read here our article about how the City of Playa Del Carmen prepares for hurricanes.
Contact
You can contact Hurricane Solution by calling: (984) 803.50.14
Or visiting them on 10th Avenue between 16th Street and 18th Street.
Av 10 Nte No. 258 Col. Centro Playa del Carmen, Q. Roo 77710
Email: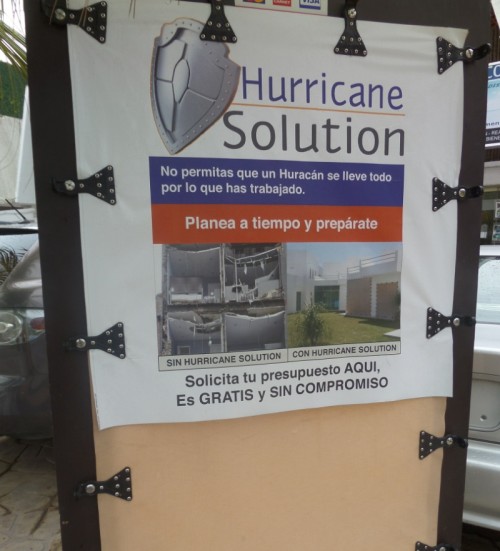 For further information about preparing for hurricanes in our area, see our article here.