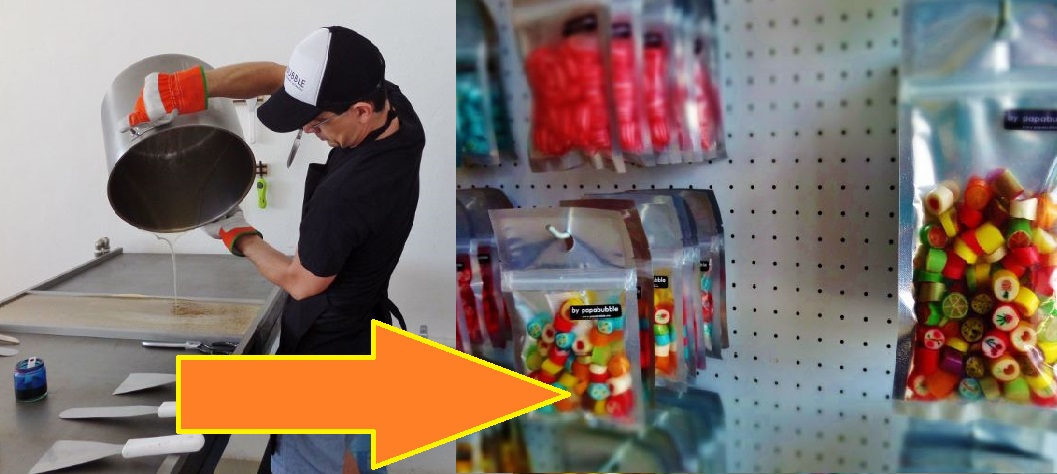 Papabubble Candy Shop
Papabubble is a candy store that hand makes it's candies. This artisanal method  is something really great to see. It would be super fun for kids to watch. Below is a series of photos that show the process. By no means does this replace seeing it in person. Once you see the process you will have a much great appreciation for the candies and the people that make them.
Juan and his wife learned the method in Europe and opened a franchise because they thought it was  something they wanted to share with people here. We watched Juan and his assistant go through the process of making the candies. The process takes about 45 minutes or more depending on the complexity of the candy they are making. But really you won't count the time because it is so fascinating that you get caught up in the process.
Here is the process you will see during the demonstration at Papabubble
The first step is melting the sugar and syrup. It is heated to just the right temperature then poured in to a form on the table. The table is special because it has water that flows through to cool the hot mix, but not too much because then it would get too hard to work with.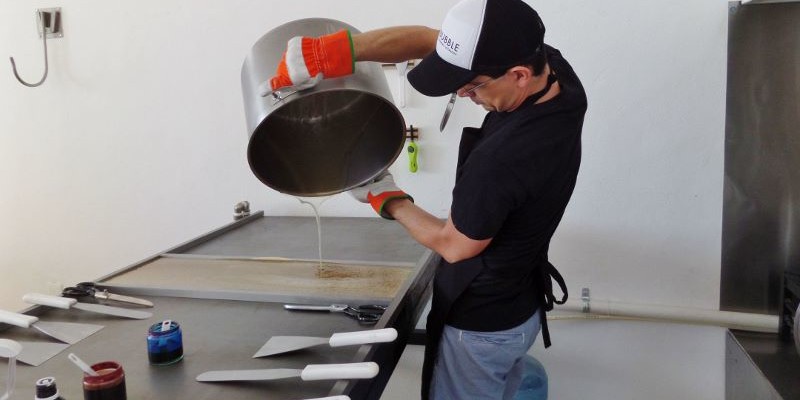 Next colors are added. In this case it is red, white and blue. After they mix the color in for a little bit, they cut the sections apart. The candy is starting to get solid but still very flexible to work with. Then the kneed the color through the lumps. They then had four section, three with color and one natural lump without color which will become the outer shell of the candies.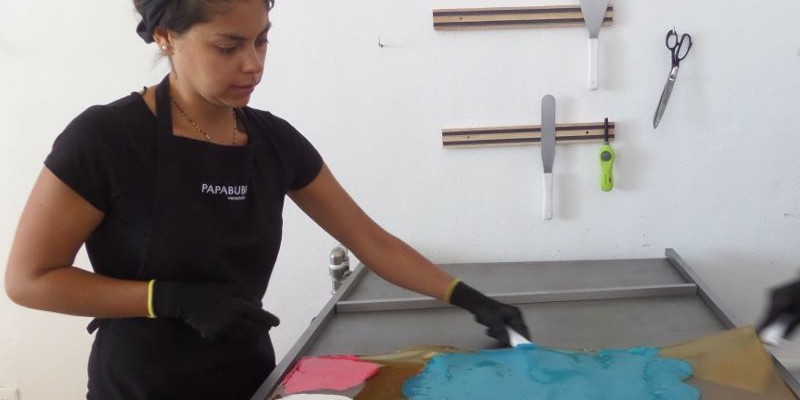 Some of the candy will get pulled on a hook. This adds air to it. The consistency is like a lump of bread dough. Meanwhile the other person is flattening out pieces to be used to build the design.
Once they have all the different lumps ready, they start building the design. Today it was a heart in the center. They took the red color candy and made a long heart shape. Then they added the white candy around it to keep the shape. This will form the white inner circle of the candy. This table is special as well since it can be heated to keep the candy soft to work with.
Next then continue adding to the candy with the outside layers of the blue. Now they have a "log" of candy but how does it become the small size? See what comes next!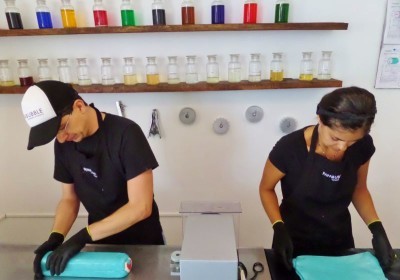 Now that have a fat log of candy. We thought they would run it through a machine to make is long and  skinny, but no, it is al pulled by hand. It is a careful process to make sure it is all pulled at the same time to make sure the heart shape remains. After pulling out sections he cuts it off in short lengths to be rolled and be made even. He repeats this process of stretching until it is all the candy is in about two feet sticks. This is a two person process since you have to work with the candy when it is at the right temperature.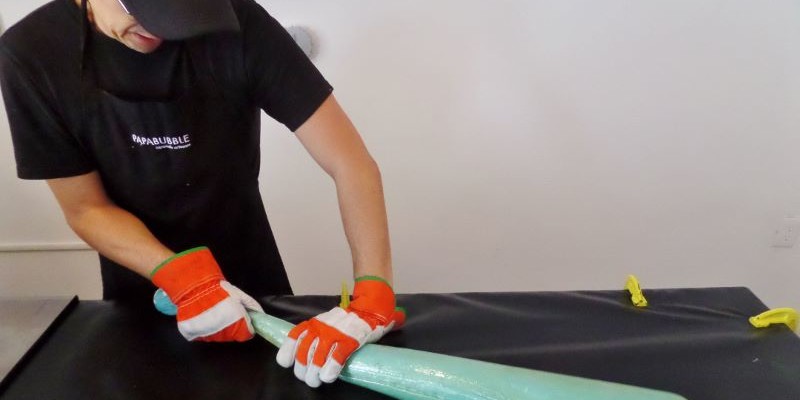 Next comes the cutting of the candies. This is done by hand feeding them over a piece if metal and using a metal spatula to hit them at just the right angle and size. We think this took some practice to do! Just play this short video!!
https://youtu.be/RzLpebckBmI
And then you have the finished product! Little candies with hearts! Don't you have a much greater appreciation for these candies now? Besides looking nice they also have great fruit flavors.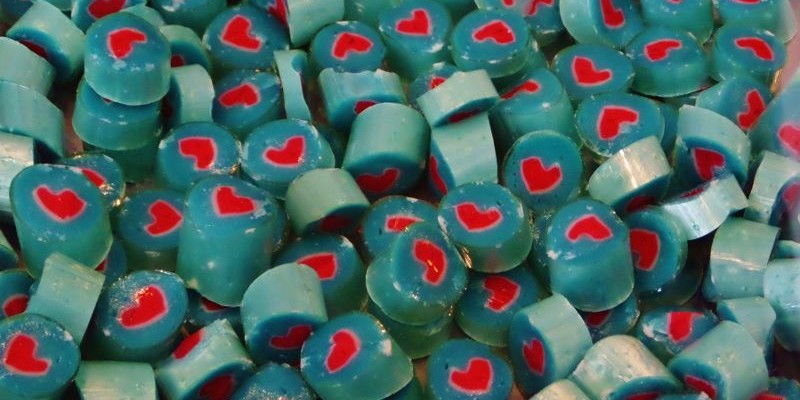 Besides shapes and colors they can even write names in the candies. Just like the heart it does not get stretched out and remains readable. This personalized artisanal candies are great wedding favors, baptismal candies, save the date candies, a special gift or anything with initials, names, dates or just for fun.
Besides hard candies they also make gummy candy, semi hard candy, and lollipops.
Make sure you stop by this store to see how these candies are made. They will be super happy to receive you and show you the process. It is best if you call ahead to make sure they are making candy on the day you wish to visit. Demonstrations can be in English or Spanish.
For more activities for children in the Riviera Maya and Playa Del Carmen, check out our guide for families here.
Store Hours for Papabubble
Tuesday-Sunday 9:00am-1:00pm 3:00pm-5:00pm
Phone number
984-803-2625
Location map
It is best if you have a car or take a taxi to this store. It is on 125th Avenue just north of Constituyentes Avenue. You will pass the Ursus Gym and then it will be in the next small strip mall on your right.

Have you been here? What did you think? We would love to hear from you? Send us a comment below.