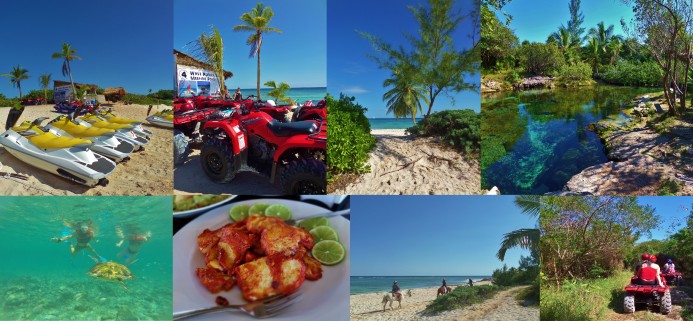 Update: As of late 2017 this place is only open for private events. 
We recently visited Punta Venado which is a large area of jungle and natural coast just south of Playa Del Carmen. It is amazing that such a large property still exist without development and this makes it even more special to come and visit. Much of this property is still wild and many native animals still inhabit the jungle. They have 2.5 miles of beaches and coastline and 1,990 acres of jungle.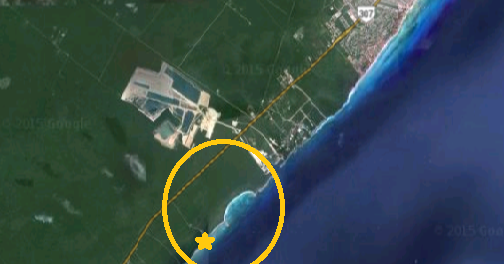 Punta Venado
Besides a beach club for people to visit and a location for weddings, it is also a very fun place to spend the day. You can do a number of activities such as ATV riding, horseback tour, snorkeling, mountain biking and jet skis. We recommend an all inclusive package so you can do a full day and eat there. It makes for a super fun day and is a good value. We hope you like out review of this place.
We like how organized there are here and move you through the day without rushing you from one thing to the next. You even have time to rest on the beach or swing in a hammock. English and Spanish are spoken widely. They do have other languages available but make sure check with them about availability especially if you only speak one language that is not English or Spanish.
Tours can be for all the family but they do have a minimum age of 6 for tours. ATV and Jet ski tours require the driver to be 16 but younger people can be passengers. The horses do have  a weight restriction of 264 Ilb. or 120 kg. Tours do operate rain or shine except when there is severe weather.
When you purchase a single tour you get a drink and snack at the beach club. If you are doing a package of activities you get lunch included and open bar (just don't take advantage of this too much because you have a lot of activities to do). If there are a large number of people doing tours that day, they will put out a buffet or if there are about 10 people they will serve you family style with large plates of food on your table. We were impressed with the fresh fish dish and over good quality food that they served. This will energize you for the day.
Here are some more details of the activities at Punta Venado
ATV Tour
When you think of ATV tour you might think you are just going on some 4 wheeler around a trail for fun but not really experiencing nature. On the tour here you go down narrow trails and are close up with the surrounding jungle.  You make two stops on this tour, one at a cave and one at a beautiful cenote. The cave shows the limestone base of the Yucatan Peninsula and your guide will explain some interesting facts about the eco system. The cenote has crystal clear water with a small stream running out of it. You will stop here for about 20 minutes and it is enough time to take a refreshing dip.
When you ride along the small beach trail they give you  bandanas to keep the dust our of your face and they make you feel cool. Don't worry the photographers will get lots of fun pictures of you.
You can really go fast on parts of this tour but the nice thing is that with groups they have two guides, on in the front and one in the back to keep an eye on everyone. If some want to go slower then that is possible. For large groups they will have three guides.
(This tour requires drivers to be 16 years old, not have back problems, and be sound to drive. Safety is the upmost concern here.)
Tip: Bring biodegradable bug screen because you are in the woods plus you need biodegradable bug spray if you get into the cenote. You can buy both biodegradable sun screen and bug spray here for your trip.
Tip: It is best not to wear flip flops. The cave floor is not flat and it does require you to have some good footing.
Tip: On the front of the ATV there are straps where you can place items like a bag.
Tip: If you are a reckless driver you can buy a $10USD insurance.
Jet Skis at Punta Venado
Imagine floating across turquoise waters while seeing pristine coastline! This is what you can do here. The jet ski tour last for about a hour. You zigzag your way north up the coast while crossing different colored water. If you add the snorkel tour to your adventure you will stop in a bay to snorkel and then jet ski some more before returning to the beach club.
Tip: They have lockers for your stuff at the jet ski area. You only need your swimsuit.
Tip: You can buy option $10USD insurance for the jet ski if you like.
Tip: Remember they do not have brakes, only gas, so keep distance between them and don't bump them because the fiberglass bodies can get damaged easily.
Snorkeling
Punta Venados snorkels off a beautiful beach in the remote bay that they own. The reef is just off shore and the same ones that people from Xcaret come to snorkel. The tour last about 40 minutes and you will see many types of coral and you will be surrounded by colorful fish many times. You can also see large sea turtles and stingrays among the larger animals. This snorkel tour is good for beginners and is an easy activity to do.
Tip: Remember to not touch anything and just observe nature.
Horseback Riding
This activity is the most relaxing and calm one at Punta Venados. You will spend some time getting to know your horse and take trails around the property. You will most likely take a ride up a remote beach. After the ride you will return to the Hacienda style ranch and stables.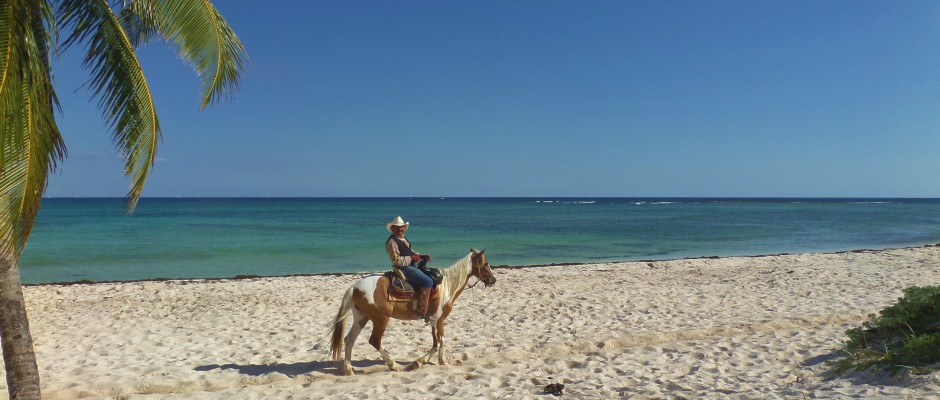 Mountain Biking
Mountain bikes are also available to ride though trails in the jungle. These are guided tours. If you are lucky you just might see some wild animals.
Punta Venado
We really like the fact that this park is so close to Playa Del Carmen and yet it is very wild. The staff is all very friendly and good at what they do. So if you want to add some adventure to your vacation or even if you live here and want to check it out, below is the website.
For more information and prices check out their website here: http://www.puntavenadoadventures.com/
Tip: You will always get the best price by booking directly with them.
Tip: Ask about transportation options.

Have you been here before? What did you do there? Tell us about it in the comments below.