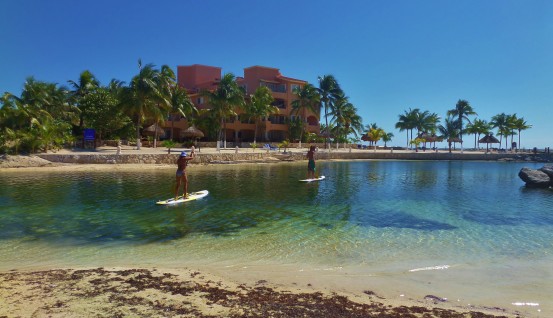 Have you been wanting to try paddle boarding? Have you seen the people standing up on boards out in the ocean and wonder how easy is it? Well we have a great location and teacher for you. We drove down to Puerto Aventuras (just 15 min. south of Playa Del Carmen) to meet with Kathy Kingsley. Kathy is a long time resident here in the Riviera Maya and a paddle board enthusiast for over a year now. She now shares her joy of the sport with others in what could be the perfect conditions for learning in Puerto Aventuras.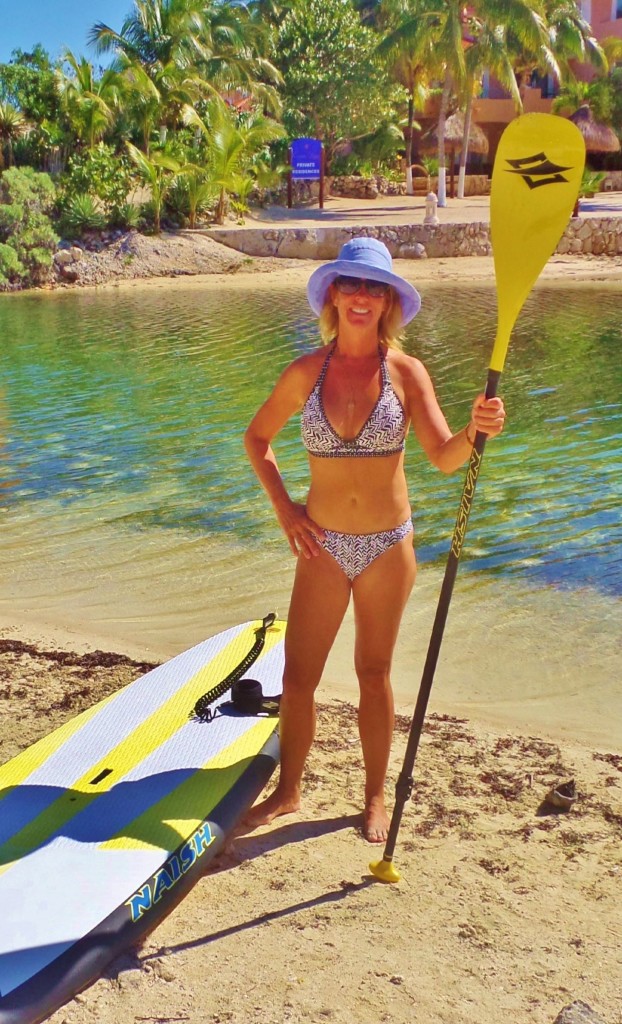 Paddle Board Class Location
Besides being in the sunny Caribbean you could not choose a more perfect place to learn paddle boarding. The lagoons in Puerto Aventuras are protected from the ocean waves and this flat water makes it super easy to learn on (see photo above). The depth is only about 4-7ft.(1.5 -2.5 meters) deep as well so if you fall off you are not in deep water. There are also small islands that you can paddle around and practice your turning skills.
Paddle Board Classes
Classes are about an hour long and usually in the mornings. If you are just beginning you will learn:
 How to get on the board.
 Kneeling on the boards.
 How to stand.
 Balance.
 How to paddle.
 Turning techniques.
 How to fall off in the water.
For more advanced paddle boarders you can learn more technique and advance to ocean paddling. Kathy really stays up-to-date on what is the latest methods and techniques in the sport. She uses really nice Naish boards which are great for leaning on. This sport is really for most ages and athletic ability. She does have a minimum age of 16 for classes but is working on getting boards that children can learn on. Contact her for exact details.
Besides affordable daily classes she also offers a discounted monthly rate which includes one class a week in a month.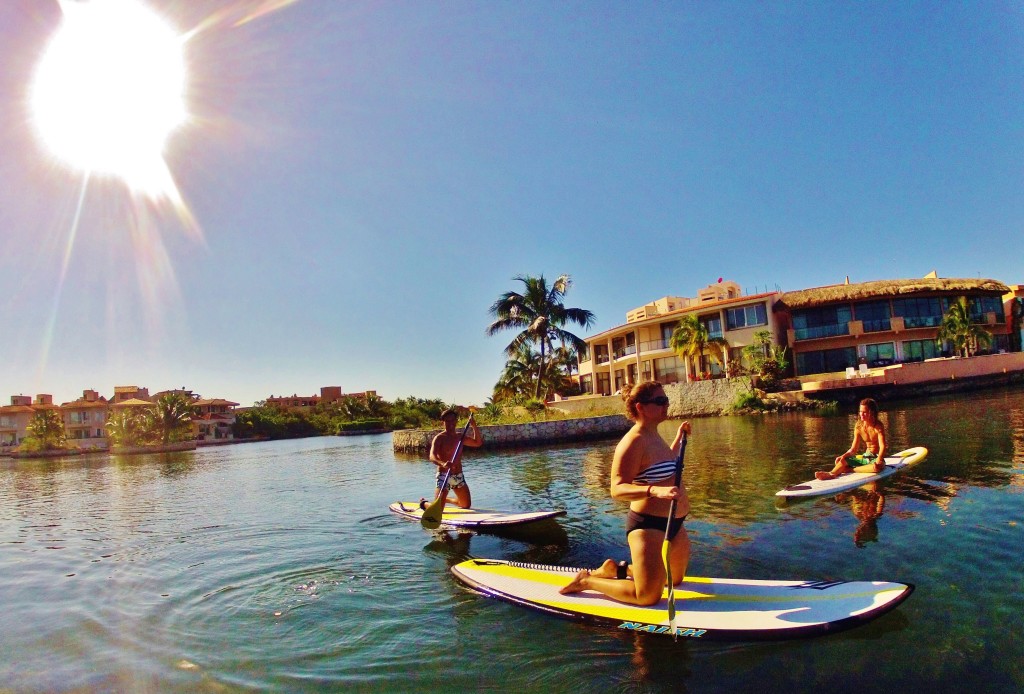 SUP Paddle Boarding in Puerto Aventuras
How to get to Puerto Aventuras
Puerto Aventuras is just 15 minutes south on the 307 Highway from Playa Del Carmen. You will enter the main gate with security and go down the main road. You will drive for about 3 minutes and come to the main marina area where there are some shops. You will go left and then follow signs to the Catalonia Hotel. Once you pass the large hotel, take the next street to the right. Dive for about 1 minute and you will see a bridge. Just below this bridge is where Kathy teaches. Parking is before the bridge on the right. It looks like a sidewalk.
You can take the colectivo to Puerto Aventuras as well. You will get off by the highway and walk over to the main entrance. You can check with Kathy ahead of time if she can arrange to meet you at the entrance if you are taking the colectivo. If not you can walk into Puerto Aventuras and meet by the lagoon where she teaches.
For more information and reservations:
Besides teaching classes Kathy also sells boards and offers people the chance to try the sport before purchasing a board. She is able to help people by explaining the difference between styles and can recommend one that fits you.
Since paddle boarding is becoming so popular here in the Riviera Maya, there are races, classes, rentals and even yoga on paddle boards. Kathy is working with all these people to expand the sport here and get people out enjoying it. She has plans to start offing tours in Sian Ka'an which would be an amazing place to paddle around with Mayan Ruins and ancient canals to go through.
If you have a group and want to do paddle boarding in an area of the Riviera Maya, contact Kathy and she can possibly arrange deliver of boards to you.
Email: [email protected]
English and Spanish spoken
You might also want to read our article on the Aloha Paddle Club in Playa Del Carmen here. This is a paddle board club that goes out from Playa Del Carmen in the morning and evenings.
Have you been paddle boarding in the Rivera Maya or in Puerto Aventuras? What did you think? Let us know in the comments below.