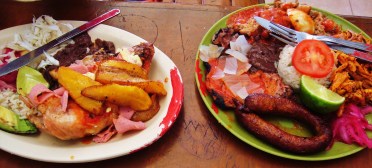 What is the food like in Mexico?
Traveling to a new place means different cuisine new taste. Many people think coming to Mexico will garnish them a great Mexican meal. This can be found here in the Riviera Maya and Playa Del Carmen but you are also going to be pleasantly surprised at the amount of excellent international cuisines we have. This has been brought about by the nature of tourism and people that move to the area. Since many tourist are from the United States and Canada there is a desire to tone down some spicy dishes and offer more international staples. Many people have moved to Playa from the United States Canada, Europe (especially Italy), and Argentina. All of this has influences the food here.
Tacos anyone?
In this gallery we have several good taco photos. There are lamb tacos here in Playa, beef, tacos pastor, street cart tacos, seafood tacos, and just about every other type. For more on just taco restaurants in Playa Del Carmen check out our article on the best ones here.
We have compiled a collection of food pictures to give you a taste of what you are in for when you come here. It is surprising the variety of food, from lamb tacos to Italian pastas. You can find almost everything here. Street food to high end restaurants, we have taken pictures of it all, and since we love food, we continue to take more pictures for you. It should be noted that most of these mouth watering photos were taken at individual restaurants and not in all inclusive resorts. We encourage everyone to get out there and try the amazing food found here. The ancient Mayan culture and the new international community continues to evolve the food scene in Playa Del Carmen and the Mexican Riviera.