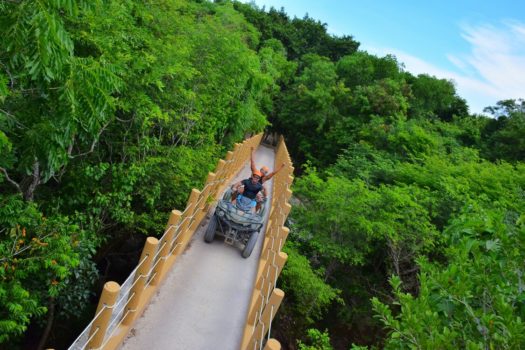 allTOURnative's Emotions native Park
What is the new Emotions native Park like? We set off to go on this tour and give you our review here.
First off we want to say it is not just about riding an ATV (all terrain vehicle). It is a tour with stops at places of interest in their park which is a thick jungle property. If you have read other tour reviews on our site you will know we like allTOURnative tour company because they respect the local culture and incorporate learning some things about the Riviera Maya. They carry this principle in this tour as well. Their park is a natural area where Mayan people have lived for a long time.
What you will see and do on this tour
Drive ATV's on dirt trails in the Mayan jungle.
Visit one of the earliest houses in the area which is now restored and has a small farm.
See small Mayan Ruins
Experience a Mayan Ceremony
Walk into a cave with stalagmites and stalactites and see bats.
Go on two zip lines.
Swim in a beautiful cenote called Media Luna.
End you tour with a snack of empanadas, juice and chayitas.

The swinging bridge in Emotions native Park.
Other details for Emotions native Park
When you first arrive you will get checked in for your timed tour. There are good  lockers to put most of your stuff in. Make sure you go to the bathroom before the tour since it is 3 1/2 hours long (there is one opportunity for a bathroom about 2 1/2 hours into the tour).
If you are a large group there will be a guide in the back and front. The guides are very good about checking on everyone and making sure everyone is comfortable.
Things you do or do not need for a visit to Emotions native Park
You do not need to bring a towel since they provide one.
Sunglasses are not needed since you have goggles for the ATV.
No cameras are allowed except head or chest mounted go pro type cameras.  Keeping your hands free is a safety issue for driving the ATV's. They take professional photos for you.
Good shoes that are enclosed, not flip flops.
Swimsuit for going in the cenote.
Money for photos or souvenirs.
Do not wear regular sunscreen or bug spray because it contaminates the water in the cenote. They have biodegradable bug cream for you there and you really don't need sunscreen because you are in the woods most of the time. If you want to buy some biodegradable sun screen or bug spray to have for your trip you can buy some here.
You will get a helmet and googles and instruction on how to operate the ATV's. Operation is fairly simple but if you are a bad driver they do offer optional insurance in case you have an accident.
A bandana or extra shirt to wrap across your mouth for the dust is nice to bring.
Our video introduction to this tour
Just so we can show you a little more then describing it, we made this video for you.

Photos of your time in Emotions native Park
At many stops there is a photographer that follows the tour. We really like the quality of photos from allTOURnative and the amount of photos they take. Some other tours we have been on only take a few photos and add a few stock pictures.
At the end of your tour you can see the photos on a computer screen and then can buy them if you want them. They also add on a lot of good stock photos for your albums.
How much is Emotions native Park and how to book
This tour is $79 USD. There are three different times of the day you can book this tour. Your transportation is included in the price. If this tours looks like fun, click the link below to check available dates and time. This button takes you to the booking site. This is the best price for this tour.

Location of Emotions native Park
allTOURnative's Emotions native Park is just a few minutes south of Playa Del Carmen on the 307 Highway. Your tour does have transportation included but if you wanted to get here by driving it is very easy. It is well signed on the highway. Parking is available in their lot.
This is one advantage of this tour. It is close to Playa Del Carmen and closer to Cancun then other tours,  so it makes it quicker to arrive and have fun. Some other tours are further south and take more time to get to. It is also close to Playa Del Carmen but you feel like you are in the middle of the jungle far from everything.
Recommendations for this tour
This tour is a good half day tour for those that do not want to do a full day. It is good for people that like to ride ATV's or at least try driving them. You get more then just riding on this tour like the cenote swim, zip lines and visiting the different locations in the park. This is a quality tour and this company does a good job with having informed guides and presenting the park in a beautiful manner.
Another thing about this tour we like is the fact it is in the woods and cooler. If you are a little hot from walking around or too much beach time, this tour will have you driving around in the shady woods and cooler temperatures.
This tour is not for people with health issues like back problems and all drivers must be of age. This tour is not recommended for children and they have restrictions. Children must be at least 6 years old to go with adults on this tour.
If you liked reading about this tour be sure to check out our other day trips and tour reviews with interactive map here.
Have you been to Emotions native Park? What did you think? Let us know in the comments below. We would love to hear from you.