Day passes at hotels in the Riviera Maya
Do you want to spend the day at an nice all inclusive hotel, but not the night? You can! Day passes are a great way to spend the day relaxing poolside or even watching a show with food and drinks included. Each hotel is different and it is best to contact each hotel you are interested in. Usually day passes are only sold directly by the hotels themselves and based on the availability and occupancy of the hotel.
Passes range in price from about 800 pesos to 2300 pesos for the day. So that is about $40-$115 USD for a day of relaxing, food, drinks and perhaps some entertainment. It is not a bad deal when you think about it. Although, sometimes prices are similar to staying at the hotel if you averaged out a weekly stay, this affords you the ability to stay for the day and then other days doing other activities.
Day passes for weddings in the Riviera Maya
If you are invited to a wedding at an all inclusive hotel and not staying that the wedding venue hotel, often day passes are available for guests, but often at a premium. Hotels want to encourage guests to stay at the hotel rather than just come for the day since many people come to the Riviera Maya for at least three days. Often a wedding day pass is only about 30% off the price of one night. When you figure in taxis back and forth to your hotel, it might not be worth it to stay somewhere else.
What to expect for a day pass at an all inclusive hotel
Most hotels will have a time frame on the pass. Most will include two meal times and most likely morning until the late afternoon. This affords them to put out the dinner meal for hotel guest and not include the more expensive food for the day passes. When you check in at the front desk you will get a bracelet or other identifying item and then you are in.
It is good to check the hotels website to see if there are specific activities or attractions you want to include in your day. For example, some hotels have amazing snorkeling right off the beach, others have multiple pools or water attractions that are good for children. Most meals are buffet style or small café style with open hours around meal times to give guest an opportunity to eat whenever they like. Hotels will have sit down restaurants and specialty cuisine but this is usually an add on even for guests staying at the hotel.
Getting to hotels for day passes
If you are going to a hotel outside of Playa Del Carmen for your day pass, you can take the colectivos (minivans that pick up and drop off people) to your hotel. This is a great option if you are a few people or plan to do some drinking. The drivers know where the major hotels are and will drop you at the entrance. Otherwise you might consider having a car to drive there. Taking taxis on the highway and out of town can get expensive.
Recommended Hotels for Day Passes
Here are just a few super large resorts where you can go for a day pass. Grand Sirenis, Palladium, and Barceló Hotels. Hotels do not always offer them and it sometimes depends on availability. When occupancy rates are high, they often do not offer day passes.
There are some hotels in Playacar area, which is in Playa Del Carmen, that offer day passes. You can walk to them or take a taxi. Even some small hotels in Playa Del Carmen will let you use their pool for the day for a small fee, but this is not really a day pass and you miss the excitement of being at a large resort.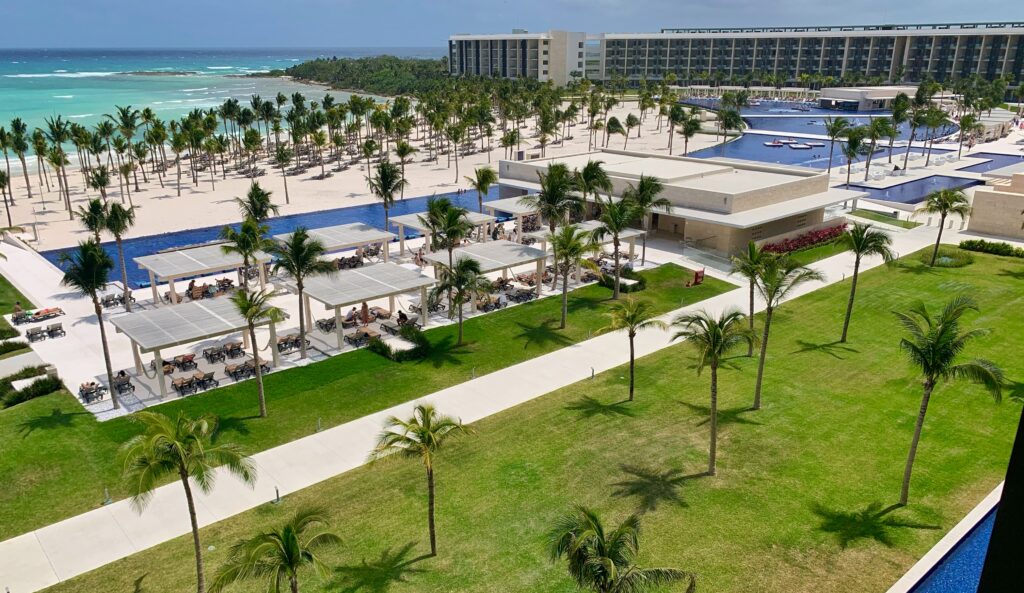 Tip 1 for day passes:
Bring your own sun cream, don't bring towels, they will have them there. Bring a change of clothes if you are going to be swimming and if your pass includes the evening entertainment, have clothes for that as well. There should be public changing areas and showers for you to freshen up in.
Tip 2 for day passes:
If you are a resident of Mexico, you can ask for local prices. They will ask for ID, so be sure to ask what form of ID they accept. Often a drivers license for Quintana Roo is sufficient or your residential visa.
Tip 3 for day passes:
Larger hotels tend to have more to offer then smaller hotels. The price may be the same as well. Prices are based more on how many stars they have rather then size. Larger hotels have more pools, more entertainment, and more food options.
If you do just a hotel pool to go to for the day in Playa Del Carmen you might want to check out these rooftop pool options. You just have to pay the consumption charge at each one. It ranges from about 500-1000 pesos per person. This just means buying drinks and/or food. It is pretty easy to buy drinks and a meal to cover the consumption charge.
Do you have any questions or comments about day passes? Let us know below in the comment section.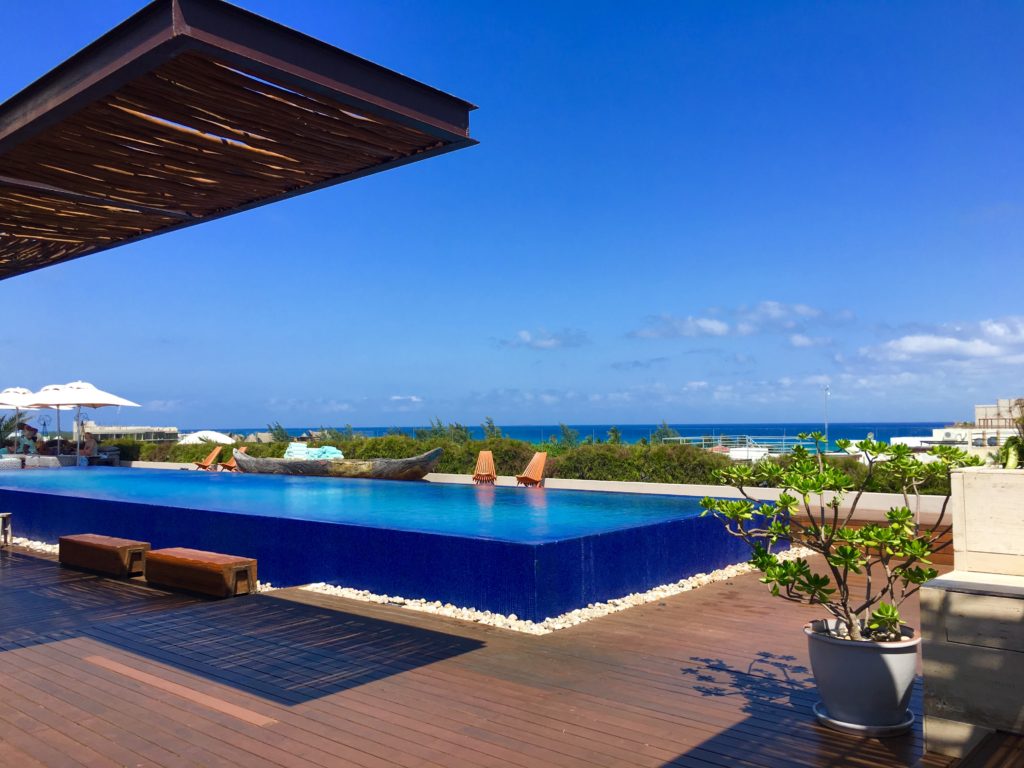 Some smaller boutique hotels offer day passes as well for a quieter day or something located in Playa Del Carmen.