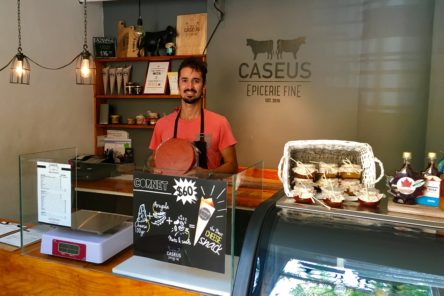 Caseus Cheese Shop
Most everyone knows that this part of Mexico is not known for it's dairy products. Mexican cheeses that are made in other parts of the country can be nice for some recipes, but many people look to imported cheeses to find the taste they are looking for. We have found a great little cheese shop in Playa Del Carmen that has a good selection of European style cheeses. Best of all theses cheeses are made in Mexico in a small artisanal way and they offer these are reasonable prices. We love finding people passionate about what they do and sharing it with other people.
History of how this cheese shop came about
The husband and wife team of Fabiola (from Mexico) and Mathieu (originally from France) opened Caseus Epicerie Fine because they found a lack of good cheese in Playa Del Carmen. They had moved here from Guadalajara and noticed that there were a few places you could get quality cheeses. The prices were expensive, the selection was not consistent, and some lacked quality. So, being wine and cheese lovers they decided to turn their passion into a business.
It is Fabiola and Mathieu's intentions to support local businesses, artisanal production and organic processes with respect to the environment and to where they are from. You can be assured that you will be getting quality products from this cheese shop.
Where the cheese comes from
The cheese comes from a unique producer in Jalisco State in Mexico. The cheese is 100% organic and artisanal. Even though this cheese is made in Mexico you would never know it. The taste is superb (yes we are fans of this cheese)! The cheese is made in the European style.
Maybe you have already tasted their cheese! They are supplying some of the fine restaurants and hotels in the Riviera Maya with cheeses.
What can you find at this little cheese shop?
Cheeses you can find here:
Here you can find cheeses from cow milk, goat milk and sheep milk. Here is a sample list. They offer about 25 different cheeses.
Fresh roll with nuts or pepper or herbs.
Aged cheese rolls.
Boursin
Feta cheese in oil.
Manchego
Camembert
Brie
Reblochon
Blue cheese
Port Salut
Gruyere
Tete de Moine
Meats
What goes great with cheese? Maybe some jamon serrano or chorizo? Caseus has a small selection of cold cuts that are sold by the piece or kilo.
Prepped food
Want a baguette with cheese and/or serrano ham? They have this on their fresh made bread.
Cheese and meat trays. If you are going to have friends over this is a great way to have some fresh cheeses and meats.
Cornet, this is a cone with arugula, cheese, nuts, cold cuts, and cranberries. This is easy as an ice cream cone to carry and snack on.
Jams, honey and marmalades.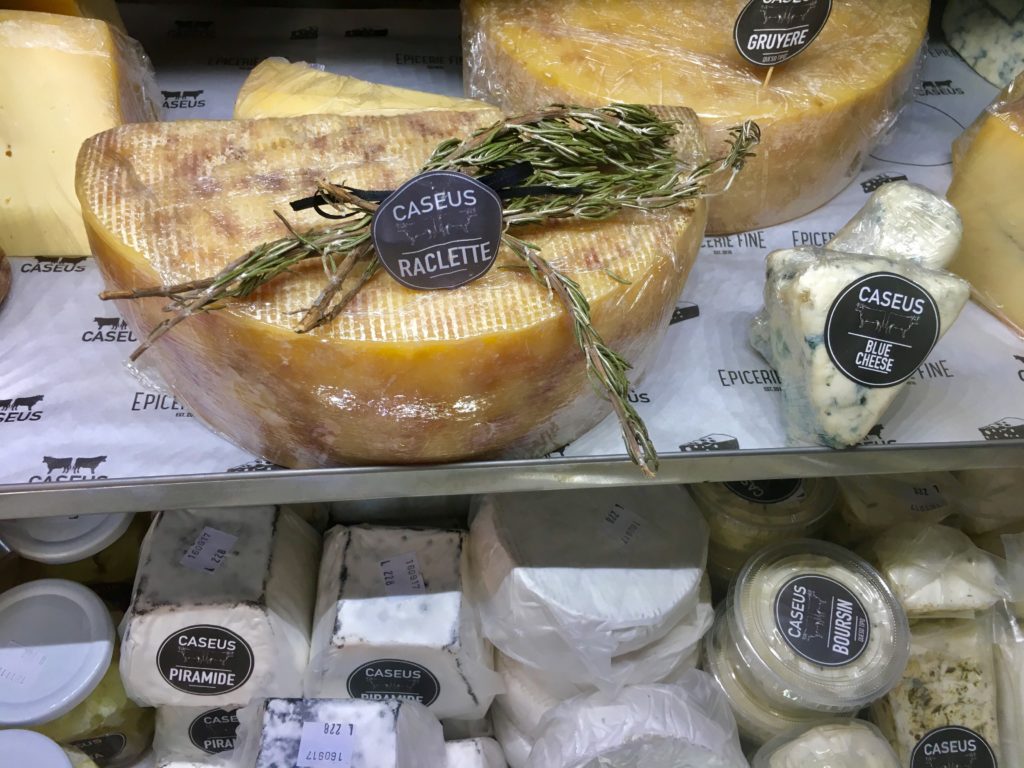 What are the hours?
Daily from 10:00am-4:00pm
Email contact and Facebook
https://www.facebook.com/caseusmx/
Where is the Caseus Epicerie Fine shop?
They have recently moved! Not far, just around the corner. Caseus is in the Mercado 30 on 30th Street between 25th Avenue and 30th Avenue.
Have you been to Caseus Epicerie Fine shop? What did you think of the products? Let us know below in the comments below.
If you are going to be buying cheese you might like some wine to go with that! See our guide on where to buy wine and alcohol in Playa Del Carmen here.